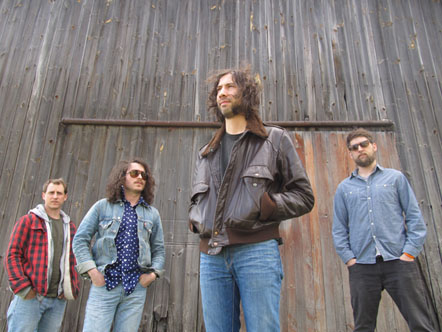 CLICK HERE TO LISTEN TO HANDSOME JACK'S "BETWEEN THE LINES" VIA GLIDE MAGAZINE!
SONG PREMIERE: HANDSOME JACK – "BETWEEN THE LINES"
Handsome Jack, the Buffalo, NY-based boogie-soul band's debut studio album Do What Comes Naturally, comes out October 7th via Alive Naturalsound Records and is produced by Buffalo Killers' Zach Gabbard. The debut features Bob Nave (of the legendary Lemon Pipers) on Hammond organ, among others, the music of this album seamlessly flows through deep dark mid-tempo boogies, smoky upbeat burners and soulful feel-good rockers all with a natural ease.
Handsome Jack hails from Buffalo, NY and began as a blues garage-rock band. After high school they moved out of the garage and developed their sound into a natural soulful boogie that remains rooted in raw blues. They've shared the stage with The Sheepdogs, Blue Cheer, Gov't Mule, J. Geils, The Hold Steady and Robert Randolph.
Glide is premiering the new track "Between the Lines" below, which combines the soulful southern rhythmic magic by way of the Alabama Shakes and frontman Jamison Passuite's fervently emotive vocals. Passuite describes the track as " it was one of the first tracks we wrote for the new album and we initially played it slower with a ryhthym that was a little more Irma Thomas inspired. Once we picked up the pace, it took on a life of its own. The contrast of the upbeat ryhthym gives it more of a bittersweet feel. Plus, it's pretty damn catchy."
http://www.glidemagazine.com/124687/song-premiere-handsome-jack-lines/