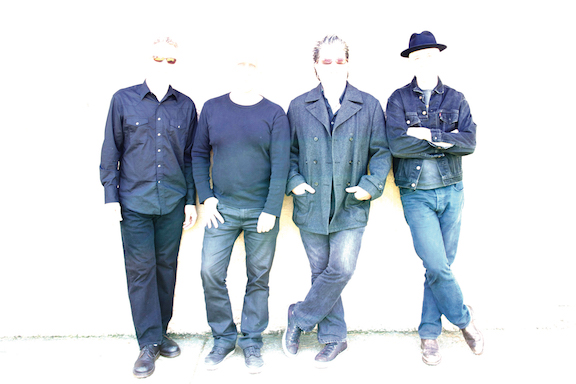 Santa Cruz Art-Rock Legends Monks of Doom Reunite
Camper Van Beethoven side project catches a second wind
BY STEVE PALOPOLI
Greg Lisher is best known as the guitarist for one of the most successful bands to come out of Santa Cruz, Camper Van Beethoven. While they had a minor hit with their cover of Status Quo's "Pictures of Matchstick Men" in 1989, they broke up a year later—just before the Alternative Nation music revolution of the early '90s took what Camper and other bands had been quietly building through the '80s on college radio, and launched a generation of alt-rock superstars.
"A lot of stuff that we were trying to touch on at the time wasn't as popular as it became a few years after we broke up," Lisher says. "I always think, 'god, what if we hadn't broken up?' It could have been a different path."
It's a good way to describe what could have happened for Camper—except that he's not talking about Camper. In fact, he's talking about Monks of Doom, the other Santa Cruz band he was in throughout the late '80s. The Monks formed as a side project for Lisher, CVB bassist Victor Krummenacher and drummer Chris Pederson, and guitarist David Immergluck (who replaced Chris Molla very early on, and eventually played with Camper, too, before joining Counting Crows).
In the indie-rock world of the 1980s, where Camper was considered "out there" for their instrumental jams and world-music influences, Monks of Doom was even more out there, with a darker, heavier art-rock sound. The band found a successful niche of its own, getting distribution from prestigious labels Rough Trade and I.R.S. But it broke up just before its sound was about to find a much larger audience, in 1993.
"Soon after the Monks broke up, there were all these heavy bands that became really popular in the '90s. In a lot of ways, they were both on the cusp," he says of CVB and Monks of Doom.
But Lisher, the only Monks member who still lives in Santa Cruz, isn't bitter; in fact, he's maybe even a little thankful that the bands broke up when they did.
"You're in a band, you're slogging away for five years, and all you're thinking about is, 'it's gonna be nice when I get some time to breathe.' And that's important, too. The fact that we were able to resurrect these bands might be directly connected to the fact that we took a break. If we had kept going, they might have broken up for good."
Camper reunited in the early 2000s; the Monks reunited briefly in 2005 for a covers album, What's Left for Kicks. But this year, Monks of Doom is back in a much bigger way, with an album of original material—The Bronte Pin, which came out last week—and a U.S. tour. (The May 19 show at the Make Out Room is the closest it comes to Santa Cruz.)
It might seem incredible that the band actually started working on this album in 2009, but when you consider their circumstances, it's actually kind of amazing it ever got finished at all.
"It's important for us to work together as a band as much as we can, and it's just hard to get all the members together at one time. It's super complicated. The other guitar player, David Immergluck, he's in the Counting Crows, and if the Counting Crows decide they're going to go on tour, their tours can last up to a year. That's totally understandable; it's part of the deal. Plus, Chris lives in Australia," says Lisher. "The time flies by, and then we might get stuck on something. Sometimes we'd disagree on something, and that would kind of hold us up. So then at a certain point it just became 'Ok, we're going to need to finish this and get this out.'" [CLICK HERE TO READ MORE]
http://goodtimes.sc/santa-cruz-arts-entertainment/santa-cruz-music/monks-of-doom-reunite-new-album-tour/