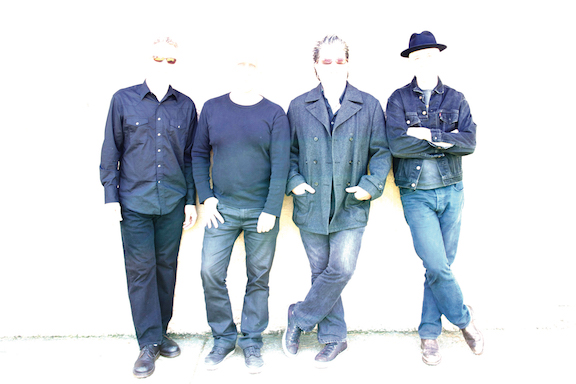 INTERVIEW: VICTOR KRUMMENACHER (MONKS OF DOOM)
Interviews / News / Special Features / March 22, 2018
Nick Spacek
Although Camper Van Beethoven side project Monks of Doom released a covers album, What's Left For Kicks?, in 2006, it's been over 25 years since their last full-length of original material, Forgery. As an example of just how long ago 1992 was, the album was released on I.R.S. The new album, The Bronte Pin, was sent to Kickstarter backers in November of last year, but the official release on CD, digital and streaming formats comes via Pitch-A-Tent Records on March 23.
The album is a welcome return for the band — which features Camper Van Beethoven's Victor Krummenacher, Greg Lisher, and Chris Pedersen, along with David Immerglück of Counting Crows — and sees them exploring folk-inflected progressive rock that manages to be serene and pastoral one moment, and thunderous the next. It makes The Bronte Pin quite an involving listen, and one you're likely to dissect for weeks after first listening. We spoke via email with bassist and lead vocalist Krummenacher about the recording and release of The Bronte Pin.
Modern Vinyl: Given that the album took so long to record, is the release of "The Bronte Pin" something of a relief?
Victor Krummenacher: I would say it's a relief, yeah. When you do an album this intensive over a long period of time, you lose perspective, and that's certainly what began happening. It's the most organic band I've ever been in; our working relationships are good and it's very collaborative. But between all the bands we're in, as well as having Chris living in Australia, it's a real slog sometimes. And a labor of love. But still, making an album is NOT an easy thing. Keeping perspective is important, but very hard.
MV: All members split their time between at least two other bands, none of which are known for heavier music. Does the ability to go hard lend a certain appeal to Monks of Doom?
VK: Yes. It does. I certainly like playing acoustic music. Camper Van Beethoven has a legacy of both lightness and darkness blended together, but the band never was as heavy or as loud as the Monks. The Monks are visceral that way. It's physically demanding, hard, loud music and playing.
MV: The folk aspect of progressive rock really seems to shine through on "The Bronte Pin," especially on tracks such as "Duat! Duat!" and "John the Gun." What led to exploring that particular avenue?
VK: David and I are real acolytes of things like Soft Machine, Roy Harper, Fairport Convention…and there's a cross between Fairport and Jethro Tull because of Dave Pegg…you can have odd time signatures and drop measures with acoustic guitars, you know.
MV: Along those lines, the instrumental cuts from Monks of Doom have always had a certain cinematic quality. Is that intentional, and if so, what are your influences there?
VK: You know, the Monks was initially mostly instrumental. I don't think I came into my own as a songwriter [until] well into the 1990s. There were moments where I hit the mark, but you know I had a slow burn there. But the band always had a fertile instrumental imagination…it was organic from the first time we played. And I think we all DO have a love of things like Nino Rota, Bernard Herman, Passolini, films like Blow Up…all that stuff just kind of percolates in us naturally. Plus, we're all studio hounds, so the recorded versions of the songs, to be successful for us, have to have evolution and motion. So they're kind of cinematic by default. But remember too, our first album was the soundtrack to an imaginary film.
MV: Studio engineer Bruce Kaphan added mellotron and "other odds and ends along the way." How do you interpolate his work in the project?
VK: Bruce has been fundamental to most of my solo work for the last 25 years. He and I have a tight, intuitive friendship. We hardly have to even speak to each other in the studio. He seemed like a good choice to work with the Monks. He's been engineering for a long time, and isn't at all afraid to push himself or the band, and the Monks were out of his usual wheelhouse, which he likes. He's one of those guys who gets off changing it up. He added a lot of smart choices, from small keyboard parts, to structural editing, to some damn fine mixing. He's crucial to the success of the album.
MV: When you're putting together these tracks, what's the basic starting point: is it lyrical, a riff, or just sort of a concept? [CLICK HERE TO READ MORE]
http://modern-vinyl.com/2018/03/22/interview-victor-krummenacher-monks-of-doom/