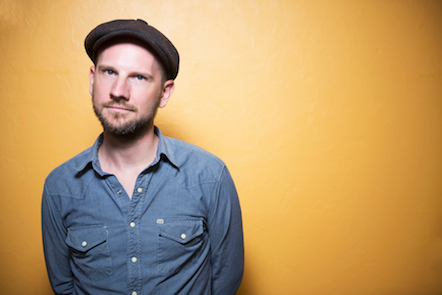 CLICK HERE TO LISTEN TO THE PREMIERE OF GRACE BASEMENT'S UPLIFTING NEW SONG "RISING SUN" VIA GLIDE MAGAZINE
SONG PREMIERE: GRACE BASEMENT FUSE SAX AND ORGAN INTO POPPY ROCKER "RISING SUN"
St. Louis folk musician, multi-instrumentalist and producer Kevin Buckley performs nearly every night of the week with a variety of bands ranging from Irish music to western swing and country. One of those bands is the rock and roll project Grace Basement, who will release their fourth full-length album, Mississippi Nights, via Buckley's own Avonmore Records on January 19th, 2018.
Compared to the intimate folk-based sound of the band's previous effort, Wheel Within a Wheel (2013), Mississippi Nights takes a more bombastic approach inspired by the performances of his longtime rhythm section, drummer Jill Aboussie and bassist Greg Lamb.
The title refers to the atmospheric vibe of the album along with a nod to the beloved downtown St. Louis rock club which hosted untold amounts of great bands until early 2007, when it closed its doors – and was replaced with a casino parking lot.
Mississippi Nights the album is less steeped in nostalgia and more interested in capturing the sound of everyday experiences, with each song taking on a character and narrative of its own. Ten story songs from various perspectives, united by themes of love, loss, hubris and hope with a familiar setting.
Sonically, the album explores a guitar-based rock sound accented by orchestral flourishes and chromatic swirls. In many ways, it follows in the spirit of Alex Chilton's Big Star, and later Wilco: two bands from the heartland, in tune with British Invasion-esque melodies and a willingness to experiment. In addition, there are references to classic rock radio stalwarts like the late, great Tom Petty, Free, T. Rex and The Beach Boys, in addition to Stax-inspired soul, St. Louis natives Chuck Berry and John Hartford and '90s alternative bands including XTC, the Pixies and Pavement.
Today Glide is premiering "Rising Sun", the opening track on Mississippi Nights. The song is immediately infectious with its bouncy pop-laden rock and soaring saxophone harmonies. Buckley and his band throw psych, garage and power pop into the mix to make for a sound that is entirely their own. The B3 organ and horns give the tune a triumphant sound that announces the band's presence and exudes enough energy to get the listener excited about what lays ahead.
Reflecting on the track, Buckley has this to say:
"'Rising Sun' seems like an appropriate intro to the new album. A lot of things happen in just over two minutes; pounding drums, wide open guitar chords, a blast of horns (all saxophones!), fuzzy B3 and some good ole' fashioned gang vocal 'hey!'s. The melody is the steadying force amidst the bombast until the end. Lyrically, I suppose it deals with themes of uncertainty, aging, community, hope, rebirth, joy and rock and roll. Yet, it seem like there's a beginning, middle and end. Moreover, it's a rush of music on a heartbeat. I did sneak in a little songwriting subversion with a long verse that doesn't rhyme…it's no 'Moonlight in Vermont,' but it's something I'm working on."
Grace Basement's Mississippi Nights will be available on CD, digital and streaming formats on January 19th, 2018. For more music and info visit gracebasement.bandcamp.com
https://glidemagazine.com/196448/song-premiere-grace-basement-fuse-sax-organ-poppy-rocker-rising-sun/