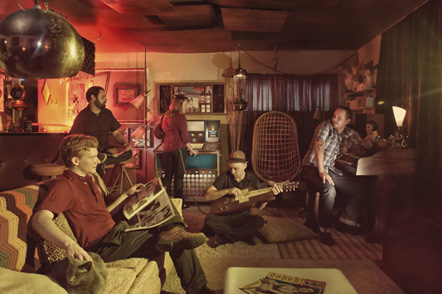 SANTA BARBARA NEWS-PRESS (Santa Barbara daily) – Positive feature story with Joey Kneiser interview with band photo to preview Velvet Jones show.
IN CONCERT: Acclaimed Tennessee band Glossary returns to Santa Barbara, Thursday at Velvet Jones
By Josef Woodard, News-Press Correspondent
When last we caught the fine Tennessean band Glossary in Santa Barbara, they were opening up for their Southern friends, Lucero, a few years back. Next Thursday, Glossary returns, in the headline slot at Velvet Jones — and with Lucero's pedal steel player Todd Beane in the ranks — and the timing couldn't be more ripe: Glossary's seventh and latest album, "Long Live All of Us," is being touted as possibly the strongest yet in a discography going back several years.
This band, outta' the small town of Murfreesboro, Tenn., a half-hour from Nashville, has hunkered down and delivered a rugged yet produced album. It has logically compared to the Rolling Stones' "Exile on Main Street" and music of The Band for its natural, wood-grained rock feel. On these 10 tracks, with nary a lemon or moment of filler, aspects of Southern rock, moving balladry and soul-fried, Memphis-style grooves blend in with sounds from the '70s, suitable for the '10s. It's a winner, whether judged by the new Southern rock, Americana or whatever rock yardstick.
Lead singer and songwriter Joey Kneiser, gifted on both counts, was in the band van careening toward Lubbock, Texas, last week when we caught up with him for an interview.
News-Press: "Long Live All of Us" is really a strong piece of work. It has a great kind of feel, with a rich and produced sound but also a life and raw spirit. Was that your vision for this one?
Joey Kneiser: Yeah. We always want to come off sounding like a band that likes to play together, and has been playing together for a long time. For that record, we rented a house out in the country and rehearsed in it, so there's a lot of pre-production involved, with playing together and coming up with parts and how we wanted to do the songs, tempo-wise. We started with that. We started recording and tried to take the initial structure of the songs and then expand on it with sounds.
Previously, we would record and it would just be us rehearsing and just go into the studio and play what you came up with in the rehearsal. This was done with so much more time. We had a month to record. Somebody could go on a whim, with a crazy idea, and we could follow it, even if it didn't work out. We had enough time to try out things.
NP: You are a good songwriter. You seem to have that gift. Is this something that goes way back with you? When did you recognize that songs were your thing?
JK: That's all I ever wanted to do, since I was a kid, be a songwriter. I fell in love with songs and the ability to make something out of nothing. As I got older, I started getting more and more into it and really trying to hone some kind of craft out of it that I could. I'm still in the middle of that, trying to get better at it and write different kinds of songs in different ways.
NP: That's something I got from this album, the diversity of styles going on, but in a way that hangs together. Soul and gospel and blues and Southern rock-ish sounds all come together nicely. Are these all your roots, in a way?
JK: Yeah. I think it's just that, for one, I think we always wanted to be an eclectic band that just absorbed all the kinds of music we liked and somehow regurgitated it back in the band. We like bands that are like that, like The Band or the Stones or Clash, bands that absorbed American music and somehow fit it together into their own thing.
We came from a punk rock and indie rock background, but as we got older, we progressed and started listening to more R&B music and gospel music, pretty much anything that we liked and tried to fit it somehow into the band, where it made sense. The idea of being eclectic like that is very much interesting to me, because I really like bands and records that is an obvious representation of the band, but that runs the gamut. You can tell that they're listening to a lot of music and are actually music fans.
NP: I also detected echoes of NRBQ at times. Are you a fan of that band?
JK: Oh yeah, I love that band. We actually opened for that band in 2004 or something. That's another band which is a prime example. They were a rhythm and blues band, but were also a little country, and they ran a gamut. You could tell that they were just music fans in the band.
None of us are trained musicians or forever groomed to be musicians. It was just five people who really like music who started a band. There was no grandiose intentions behind it, other than just being music fans and wanting to contribute to music in some way.
NP: Can you give me a thumbnail history of how and when this band came together?
JK: The band originally kind of started in '97, while we were in college. We were just immediately thinking, "Nobody's ever going to help us or do anything for us, so let's just make a record." While we were in college, we made two records. Then the band disbanded and changed a bit and around 2001, we came up with more of what the line-up is now and we put out "How We Handle Our Midnights," which was the first record of this life of the band. That was kind of the beginning of the band that is right now.
There are five records since then, in 2003. That was the start of this.
NP: You were somewhat ahead of the curve in terms of going indie and doing it yourself. Now everybody is doing it, but that wasn't the case back then, was it?
JK: We started in the late '90s, and indie labels were still kind of around, before the digital age brought down a lot of that old label infrastructure. We just started doing it ourselves because nobody would do it for us. If you wanted to make it happen, it wasn't that out of the ordinary to put out your own records. Now, it's much more common for people to do that and never be on a label.
We had no idea what we were doing. I'd never made an official record before. I never wrote songs for an official record. We'd never done anything. This whole process has been an adventure of trying to figure out how to do it and make it work. Every step of the way, we understand it more and try to be better at it.
NP: You have a song on the new album, "When We Were Wicked." Is that an autobiographical song or anthem, about the feeling of being in a rock band?
JK: Yeah. Actually that song came about because, about two years ago, my grandmother was dying. She was at hospice and I was with her. She was telling me a story about when she was 18 years old and she and her friend used to raise hell and get into all kinds of trouble. She prefaced the story by saying, "When we were wicked." I immediately thought, "Oh, I've got to use that in a song."
It basically wrote itself. I just filled it in with myself. It's definitely an autobiographical song about growing up in a small town and not having anything other than your friends and rock 'n' roll, going to rock shows. When you're young and really don't have much responsibility, music seemed like a live or die kind of thing. It's huge. There is a romanticism attached.
The thing is that that feeling never left me. I still have that romanticism about rock 'n' roll. I like the mythology of rock 'n' roll and the idea that it can lift you up. There is some kind of spiritual element to it. It can take you to places that other things can't.
NP: There is a strong gospel underpinning to a lot of your music, and of course, that has been part of the story of rock 'n' roll through the Stones, Little Richard, Joe Cocker, and on and on. But is there a kind of spiritual message that comes through in your music, do you think?
JK: I think there is definitely like a spiritual kind of thing going on. But more so, I'm really interested in songs and narratives that celebrate the great attributes of human beings. That's what I want the band to stand for. It's not trying to be apathetic or cynical or anything like that. It's trying to be positive. Even if it's a little dark, there's a little glimmer of light in there. Super simple things like that, people can relate to, no matter who you are.
NP: Speaking of the listener element, this music has the potential to cut across scenes and demographics, from indie to Americana to classic rock. Do you appreciate that flexibility of who you can ideally appeal to?
JK: Yeah, always the goal was just to be a simple, classic band. We're like a pop band. They're still pop songs. We're trying to do what we can, inside of the little pop format. The reason why people love all those old bands, from the heyday of rock 'n' roll — even just the bands that I love — is that they kind of come to their audience with open arms.
They're inviting people into the band and not just singing to them. It's more like a community wrapped inside of the band. I remember something Bruce Springsteen said: He wanted a show to be part rock 'n' roll show, part religious revival, and part protest meeting.
I like the idea of going to see a band where somehow the songs aren't being sung to you, but are being sung with you.
IN CONCERT
Glossary
When: 9 p.m. Thurs.
Where: Velvet Jones, 423 State St., Santa Barbara
Cost: $10
http://www.newspress.com/Top/Article/article.jsp?Section=SCENE&ID=566636973196968019#.UQFF0-ikSHk