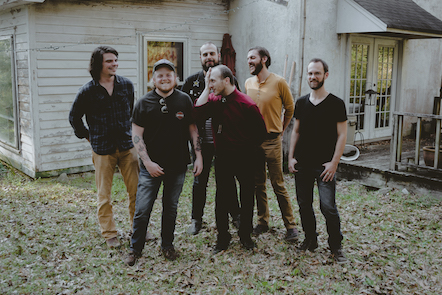 CLICK HERE TO CHECK OUT YOUNG VALLEY'S NEW SINGLE "HANG ME" VIA GLIDE MAGAZINE
SONG PREMIERE: YOUNG VALLEY SHINE WITH FIDDLE-CHARGED ALT-COUNTRY TUNE "HANG ME"
Jackson, Mississippi's Young Valley offers points of view from three songwriters: fraternal twins Zach Lovett and Dylan Lovett, and Spencer Thomas. Each of them bring a different perspective to the table, and present their lyrics with musical styles from traditional country to southern-tinged rock 'n' roll. Since the release of their debut album No Filter in 2014, the boys have toured 34 states over the span of a couple years, sharing the stage with Shooter Jennings, Lucero, American Aquarium, Phosphorescent and Futurebirds.
On April 20th Young Valley will release their sophomore self-titled album. The album was recorded early last year at Dial Back Sound in Water Valley, MS, and features 10 songs of solid alt-country. One of those songs is called "Hang Me", which we are excited to premiere on Glide today. With the presence of a fiddle and twangy guitars, the band taps into a catchy chorus as they dwell on a break-up while still seeming to have a damn good time. The gritty vocals and rollicking music bring to mind acts like Lucero, Drive-By Truckers, Ryan Bingham and the Dexateens. It's fun listening to this young band give it their all, especially at the end when they erupt into a freewheeling jam with some downright beautiful fiddle playing.
Describing the song, singer-songwriter-guitarist Dylan Lovett has this to say:
"It's a fun, bittersweet tune about the turnarounds, hopes and complexities of new love – sometimes from a self-deprecating perspective. For me, it's kind of a funny song. I used to sing this song with my ex-girlfriend (who this song may or may not be referencing to) in a duo project, which makes it even funnier now."
Young Valley's self-titled album will be available April 20th on vinyl, CD, digital and streaming formats via Matt Patton (Drive-By Truckers / The Dexateens) and engineer/producer Bronson Tew's new label imprint Dial Back Sound. Click here to pre-order all formats.
YOUNG VALLEY TOUR DATES:
Mar 20 – The 5 Spot – Nashville, TN
Mar 24 – The Nick – Birmingham, AL
Apr 20 – Duling Hall – Jackson, MS
(additional dates to be announced soon)
Photo: Walter Lyle