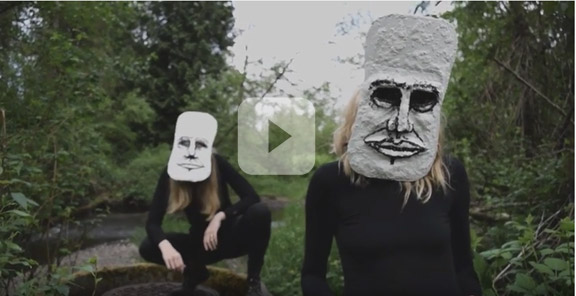 CLICK HERE TO WATCH LONESOME SHACK'S NEW "TRUE VINE" VIDEO VIA GLIDE MAGAZINE!
VIDEO PREMIERE: SEATTLE BLUES BAND LONESOME SHACK SHARE EERIE VIDEO FOR "TRUE VINE"
In the opening track "To The Floor" off the new album The Switcher (coming June 24th) from Seattle trio Lonesome Shack, we hear the sound of beer bottles bouncing off the floor of a barroom. This sets the tone for the slow burning rush of gritty blues that unfolds over the next 14 songs. Though Lonesome Shack hail from the Pacific Northwest, their "haunted boogie" immediately brings to mind the juke joints of the Mississippi Delta with occasional flourishes of what almost sounds like Malian guitar. But it's also anything but traditional, and that is immediately clear from the lyrics of songwriter and frontman Ben Todd. It's the kind of stripped down, raw, expressive and danceable music that's well suited for a dark bar.
Today we are excited to premiere a new video from Lonesome Shack for the song "True Vine". Directed by drummer Kristian Garrard, the video features two maskeds, black clad femme fatales haunting bandleader Ben Todd as he makes his way through a forest. The visuals are eerie and quite odd, yet in a strange way they compliment the song, which has a sinister, bluesy sound.
Sharing some insight on the inspiration behind the video, drummer Kristian Garrard says, "The 'True Vine' video is inspired by suburban teenage boredom, getting up to no good, awkward relationships. We shot and edited it all ourselves, for some amateur appeal, trying to emulate some of the weirdness of films like Trash-Humpers and Gummo."
Lonesome Shack will release The Switcher on June 24th. For more music, tour dates and info visit lonesomeshack.com.
Cover photo: Sarah Garrard
http://www.glidemagazine.com/162268/video-premiere-seattle-blues-band-lonesome-shack-share-eerie-video-true-vine/