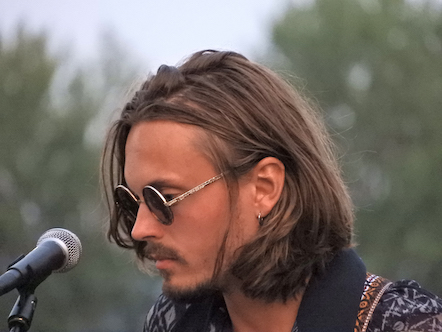 Click here to check out Jesper Lindell's' new single "Stormy Waters" via Glide Magazine
SONG PREMIERE: JESPER LINDELL BRAVES "STORMY WATERS" WITH SOULFUL ROCK AND ROLL
Jesper Lindell was the breakout star of 2017 on the Swedish music scene, when he released his debut EP. Produced by Benkt Söderberg, father and former producer of the world-renowned sister duo First Aid Kit, Little Less Blue presented a collection of songs that were equal parts soul, Americana and rock. The praise from Swedish music journalists was immediate: the notable rock guru Jan Gradvall likened Jesper Lindell to a "young, agile and karate-kicking Van Morrison", and well-respected music magazine GAFFA noted that Lindell was a "shooting star" who seemed too talented to be a product of a such a small country like Sweden.
Lindell went on to star in the acclaimed show "Who by Fire", a tribute concert to Leonard Cohen organized by First Aid Kit at the Royal Dramatic Theatre in Stockholm, where Lindell performed the Cohen classic "Chelsea Hotel #2". During a busy year he also opened for Americana heroes such as Justin Townes Earle and Andrew Combs and played at the prestigious festival Sthlm Americana.
Engineered by Zach Anderson, of the American/Swedish band Blues Pills, Jesper Lindell's enticing debut album Everyday Dreams (out November 29th via Alive Naturalsound Records) is a clever mixture of rock, folk, blues and soul, performed by a 26 year old musician in love with classic pop, Stax-Volt R&B, and that old time rock & roll. The album finds the young guitarist/pianist/songwriter delivering an intimate collections of songs that could have been recorded in the late sixties. This is modern classic rock music, and hearts full of soul will fall in love.
Today Glide is excited to offer a premiere of "Stormy Waters", one of the main singles on the new album. The song is a groovy nugget of throwback soulful rock and roll. Lindell showcases a voice that is completely original and well-suited to lead a band. Speaking of band, his conjures a subtle yet powerful sound, letting the music ebb and flow around the singer's emotive vocals and the catchy choruses and harmonies. With its stomping piano and revelatory lyrics that feel like Lindell conquering life's challenges, it's easy to picture this song being a hit in the vein of acts like the Black Keys and Nathanial Rateliff.