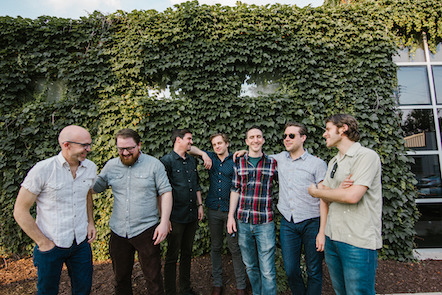 SONG PREMIERE: IKEBE SHAKEDOWN PUMP OUT HARD-DRIVING INSTRUMENTAL SOUL GROOVE ON "UNQUALIFIED"
By Neil Ferguson
June 13, 2019
Ten years ago, Ikebe Shakedown began pushing the boundaries of instrumental music. Each new track and live set has sent them deeper into combining the foundational elements of '70s soul, raw psychedelic style, and cinematic Western soundtracks with powerful grooves and soaring melodies.
With their new release, Kings Left Behind (out August 16th via Colemine Records), the band is giving listeners more mystery and majesty than ever before. The album features the entire group writing together, allowing each instrument and element to shine through. You'll find rhythms that punch you right in the gut, even as dreamy guitars, lush horn melodies, and vibrant string arrangements capture your imagination.
Kings Left Behind was recorded to tape by Ikebe's bassist, Vince Chiarito, at Hive Mind Recording, a Brooklyn studio built from the ground up and co-owned in part by Vince and the band's saxophonist, Michael Buckley. Since it opened in 2017, Hive Mind has become a home base for the band, giving them the freedom to experiment with the textures and sounds of a genre they define as Instrumental Soul.
No matter how much things have changed over the past decade, Ikebe Shakedown has been a consistent, driving force. The band has gone from local clubs to the stages of Bonnaroo and Austin City Limits, playing with some of the biggest names in music. They continue to stretch their capabilities and add to their worldwide following. And with no signs of slowing down, fans can only imagine what comes next.
Today Glide is excited to premiere "Unqualified", a song that is absolutely qualified to funk your face off. Featuring the band's signature style of heady instrumental soul grooves, the song is a guitar-driven romp through wild territory. As we have come to expect from the Ikebe crew, the tune finds the band firing on all cylinders with a full on barrage of brass, saxophone, organ, and plenty of guitar shredding. With only a handful of groups keeping the instrumental soul torch burning, "Unqualified" is a quick shot of danceable goodness that proves Ikebe Shakedown are among the leaders of the pack.
Ikebe Shakedown's Dave Bourla offers his own take on how the song came to fruition:
"We went into the writing of this tune wanting to push the tempo and give ourselves a chance to let loose a little. It features so much of what's become the Ikebe sound over the past 10 years, but it also has space to highlight Eric Finland, who sat in on organ on so much of the album.
One of the great things about group writing is how many different textures we can bring to a single song. In 'Unqualified,' you get a hard-charging horn melody for a lot of the tune, then this unexpectedly sparse, rhythm-driven bridge, before Eric's organ solo takes back over. It's definitely a fun one for us."
glidemagazine.com/227141/song-premiere-ikebe-shakedown-pump-out-hard-driving-afrobeat-groove-on-unqualified/