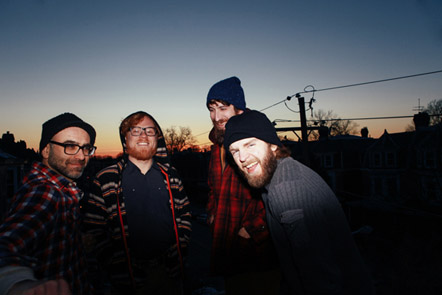 CLICK HERE TO LISTEN TO HOOTS AND HELLMOUTH'S NEW SONG "MOVE ME" VIA GLIDE MAGAZINE!
Song Premiere: Hoots and Hellmouth preach it with soulful rocker "Move Me"
Hoots and Hellmouth's fourth album In The Trees is coming out October 28th, and this is an effort that has felt like an expedition. The new album began to take shape over two years ago in a transformed silversmith mill in the little Philadelphia suburb of Clifton Heights, PA. Listen to In The Trees and it should come as little surprise that Mt Slippery, as it is currently known, is also the home base for the band's fellow rockers Dr. Dog. They assembled with engineer Nathan Sabatino (Dr. Dog, Floating Action, Birdie Busch, etc) and over the course of a couple weeks proceeded to coax these songs out of the ether using all manner of instrumentation. The now-classic acoustic Hoots and Hellmouth sound is certainly present, but as with each record previous, In The Trees pushes the band beyond the borders of what came before. It's a natural progression, an obvious evolution. Sparking electric tones set old wood aflame. These songs burn with it.
One of those songs is "Move Me", and today we are excited to offer up a premiere of it right here on Glide Magazine. The song is soulful and tinged with an almost gospel-like sound, yet it still exudes a loping garage rock feel. It also features an absolutely ripping guitar solo.
Reflecting on the origins of the song, frontman Sean Hoots says, "'Move Me' operates as a kind of spiritual center for this new album… even though it almost didn't make the final cut. I wrote it early in the process of compiling material for In The Trees when I had no idea what a new H&H song would/should sound like. It was an attempt to dare myself back into the sway of the muses. To inspire myself back into inspiration. As a trusted friend once said, the waiting is the hardest part."
Hoots and Hellmouth release In The Trees on October 28th. For more music and info visit hootsandhellmouth.com. Photo credit: Melissa Madison Fuller
http://www.glidemagazine.com/173724/song-premiere-hoots-hellmouth-move/