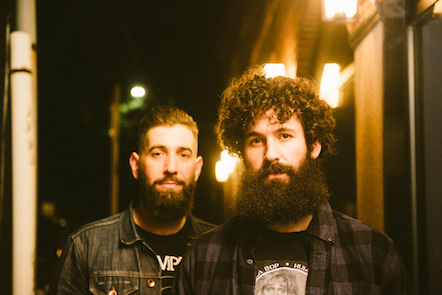 Click here to watch GA-20's new music video "Crackin' Up" via Glide Magazine
VIDEO PREMIERE: GA-20 OFFER VIBRANT, DREAMY RENDITION OF BO DIDDLEY'S CLASSIC "CRACKIN' UP"
GA-20 was formed by friends Pat Faherty and Matthew Stubbs in Boston, MA in 2018. The project was born out of their mutual love of heavy traditional Blues, R&B, and Rock & Roll of the late '50s and early '60s. Faherty and Stubbs bonded over legendary artists like Lazy Lester, J.B. Lenoir, Earl Hooker, Buddy Guy, Otis Rush and Junior Wells. Feeling a void in current music, the duo have set out to write, record and perform a modern version of this beloved art form. Live, GA-20 is a trio of 2 guitars, vocals and drums. Raw, passionate and honest performance – both on stage and in the studio – is the only goal.
Stubbs has spent the past 11 years as guitarist for Blues legend Charlie Musselwhite. During that time he has also backed up and toured with such Blues giants as John Hammond, James Cotton, Junior Watson and James Harman. Stubbs also leads his own original instrumental psych-rock band, The Antiguas.
The band released their new album Lonely Soul via Karma Chief Records in October 2019 and today Glide is excited to offer an exclusive premiere of their music video for "Crackin' Up". Recorded live, the video captures the musical magic being stirred up by these passionate blues purists. Compared to Bo Diddley's original, the GA-20 rendition is a bit more slowed down and is less focused on the doo-wop harmonies than it is on nailing the instrumental. The harmonies are definitely represented, but what stands out is guitar playing, which feels brighter and dreamier than the original. Similar to what Dap-Tone Records does with soul music, GA-20 offer a faithful but refreshed and vibrant take on the raw blues and rock and roll of the 50s and 60s. it should come as little surprise that the album recently debuted at #2 on Billboard's Blues Albums Chart and that they're kicking-off a month-long tour with Jonny Lang starting today.
Guitarist Matt Stubbs offers his own take on deciding to record this classic tune:
"'Crackin' Up' has been my favorite Bo Diddley song for as long as I can remember. It's a song I've always wanted to cover but never had the right singer. As soon as Pat and I started working together I knew his voice would be a perfect fit to the melody. It remains to be one of the most popular songs we perform live."
GA-20's new album Lonely Soul is out now via Karma Chief Records.
Photo credit: Rosie Coche