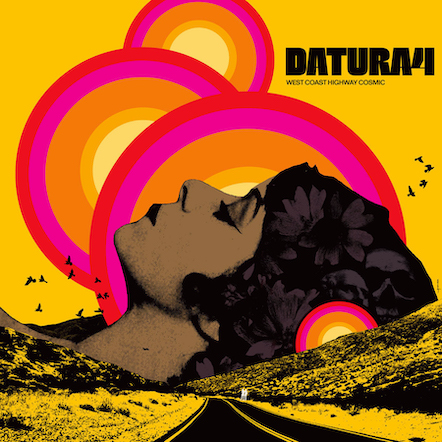 Click here to check out Datura4's new single "You're The Only One" via Glide Magazine
SONG PREMIERE: DATURA4 HIGHLIGHT SPARSE ACOUSTIC SOUND WITH TONY JOE WHITE-INSPIRED "YOU'RE THE ONLY ONE"
By Neil Ferguson
Hot on the heels of their critically acclaimed third album, Blessed is the Boogie, Australian rockers Datura4 have hit the motorway running for another sonic journey through burning boogie, dirty blues and rock and roll soundscapes on their follow-up opus West Coast Highway Cosmic. Due out April 17th via Alive Naturalsound Records, the title was inspired by the highways that the band has traveled to get to the recording studios they've been using over the four albums they've done so far. The two studios are 200 kilometres [124 miles] apart and situated along the southwest coast of Western Australia. The long and sometimes lonely drives back and forth along these routes have definitely played its part in the band's creative process, and whether it be new ideas or just listening back to what they've done in a previous session the 'West Coast Highway Cosmic,' as they like to call it, has been a constant spirit over all of Datura4's studio recordings.
West Coast Highway Cosmic sees Datura4 stretch out and experiment with their sound that they've been building on ever since their debut release Demon Blues in 2015. "I see every album as an extension from the previous one," admits frontman Dom Mariani, "and I'm conscious about not rehashing the same things over. The collection of tunes on WCHC is slightly more eclectic than on the previous albums, which makes it really interesting and exciting for albums in the future. There was a more spontaneous and looser approach for the majority of the recording, where we would take the basic song idea and let things go until we had the take that we liked. We got into the grooves you might say."
Today Glide is excited to premiere "You're The Only One", one of the standout tracks on the upcoming album. The song finds the band channeling the acoustic swamp blues of Tony Joe White alongside the big rock and roll harmonies of acts like the Black Keys. For a band that is more than capable of piling on layers of noise and shredding, "You're The Only One" takes a more restrained approach with subtle use of slide guitar and eerie, reverb-soaked harmonica playing. Though it is clearly a love song, the instrumentation and vocals give this tune a sparse, rambling road-tune vibe.
Singer-songwriter and guitarist Dom Mariani describes the inspiration behind the song:
Photo credit: Ben Taylor-Vivian