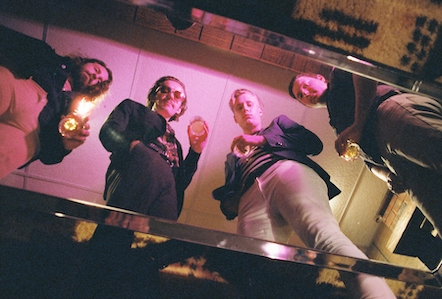 SONG PREMIERE: BLACK LIGHT ANIMALS REFLECT ON NARCISSISM WITH SLINKY DARK POP ANTHEM "HALO"
Black Light Animals are a psychedelic soul group hailing from the Midwest. Taking equal influence from '70s Italian horror soundtracks, Wu Tang samples, and Ziggy Stardust-era David Bowie, their sprawling debut album explores themes of humanity, social media obsession, political division, and the concept of "amusing ourselves to death." Sonically rich and full of spaghetti western guitars, psychedelic keyboards, hip hop rhythms, and lush vocals, Playboys of the Western World comes off as some forgotten '70s film soundtrack, while exploring themes very much relevant to today. The album is due out August 20th via Groove King Records.
Today Glide is excited to premiere "Halo," one of the standout tracks on the new album. With their hard-to-pin sound, the band revels in their own style of slinky dark pop that is enticing and infectious. Touches of glam rock intermingle with a cool and soulful, hip-hop-inspired beat to make for a mysterious anthem. There is something especially intriguing about the way the band melds so many unlikely musical influences, letting the vocals and a down and dirty guitar solo soar above it all. It's easy to imagine Black Light Animals performing this song in a large venue to a crowd singing along.
Band member Cole Bales reflects on the inspiration behind the song:
CLICK HERE TO READ MORE