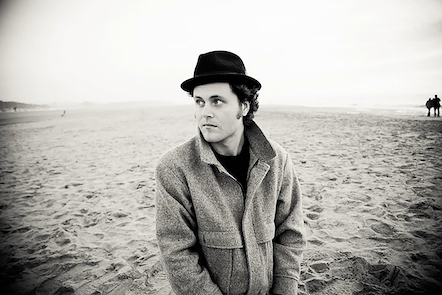 Click here to listen to Ardent Sons' new track "Black Magic" via Glide Magazine
SONG PREMIERE: FLAMIN' GROOVIES DRUMMER TONY T. SALES GETS SOULFUL AS ARDENT SONS ON "BLACK MAGIC"
Ardent Sons is a rock and roll band from Oakland, California, fronted by Flamin' Groovies drummer Tony T. Sales. Their songs explore classic themes of love and loss, travels between broken homes and shaky relationships, and redemption in life's near-forgotten moments. Sales' musical career started with a lot of listening. By the time his dad and uncle gave him drums for his 10th birthday, he had already internalized their musical legacy, the elder Tony and brother Hunt having made legendary recordings with Iggy Pop, Todd Rundgren and David Bowie, among others. Years later, the jazz, R&B, and rock-and-roll that was drilled into his head would lay the foundation for his own music.
After spending years working with several Bay Area groups including Oakland's art-rockers Everyone is Dirty, and late '70s SF punk band Negative Trend, Sales finally picked up a guitar and began writing in earnest. Following a few years of demo recordings, live shows, and line-up changes, Ardent Sons, whose principle members are Sales and Bay Area multi-instrumentalist Dave Flores, is ready to release their debut record, No More Than This. Releasing on May 3rd via Wondertaker Records, the album is a sincere reflection on life unfolding, always looking up, but grounded in the impermanence of the human condition.
Today Glide is excited to premiere the standout tune "Black Magic." Coming in at over six minutes, the song is a slowburning track of greasy R&B simmering with soulful goodness. While Tony displays prowess as an effortlessly smooth songwriter and vocalist, the Ardent Sons as a band showcase the perfect balance of in-tune tightness and an ability to lock into a laid back, in-the-pocket groove. These musicians aren't trying to get anywhere too quick, instead taking their time to create their own vibe that feels at once like a throwback but also fresh and new.
Describing the inspiration behind the song, Tony has this to say:
"There are ways life just happens to you. You can't call all the shots, and some unfortunate shit happens that's out of your control. All you can do is accept it and move on. Even then, some stuff doesn't give up its grip. It's about growing up feeling powerless and a little isolated. "
Ardent Sons' No More Than This will be available May 3rd on vinyl, digital and streaming formats via Wondertaker Records.
Photo credit: Tai Power Seeff