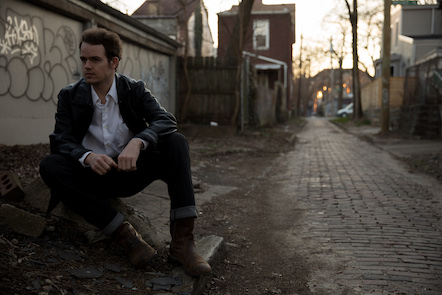 Click here to watch to Andrew Hibbard's new video "Changes" via Glide Magazine
VIDEO PREMIERE: ANDREW HIBBARD KEEPS HIS TWANGY COUNTRY-FOLK RAW AND HONEST ON "CHANGES"
Andrew Hibbard is a musician, songwriter, singer and writer of poetry. Born in Hamilton, Ohio in the late months of 1995, he began playing guitar at the age of 6 when his father showed him some basic chords. Since high school he's been picking and roaming, following the paths cut by his musical forebears – Bob Dylan, Tom Waits, Lou Reed, Neil Young, Hank Williams, Chet Atkins and Lightnin' Hopkins.
Andrew has released two studio albums to date; Foot in the Door (2012) and Under the Knife (2015).
He has toured, performed at festivals and shared the stage with some titans of the American songbook; Dr. Ralph Stanley, Willie Nelson, Sturgill Simpson, Old Crow Medicine Show, the Tillers, Willie Watson and My Brother the Bear.
Andrew claims to have written nearly 300 songs, most of which he's scrapped, lost or forgotten. Luckily, a dozen of the best have survived the culling and are slated for release on his third self-titled LP, due out in the Spring of 2020 on SofaBurn.
Whether it's paying tribute to the classics or displaying his own craft to match his musical mentors, Andrew Hibbard is sure to be a delightful and intoxicating experience to anyone who is a fan of Folk/Country/Blues at its best.
Today Glide is excited to offer an exclusive premiere of the video for his song "Changes", which will be featured on the upcoming record. Played in a mournful vein not unlike fellow Ohio native Jason Molina, Hibbard injects plenty of twang into a high and lonesome, shuffling tune. His love of country music is evident in the honky tonk stylings that bring to mind the classics of the genre, but there is also a dark folk sound underlying the twang. This is accentuated in the grainy black and white video that features sad and mysterious characters wandering rural roads, train tracks, and bars in between performance footage of Hibbard and his band. All of this comes together for a song that is far more intriguing than the average Americana artist tapping into the same sound over and over again.
Hibbard describes the tune in his own words, and it's no surprise that the the ghost of Hank Williams makes an appearance: