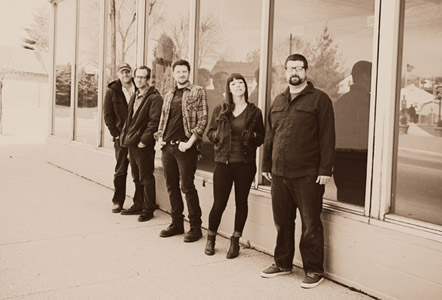 CLICK HERE TO LISTEN TO THE PREMIERE OF ALONE AT 3AM'S NEW TRACK "UPSIDE" FROM THEIR NEW LP "SHOW THE BLOOD" VIA GLIDE MAGAZINE
Song Premiere: Alone At 3AM "Upside"
A lot can happen in 16 years. For a band this amount of time can mean huge changes and even demise. But since 1999 guitarist and singer Max Fender and bassist Joey Beck have been rocking basements and bars across the Midwest as Alone At 3AM. The band's lineup has changed plenty of times over the years, but their 2010 album Cut your Gills found Fender and Beck charging forward with full force. They toured and made music that stretches beyond their native Ohio and their upcoming album Show The Blood, which comes out September 18 via Sofaburn Records, finds Alone At 3AM in fine polished form. The group, which these days consists of five members, puts a tough Rust Belt attitude into a sound that is equal parts rock and roll, alt. country, and Americana, bringing to mind groups like the Drive-By Truckers and Lucero. Frontman Max Fender possesses a distinctive rasp reminiscent of Centro-matic's Will Johnson that finds a perfect harmonic counterpart in keyboardist Sarah Davis. All of this can be heard in the song "Upside".
"'Upside' is about me constantly questioning; What does this life mean? Why do we suffer? Why can't we make things better?," says Fender on the inspiration behind the song. That may sound deep and philosophical, but make no mistake about it, this song rocks. Give a listen to our exclusive premiere of Alone At 3AM's "Upside":
http://www.glidemagazine.com/145647/song-premiere-alone-3am-upside/