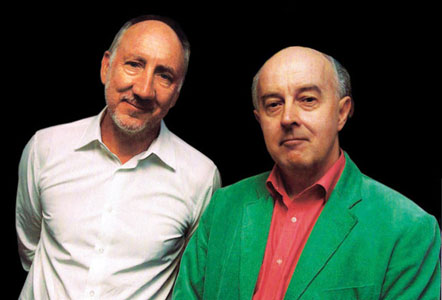 The Who's Pete Townshend Produces New Album Based On His Lifehouse Project
Michael Leonard
12.21.2011
Shortly after The Who conceived, produced and recorded their rock opera Tommy, Pete Townshend started work on a follow-up "sci-fi rock opera." Parts of Townshend's Lifehouse project have occasionally seen the light of day, but he has now produced a new twist on the tale.
London-based composer and mathematician Lawrence Ball's forthcoming double CD-set Method Music was not only produced by Townshend, it was also the direct outcome of Townshend's ongoing Lifehouse project.
Ball says: "Method Music evolved from Pete Townshend's question to me about generating unique pieces of music from the input of personal characteristics as data, a question related closely to his ongoing project Lifehouse. I wanted to see what the music could sound like prior to designing the proposed system of portraiture, and I created the tracks on Disc One: Imaginary Sitters, as a touchstone towards designing the software which would eventually execute the task itself."
Townshend's original Lifehouse story was set in a futuristic world where rock 'n' roll no longer exists – but a secret concert is staged where audience members enter their personal characteristics into a computer grid.  A unique piece of music – based on the audience member's personal data – would then be generated.
Some may joke that Townshend foresaw iTunes/Spotify/Last FM playlists 40 years ago.
Townshend's idea was that this would lead to one "perfect" musical note culminating in mass nirvana: "a kind of celestial cacophony," according to Townshend. Lawrence Ball's Method Music album also includes Disc Two: Imaginary Galaxies, that "expand the forms into larger structures with greater permutations, variables, and variety."
Lawrence Ball's Method Music, produced by Townshend and Bob Lord, will be released on January 31.
http://www.gibson.com/en-us/Lifestyle/News/The-Who-1221-2011/