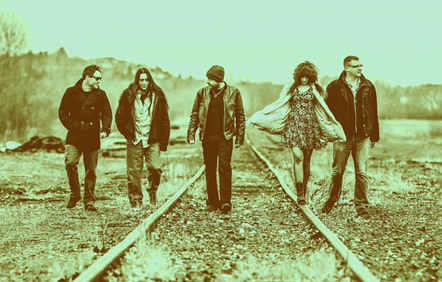 CLICK HERE TO LISTEN TO SULFUR CITY'S HARD-HITTING NEW SINGLE "POCKETS" VIA GHETTOBLASTER MAGAZINE!
Song Premiere: Sulfur City "Pockets"
Fronted by singer/electric washboard player Lori Paradis, Canadian band Sulfur City comes roaring out of your speakers with echos of Grace Slick, Patti Smith and Janis Joplin. Sulfur City has a balls-to-the-wall, high-energy gritty style fits right in with Alive Naturalsound Records label mates like The Black Keys and Left Lane Cruiser.
Raised in the small mining village in Northeastern Ontario, Paradis' lyrics reflect her life experience (she has been a truck driver on a construction crew, a bartender and a house painter, among other odd jobs). Talking Loud was recorded at the infamous Gas Station Recording studio by Dale Morningstar (Cowboy Junkies, Neko Case), and features Jesse Lagace (guitar/vocals), Steve Smith (bass/vocals), Sam King (drums/vocals) and Keith Breit (keys).
Sulfur City's Talking Loud will available May 27 in limited vinyl, CD and digital formats through Alive Naturalsound Records.
To celebrate the release, the band have shared "Pockets" with Ghettoblaster. This is what Paradis had to say about it:
"Standing on a soapbox and screaming to passers-by on the street about the political woes of the day is what I wanted the song 'Pockets' to be about. This song is my soapbox. There is political circus today; we are blind-sided by gibberish and double talk. War is profit and poverty is an annoyance. Fear is fed to us in a TV dinner."
http://ghettoblastermagazine.com/2016/song-premiere-sulfur-city-pockets/