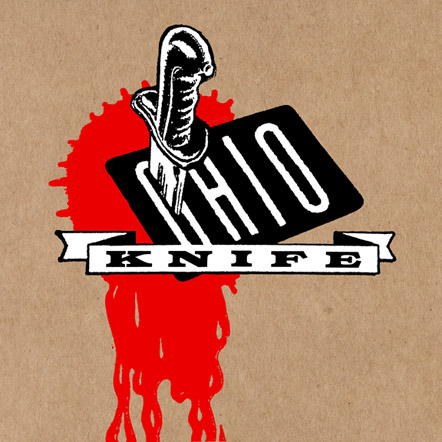 CLICK HERE TO LISTEN TO OHIO KNIFES'S NEW ALBUM "SCALP OR BE SCALPED" IN ITS ENTIRETY VIA GHETTOBLASTER MAGAZINE!
Album Stream: Ohio Knife's "Scalp Or Be Scalped"
Ohio Knife is a punch you in the gut, unforgiving, rock n' roll band hailing from the great midwestern city of Cincinnati, Ohio. Capitalizing on off-the-beaten-path tunings, Ohio Knife's Jason Snell brings raspy, two-toned vocals and spooky, soulful, trashy guitars as Joe Suer drops an ass-load of low-end drums and Scotty Wood provides all the thumping low-end bass you could ever wish for in rock.
Ohio Knife's new album Scalp Or Be Scalped will be available October 21 on vinyl, CD and digital formats and today Ghettoblaster has the pleasure of streaming the album. This is what frontman Jason Snell had to say about it:
"Scalp or Be Scalped has been a true labor of love for the past two years — we wanted to record with our buddies at The Lodge (James Leg, All-Seeing Eyes and Walk the Moon) as well at Ultrasuede with John Curley of The Afghan Whigs and finishing at my house. Joe Suer and I learned so much as we mixed the record at my place (Raeburn Ranch and We Have Become Vikings) over the last year plus. We took some chances with giving the music space and time as we knew the record had to have a great sonic range, it had to have plenty of hooks and had to be a record that can stand the test of time."
http://ghettoblastermagazine.com/2016/album-stream-ohio-knife-scalp-or-be-scalped/