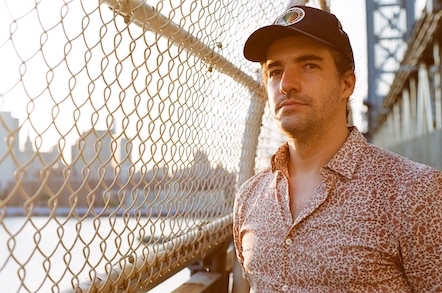 Click here to listen to Charles Ellsworth's new single via Ghettoblaster
Song Premiere: Charles Ellsworth, "Laundromat"
Brooklyn transplant (by way of the White Mountains of Arizona) Charles Ellsworth will be releasing his latest studio album Honeysuckle Summer on March 5, 2021 via Burro Borracho Records.
Just as the pandemic was taking seed around the country earlier this year, the singer-songwriter managed to recruit several musicians from the Brooklyn music scene – including Jared Schapker (Grandpa Jack) and Blake Suben (Dirty Bird) — to help him record this album with producer Joe Reinhart (Hop Along, Algernon Cadwallader) at his Headroom Studio in Philadelphia, Pennsylvania.
Honeysuckle Summer is Ellsworth's demonstration of coming full circle — telling his "whole story so far." In working to overcome his own traumas, through self-exploration and new-found sobriety, he became acutely aware of how all of the minutia one experiences throughout life add up to an eventual person and how we have a choice on what to do with them. If not addressed, they can create problematic patterns that carry through life or we can embrace the good and do the work to overcome the bad.
Honeysuckle Summer also finds Ellsworth finally embraced his Americana roots and settled comfortably into a new alt-country sound in the vein of Jason Isbell and Sturgill Simpson — which is where the music on this album falls.
Today, Ghettoblaster has the pleasure of premiering "Laundromat." Of the song, Ellsworth says, "I don't believe I've ever spent nearly as much time on a song as I spent writing 'Laundromat.' It's a simple enough song, but the subject-matter was pretty traumatic and was what led to the mental breakdown that ultimately led to the writing of this record.
Click here to read more
https://ghettoblastermagazine.com/features/song-premiere/song-premiere-charles-ellsworth-laundromat/