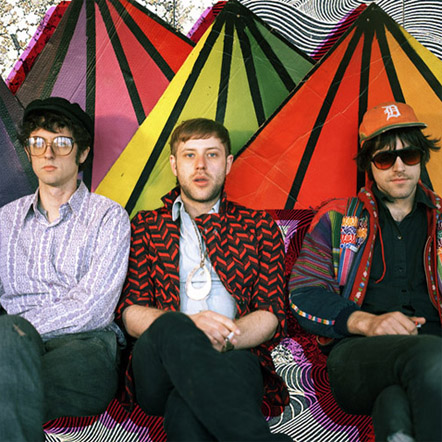 AUSTIN EXAMINER (Austin online A&E site)
10 Questions – Gardens
Thomas McAleer
The band GARDENS is part of the new sound of Detroit. Formed by Matthew Mueller, Jeffrey Thomas, Julian Spradlin and Vincent Mazzola in 2007, they have already released a couple of singles and cassettes, and recently released their self-titled debut cd on Alive Naturalsound Records.  They have a local show coming up on October 23 at Beerland in Austin, and recently answered 10 questions for me.  PopMatters (www.popmatters.com) claims, "Although rooted in a post-punk hotbed of throbbing, thrashing bass, Gardens's debut album blossoms over its 10 songs into an adrenaline rush of artful, angular garage-rock. Not unlike contemporary British bands Young Knives and Pete and the Pirates, the Detroit-based combo creates an original sound out of familiar elements."
Who are your songwriting influences?
Matt: Neil Diamond, Vince Neal, Neil Young, Young MC
Jeffrey: Van Morrison, Life, 580am
When and where was your first public performance?
Gardens: Halloween 2007. Anton Art Center. Mt Clemens, MI
Matt: Eighth grade
Vince: Dec 1 2011
Jeffrey: L'Anse Creuse High talent show in a shitty pop punk band called Cause and Effect, with Vince.
Julian: 1995, playing saxophone in elementary school band recital. Or solo, 1997 playing a piano recital. Both in Royal Oak,Mi.
Or if you mean rock and roll, 2003 playing congas with an unnamed, early 70s miles davis style band ,at xhedos cafe in ferndale, mi
What was the first record or cd you purchased with your own money?
Julian: Green Day "Dookie" or Nirvana "In Utero" or Beach Boys "Greatest Hits" – listened to all of those around the same time.
Matt: George Harrison,  "I got my mind set on you" single
Jeffrey: Cranberries, because my dad recommended it, haha.
Vince: Mc Hammer "Can't Touch This"
What was the first live concert you attended?
Matt: Spin Doctors, Cracker, and Gin Blossoms at Pine Knob haha
Julian: Either Bob Seger or The Association, when really young, age 5 or so.
Vince: Hole and Cypress Hill in 1994.  Cypress Hill had a 12 foot bong on stage.
Jeffrey: Bunch of hardcore and punk shows at this pretty lame coffee and soda place called Wired Frog. My mother wouldn't let me go out to the big city to see big shows.
Which venue would you most like to play that you haven't yet/ and which is your favorite venue to play?
Julian: — maybe Bowery Ballroom [NYC] or Not sure, since we haven't been there. // ???
Matt: Those glass domes on the moon.  I don't have a fave.
Jeffrey: Cydonia.
Corey: Royal Albert Hall!
What is the best career advice you've been given, and by whom?
"Learn every Beatles album up to The White Album, or go to college" – Joey Mazzola
"Never give a sucker an even break" – Michael Jackson
Who are you listening to now?
Julian: "Sorrow Come Pass Me Around: A Survey of Rural Black Religious Music" (Recorded 1969-70 / Released 1975 Advent Records) // Thee Oh Sees // Natural Child
Matt: Shannon blathering about computer viruses
Jeffrey: Detroit Tigers fans, Rolling Stones, Brian Eno, this one particular song by this early 70s psyche band called Electronic Hole, Bob Dylan Rolling Thunder Review
Vince: Beatles in my life and big country big country!
What is your best story about life on the road?
Jeffrey: One time this cop pulled us over, because our break light was flickering on and off. He saw that we had a Keith Richards biography on the dashboard and commented on it. Turns out he was a huge fan and named his car Blue Lena as well, not that his car was blue, but because of cop blue. He told us to follow him to this watering hole called Primal Mechanisms. We didn't have to be to our destination any time soon, so we thought why not? Upon pulling up, our van got shot at by this bald bearded man with a giant scorpion tattooed on his head who was yelling something incoherently about has-beens. We got out anyway, and sifted inside. This bar was the weirdest mix of sleazy night club and children's play adventure. There were women doing topless dance routines with half working animatronic figures. Our new cop friend.. err.. escort.. bought us a round of some mysterious drink called Comanche Moon. Then he proceeded to call the bar tender over and whisper some shit into his ear and before we know it a big highly sedated black bear with a muzzle on it's face is being brought to a stage-like area. He started to fight the bear and it gets a bit blurry at that point, because whatever was in that drink wasn't just alcohol. Luckily Julian didn't have much and got us out of there, because who knows what would of became of us.
What recordings are available to the public and where can they be purchased?
All releases still in print are available at shows. Our first single is available on iTunes. Debut Record is available at independent record stores around the US and parts of Canada. Also, Alive Natural sound website [alive-totalenergy.com]
When and where are you playing next?
The United States. US Tour starts 18 October in Columbus, OH. West Coast and elsewhere, mainly West of the Mississippi.
For full listings and all future shows, see [newdetroitgardens.com]
Sun. Oct. 23 GARDENS w/ The Act Rights 9:00pm at Beerland, 711 Red River St., Austin, TX (512) 479-7625
http://www.examiner.com/local-music-in-austin/10-questions-gardens
THE LANTERN  (OSU Columbus college weekly)
Detroit rock group Gardens ready to plant itself in Columbus
By Katie Howard
Detroit rock group Gardens is scheduled to perform at The Summit Oct. 18, 2011.
From an ad-hoc performance on a baseball field to meeting the president, Gardens took the long way around to their debut album and performance in Columbus.
Members Matthew Mueller, Jeffrey Thomas, Julian Spradlin and Vincent Mazzola will be starting their tour for their self-titled debut at The Summit on Tuesday.
The band began without guitars and microphones. Thomas explained that they formed in 2007 on a baseball field. On that day, he said somehow everything just fell into place.
"It's a funny story how we got together," Thomas said. "We are big baseball fans and we were all out on the diamond playing a game. Somehow guitars were nearby and we took a break and started to play."
Since that game in 2007, the guys have been recording with Alive Naturalsounds Records and working on their debut album.
The members say they embody the sounds from the '60s and '70s, but still want to bring a new sound for the hardcore rock fans.
"We like to see what new sounds we can make," Spradlin said. "That way we can entertain fans and attract new listeners."
The group travels around the U.S., getting its music out to the people. They have played at numerous community and charity events. Through these experiences, Mueller said he senses the group is making more than just music.
"At these events, we're helping people," Mueller said. "We are using our name to raise money for them. Everyone wins."
Through its travels to promote the music, the band has had several encounters with notable people. However, they all agreed that being stopped by the president's motorcade in Washington, D.C., was at the top of the list.
"After the show, we were driving and were stopped behind President Obama's motorcade as he stepped out to get a cup of coffee," Thomas said. "Of course, we jumped out of our car and went in for a chat. He said he liked our music."
They went their separate ways, but not without handing over an album to the president.
Thomas is excited to be performing in Columbus near campus. By being close to Ohio State, he hopes that students come out and see what they have to offer.
However, for some students, it isn't the band as much as it is the rock sound. For Ryan Teng, a third-year in economics, it comes down to the music.
"It's just not my thing," Teng said. "Rock music just isn't my kind of sound."
Kate Larrimer, a first-year in health sciences, said that going to see Gardens would be a stress relief.
"I've never heard their music," Larrimer said. "I'd go to let off some anxiety from classes. It would be good to socialize."
http://www.thelantern.com/a-e/detroit-rock-group-gardens-ready-to-plant-itself-in-columbus-1.2651650
EVERTHING BUT URBAN  (Toronto music blog)
Gardens Live at the Silver Dollar (Toronto)
Despite what anyone might think or say about Motor City Detroit, that city is without a doubt a trend zone in the remaking. Yes the city looks in rough shape, but if you have your doubts do yourself a favor and check out Johnny Knoxville's documentary Detroit Lives. This city has a history in pop culture, especially when it comes to the realm of music (ahem, Motown).
Detroit's own Gardens recently kicked-off their Canadian tour in support and promotion of their self-title debut album. On behalf of eBurban I was able to catch their show in Toronto this past Friday (August 26th) at the Silver Dollar.
For those who are not familiar with the Silver Dollar it's a wee bit of dive bar with all the basic ingredients; dim lighting, cheap beer, and loads of hipsters. The bar even offers Swedish Snus for sale (think of it as an alternative to chewing tobacco) and there's an alarming amount of men with mustaches in the crowd. Amps border the stage angled in various ways. Two red lights point down on the drum kit while a "classy" Silver Dollar signs dangles above. The rest of the stage is lit with a blue hue that paints over the members of Gardens with the drummer being the exception.
Gardens was formed by four members; Jeffrey Thomas (vocals/guitar), Matthew Mueller (keys/guitar), Julian Spradlin (drums), and Vincent Mazzola (bass). What I can gather from my "Google" web-browsing research tactics is that Mueller is a fairly new member to the ensemble.
The vocals that night were a cross between lazy-surfer-rock vocals and neck-vein-rocking-popping vocals (all very technical terms). From the get-go the young twenty-going-on-thirty something crowd was digging the show the Gardens were putting on for them. The fans exhibited this captivation with an awkward ambition to move along with the music as their heads swayed almost in unison in a half-ass "worm" motion.
Gardens allowed the power and emotions of their songs dictate their movement and stage presence throughout their set. Even with that in mind I almost want to classify their sound as "background" music. Before you get all hot and bothered, "background" music isn't necessarily an insult. I consider some of my favorite bands "background" music. I'll try and redeem myself by saying Gardens put on a solid show that will no doubt have the hipsters coming back for more.
Let's face it, Detroit's Gardens is a trendy band with a complimentary fan base. Enough said.
http://eburban.com/cat-news/id.9293/title.gardens-live-at-the-silver-dollar-toronto
DETROIT BLACKOUT  (Detroit music blog)
Get Ready for the best Detroit freak-out you've seen in years.
Gardens S/T Album Review
Okay here it is. First, a bit of explaining. This is the long awaited debut album of Gardens from Detroit, MI. I first interviewed them back in 2010 when I started this blog. I spoke with a band member about this album at a show and he told me it was already released at that time. I was giddy as hell and ordered it. The record was great and I listened to it many times but didn't feel I could do an accurate album review of it until now. I didn't want to sell the band or myself short. So here it is.
Gardens have put out a couple 7inches one being on Italy Records another one Just for the hell of it Records. They also have a cassette release on Telephone Explosion Records. To my knowledge, they released the two 7inches first and then Debute album followed by the cassette release. ( feel free to put these guys on discogs.com with an accurrate discography.) They also had burned cds floating around at some point in time. The self titled Gardens album was released on ALIVE NATURAL SOUND Records. It is sold through the BOMP store online. It's a Green Vinyl with album art of the band members.
The Original Gardens lineup consisted of:
Jeffrey Thomas-vocals/guitar
Julian Spradlin-precussion
Vincent Mazzola-vocals/bass guitar
Gardens added Matthew Mueller to the lineup after the Album tracks were recorded and that is why you do not see him on the album artwork.
Gardens consider themselves part of the new sound of Detroit. Gardens told me in an interview maybe more than a year ago that this album was due to be released. They had the master tracks for quite some time but it wasn't released until, May 10th-2010. Almost 9months after I spoke with them. Needless to say, I was in anticipation. The original tracks we're remastered. Their debut album was produced and engineered by Chris Koltay (Akron Family, Dirtbombs, SSM) at High Bias recordings, with Warren Defever of His Name Is Alive. After hearing the opening track I knew I was going to like this album, the guitars are loud and in your face when you listen to this record. They added more reverb on the vocals but not to the point where it sounds like Jesus & Mary Chain or the Raveonettes.
As soon as I got to the second track I could hear piano. Later in the record you will hear some organ. It was great. When I interviewed them earlier in the year I saw that very piano in Jeffrey's house. The record itself has a hint blues mixed with rockn'roll. The guitar is loud and the bass is bumping. You get the feeling of the Kinks meets the Booker T & the Mg's. While some tracks are heavy on piano/organ there are other tracks that are more primitive 3 piece rock songs. The whole album will get you singing and dancing by yourself.
The album itself sounds louder and a bit more crisper sounding than the 7inch releases but don't be discouraged because this is the same Gardens you know and love. The album was still recorded in lo-fidelity to my knowledge. Chris Koltay and Warren Defever did a really well job on engineering this album. While on some Gardens releases Jeffrey's voice may be a little more unclear you can make out exactly what he is trying to get across in this release. Keeping that in mind, there are no lyrics inside the album when you buy this. The majority of this album brought me back to when I first saw the band unsuspectingly. Discovering a great band is always a good reason to be excited. A few of the tracks on this release I hadn't heard to my knowledge but they were a pleasant surprise. Pick up a copy if you haven't already!
+plus factors in buying this release include:
Green vinyl with Free Mp3 download.
Cool artwork on back of release.
It's affordable.
where to buy:
http://www.bompstore.com/servlet/Detail?no=12855
http://detroitblackout.blogspot.com/2011/09/gardens-st-album-review.html
WHEN YOU MOTOR AWAY  (online music blog)
REVIEW: Gardens – Gardens
Gardens is a punk/garage rock band from Detroit. They've recently released their self-titled debut album on Alive/Naturalsound and are embarking on a tour beginning October 18.
What they've got is talent and some intriguing song ideas: the opener, "Teachers", is vintage Detroit garage punk… the guitars are pretty primal, vocals snotty and the song really moves along. Here's the video:
Second song, "Ideas to Use", while still nostalgically primal and lo-fi, really slows down the tempo until it picks up about 4:00 in. The longer pieces on this record sound like Gardens has combined several song ideas into one song… a pretty sure way to hook a GbV fan like yours truly.
Download "Ideas to Use", here.
Some of the songs just move along on a true punk backbeat/bassline combination… check out "Alive in 5D" with its Stooges guitar lines (and some catchy, simple guitar solos), or this one, "Staring at a Line":
There are some goofily arty moments, like the spoken word/a capella intro to "Living American"… with echoes of some of George Clinton's proto-raps on old Parliament records. Then, after about a minute and a half of this, it turns into a garage rock raver. Here's a video of the song in live performance:
And just for a little more variety, the record closes out on a 4:14 keyboard-based bluesy number, "Morning Refresher". All in all, a very engaging debut. Not to make too much of the "retro" aspects, because there's plenty of variety in the tempos and sound levels, but the best moments on this record will definitely put you in mind of your garage/punk favorites.
by John Hyland
http://whenyoumotoraway.blogspot.com/2011/09/review-gardens-gardens.html