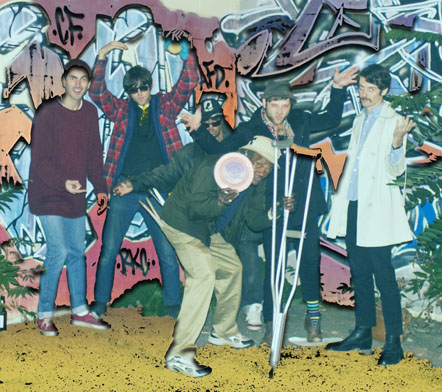 Show preview: Gardens at the Smell on October 29
Kristen Lowman / LA Local Music Examiner
Who hasn't wondered what the lovechild of Motown and Pure Punk would sound like? I for one can't tell you how many nights of sleep I've lost in vain search of the answer to this ages-old sonic stumper. Finally, at long last, I 've found the solution to the most enigmatic riddle in all of noise, and in my spam folder no less.  The noise has a noisemaker, and that noisemaker is rock'n'roll newcomer band Gardens.
Raised on a diet of Terrence Mckenna,The Beatles, Syd Barrett, Nirvana and Turkish psychedelic music, GARDENS is part of the new sound of Detroit. Formed by Matthew Mueller, Jeffrey Thomas, Julian Spradlin and Vincent Mazzola, they have already toured the country, sharing the stage with the likes of Brimstone Howl, Thee Oh Sees, Detroit Cobras, Akron Family and Tyvek, to name just a few. Their debut album, Gardens, was produced and engineered by Chris Koltay (Akron Family, Dirtbombs, SSM) at High Bias recordings. And while it certainly doesn't hurt Gardens in the slightest that 25% of their founders happen to be Another Awesome Jeffrey, that is not the only reason I'm excited by what I heard.
But you really should hear for yourself, and what luck!…  Detroit's avant-psych-garage band GARDENS are performing two L.A. area shows this month; first at Fullerton's Burger Records on Oct. 28th and then at the legendary Angel City Club now known as The Smell on Oct. 29th.  The LA show sees them joined by indie heavies Warlocks, Strangers Family Bands and Black Apples. For my readers, these awesome guys are offering not one but two tracks to sample off the album, "IDEAS TO USE" & "MAZE TIME" absolutely no strings attached: no email required, no hoops to jump through, just right click, save, listen and enjoy.
Advertisement
These shows are of course part of a US tour the band is mounting in support of its recently released self-titled debut album, which is already raking in some enviable press.  Gardens is available in-stores now on CD, Ltd. Edition GREEN VINYL WITH DIGITAL DOWNLOAD and digital formats.
http://www.examiner.com/local-music-in-los-angeles/show-preview-gardens-at-the-smell-on-october-29-1