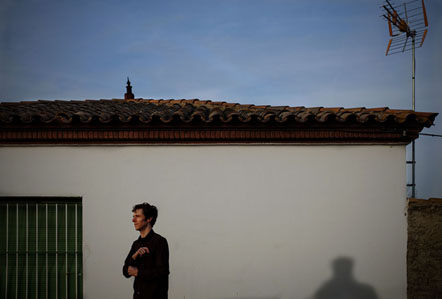 CLICK HERE TO WATCH DANIEL MARTIN MOORE & WUSSY'S LISA WALKER VIDEO PERFORMING HANK WILLIAMS' "I'M SO LONESOME I COULD CRY" VIA FLOOD MAGAZINE!
PREMIERE: Daniel Martin Moore and Wussy's Lisa Walker Cover Hank Williams's "I'm So Lonesome I Could Cry"
Filmed in the same studio where Hank and The Pleasant Valley Boys cut the original in 1949.
photo by Pedro Anguila
In August of 1949, Hank Williams and The Pleasant Valley Boys entered Cincinnati's Herzog Studio to record "I'm So Lonesome I Could Cry." The staggeringly bleak song is arguably Williams' greatest achievement as a songwriter and a high mark in the history of country music. It's since been covered by everyone from Townes Van Zandt to Al Green to The Mountain Goats. Terry Bradshaw even managed to chart a version of the song back when he was still a Pittsburgh Steeler (and, it should be noted, The Blonde Bomber managed to acquit himself despite syrupy countrypolitan backing).
So it makes sense that Kentucky folk singer Daniel Martin Moore would choose to cover "I'm So Lonesome I Could Cry" himself during a recent session at Herzog. Moore, whose Jim James–produced LP Golden Age was released at the end of last year, was joined in the studio by Lisa Walker of the band Wussy. "I think the song's staying power comes from the imagery and the flow of the lyrics' meter through the melody," Moore says. "It's a masterpiece of a song—so sad, so beautiful."
We're proud to be premiering Daniel Martin Moore and Lisa Walker's take on "I'm So Lonesome I Can Cry," which you can watch below. You can also catch Moore on the road starting later this week; those dates are below, too.
Daniel Martin Moore tour dates
April
8 – Lexington, KY — Grand Reserve — KNLT Fundraiser
10 – Cincinnati, OH — Shake It Records in-store – 2pm – w/ Wussy
10 – Cincinnati, OH — Monastery Studio – 7pm – Show and Q & A
12 – Murray, KY — Murray State University
13 – Indianapolis, IN — LUNA Music in-store show w/ Julien Baker
14 – Bloomington, IN — Landlocked in-store show
16 – Chesterfield, MO — The Crossing
20 – Colorado Springs, CO — Ivywild
21 – Denver, CO — Globe Hall
23 – Boise, ID — Flying M Room w/ The Ravenna Colt (Johnny Quaid)
28 – Spokane, WA — Bartlett w/ Adam Arcuragi
29 – Walla Walla, WA — Billsville West House Shows w/ Adam Arcuragi
30 – Seattle, WA — Easy Stret Records
May
1 – Eugene, OR — Sam Bond's Garage w/ Adam Arcuragi
2 – Portland, OR — Bunk Bar w/ Adam Arcuragi
4 – San Francisco, CA — Hemlock Tavern w/ Adam Arcuragi
6 – Los Angeles, CA — Hotel Cafe w/ Adam Arcuragi
8 – Costa Mesa, CA — Wayfarer w/ Adam Arcuragi
9 – San Diego, CA — Soda Bar w/ Adam Arcuragi
10 – Phoenix, AZ — Valley Bar
13 – Austin, TX — Sidewinder
14 – Dallas, TX — Good Records
21 – Berea, KY — Moonshiner's Ball
June
11 – Covington, KY — Covington Library
http://floodmagazine.com/35247/premiere-daniel-martin-moore-and-wussys-lisa-walker-cover-hank-williamss-im-so-lonesome-i-could-cry/