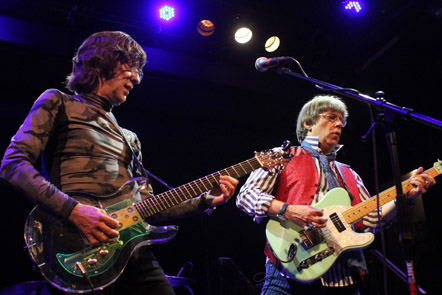 Here's some of the press that's been rolling in for The Flamin' Groovies Northwest shows…
PORTLAND TRIBUNE (Portland daily)
Feelin' Groovie
Chris Wilson's musical compatriot, singer-guitarist Cyril Jordan, has just sent him an Instagram of himself, dressed in a mod-style jacket.
The pic notes Jordan and the other Flamin' Groovies, bassist George Alexander and drummer Victor Penalosa, are rehearsing in San Francisco for their upcoming tour. They'll hook up with Wilson, who recently moved to Portland from London — in part because Oregon just legalized pot — to play along with The Pynnacles and Criminal Guitars for the Groovies' tour kickoff at 9 p.m. Thursday, March 12, at Dante's, 350 W. Burnside St.
Tickets are $15. Info: www.danteslive.com.
Sitting outside a Portland bar, you can literally see the fact that he's about to go on tour sink into Wilson's head. He pounds a clenched right fist in the open palm of his left hand as a big grin spreads across his face.
"This is gonna rock!" the guitarist-singer exclaims, adding, "it's an incredible privilege to be at my age and still playing rock 'n' roll for people who still want to hear it."
Power-pop pioneers, jangle-rock innovators, alt-rock godfathers — whatever you want to call them, The Flamin' Groovies were one of those bands that should have been much bigger in the popular mind, but nonetheless made an impact that still echoes in the rock world. You can hear the Groovies' influence in bands like R.E.M., the Cranberries, Throwing Muses and a host of other post-punk outfits, but the band also knew how to play Stonesy blues rock, especially when it was fronted by Roy Loney, who left in 1971. The band's most famous post-Loney album, 1976's Dave-Edmunds-produced "Shake Some Action," could be considered a seminal alternative rock record, its much acclaimed title cut covered by Cracker and used in the 1995 movie "Clueless." From garage rock to post-punk, the Groovies' eclectic experiments have covered all kinds of sonic ground.
"We just played the music we loved," Wilson says. "We're a thinking man's punk band."
Fans of the Groovies can look forward to a new album in 2016, and the band already has released a teaser cut off it, "End of the World," a steady-driving Byrds-style rocker, replete with patented Groovies' vocal harmonies. The group also will be the subject of a documentary set to be released next year by Kurt Feldhun of ESPN's "Fishin' Impossible." Overall it's a groovy time to be a Groovie, Wilson notes.
"I feel like a nice old bottle of burgundy," Wilson says with a laugh. "I'm ripe and mature and ready to drink."
http://portlandtribune.com/pt/11-features/253296-122541-live-music
PORTLAND MERCURY
(Portland weekly)
Shake Some Action: Flamin' Groovies Keep on Groovin'
By Ned Lannamann
FLAMIN' GROOVIES Playing the Pacific Northwest for the first time in 45 years.
CYRIL JORDAN is demonstrating for me, over the phone, how the intro lick for 1976's "Shake Some Action" had its roots in Marvin Gaye's "Can I Get a Witness?" He plays both chord sequences back to back on his guitar.
"Can you hear that?" he asks. "I threw a minor chord in the middle, so I kind of changed that famous boogie part."
It's beyond thrilling to hear Jordan dissect one of the great rock 'n' roll songs of all time, by way of one of the other great rock 'n' roll songs of all time. Make no mistake: Flamin' Groovies' "Shake Some Action" is a masterpiece—from those opening bars, in which watery electric guitars swim through reverb to chop out time, to the five-note descending riff that's peppered throughout the song, or from the romantic, forlorn verses, to the three-part rising vocal harmony plucked from "Twist and Shout" that leads into the song's ecstatic chorus. There are scarcely another four and a half minutes in popular music that can best it.
Naturally, Jordan, who was raised on classic 45s during the heyday of AM radio, thinks it's too long. He prefers an equally great demo version recorded in 1973 for Capitol Records, three years before the Shake Some Action LP was released on Sire Records. "It was just me, Chris [Wilson], and George [Alexander]; we went down there, and we got Terry Rae from the Hollywood Stars on drums. And I overdubbed three acoustics played in octaves to give it a galloping strum. It gave it a lot of power. That version's my favorite."
Jordan hopes that the alternate take might turn up somewhere on the next Flamin' Groovies album, which they're slated to record later this year. They've already released a new track called "End of the World," a time-warp tune that bears the trademark Groovies marriage of Byrds chime and garage-rock rawness. Meanwhile, the classic Jordan/Wilson/Alexander lineup—which recorded 1972's "Slow Death," the Shake Some Action album, and two further albums for Sire in the late '70s—have reunited, along with drummer Victor Penalosa, for a string of dates that includes their first-ever show in Portland. Other than a couple of appearances at the Sky River Rock Festival outside of Seattle in 1968 and 1969, Flamin' Groovies haven't really played the Pacific Northwest at all.
"I'm excited about coming up to the Northwest," Jordan says. "You know, Paul Revere and the Raiders, the Sonics, and the Wailers were three of my favorite bands when I was a kid. We'd always heard about that Northwest scene. But by the time the San Francisco scene started in the late '60s there wasn't much coming out of that area at that time, so we never really went there. Now, it's like a whole new music scene. You guys are going to outdo Austin."
The current reunion stemmed from an impromptu meeting between Jordan and Wilson, who hadn't communicated since they parted ways following 1979's Jumpin' in the Night. Oddly enough, it was at a Groovies' reunion show.
"It had been 33 years," Jordan says. "It wasn't anything that anybody set up, it just kind of happened. We would have seen each other a lot sooner… but [Wilson] had moved to England, so that distance kept us apart for all those decades. I was doing the Teenage Head version of the Groovies with [original lead singer] Roy [Loney] and the A-Bones, and we went to London and Chris came to the gig. I saw him backstage and as soon as we saw each other it was tears and hugs."
This Groovies run will focus on the Shake Some Action era and the songwriting chemistry of Jordan and Wilson, which hasn't diminished over the years. "Chris and I are just writing great stuff and the ideas keep coming. When we broke up in 1980 we were far from being done as artists, and this has given us a chance to continue what we were doing back then. We're just carrying on. It's funny, because there are 33 years of time and space between us, but when we got back together in 2013 it seemed like it was the day after we broke up in 1980. It was like time and space didn't affect us at all. It was very strange. Really, really groovy, actually."
It's clear that this Flamin' Groovies chapter is about much more than capitalizing on the past. The band, in all incarnations, has never been fully in step with prevailing musical fashions. Rather, the Groovies have consistently played the kind of music they like best. As with Big Star, who've also been lumped into the "power-pop" category with the Groovies, history has been justly kind to their legacy, but the proof has always been right there in the dusk-lit, interweaving guitars of "Shake Some Action."
"Rock 'n' roll music is not contemporary," Jordan says. "It never has been. It crosses over to each generation."
http://www.portlandmercury.com/portland/shake-some-action/Content?oid=15162492
VANCOUVER SUN
(Vancouver daily)
Q&A: The Flamin' Groovies' Cyril Jordan
BY SHAWN CONNER
The Flamin' Groovies have reunited and will make its first ever tour of the Pacific Northwest, including a March 14 concert in Vancouver at the Rickshaw Theatre
Formed in 1965 in San Francisco, The Flamin' Groovies released a string of albums in the late '60s and 1970s that have influenced generations of rock, power-pop and garage-rock bands. In 2013, after a hiatus of over three decades, the '70s lineup of Cyril Jordan, Chris Wilson and George Alexander reformed, along with drummer Victor Penalosa, for a series of shows. The reunion continues into 2015, which will see the release of the Flamin' Groovies' first album of new material since 1979, a documentary, and more shows, including the band's first-ever tour of the Pacific Northwest. We talked to vocalist/songwriter Jordan about celebrity fans, penning an iconic rock 'n' roll song and what Carl Perkins told him back in 1976.
Q: Apparently this is the band's first tour of the Pacific Northwest?
A: Yeah. We didn't really work that area. We might have come to Vancouver. The only time we ever played up there was the Sky River Rock Festival, which was a big outdoor festival outside of Seattle. We did that two years in a row, in '68 and '69. Almost, what is it, 50 years ago. There was so much happening for us in San Francisco and also Hollywood, then later on in Detroit and New York. We were always on the move. Once we got to an area, like when we went to Detroit, we dug in there for a couple of months and worked the area pretty hard.
Q: You mentioned Hollywood. On the website for The Incredible Flamin' Groovies, the documentary on the band, it mentions that fans include Rock Hudson and Val Kilmer.
A: About two-and-a-half years ago I got a call from his (Kilmer's) secretary. I was shocked, I asked, "Is that the movie star Val Kilmer?" She said "Yeah, he's a big Groovies fan and Mercedes, his daughter, her 21st birthday's coming up." He gave me a thousand bucks to write out the lyrics for Whiskey Woman (from the 1971 album Teenage Head), and then sign it to Mercedes. I bought a Harmony Meteor (guitar) with that money. It was amazing to find out that these famous people were big fans of us. Every other month, it seems we're hearing about someone else who was a fan. I guess because we go back so far.
Q: How far along is the documentary?
A: We're going to try to finish everything up this year. The album should be done by the time we tour Europe, which will be in the summer. Chris (Wilson) and I have been working on that for a year and a half, on and off. We're all spread out now. The only time we get together to work on this stuff is when we're touring.
Q: Would you say the magic is back, or still there?
A: The way I've been putting it is, "It's like it's the day after we broke up in 1980." Like time and space doesn't mean anything to us. Chris and I both stayed in the biz. George got out, and it's been a little rough for him to put back on his rock boots. That's not an easy thing to leave behind then get back into, especially at our age.
Q: Shake Some Action is one of the songs mentioned in (American music critic) Greil Marcus' 2014 book The History of Rock 'n' Roll in 10 Songs.
A: Shake Some Action apparently was the inspiration for him to write the book. I was shocked. We knew we were onto something when we wrote it in late '71. Chris had just joined the band, I had lost my other songwriting partner Roy Loney. I was very interested in grabbing someone else I could write songs with and Chris was the perfect match. The only difference between that song and others we wrote, Chris and I were working on three different songs for a couple of months and we weren't getting anywhere with any of the three. So one night we decided to put all three of them together, and that turned into Shake Some Action.
Q: Despite not touring or putting out albums in decades, the Flamin' Groovies seems to be gaining new generations of fans.
A: The band has not been signed to a major label in decades. There hasn't been any promotion done on the Flamin' Groovies in years. Yet because we were on major labels, our records are constantly being re-released by one company or another. It just seems that the style of rock 'n' roll that we play is a little more timeless than contemporary. I think this is the reason why we have an ability to re-generate a new audience. We're playing rock 'n' roll. I remember Carl Perkins told me back in 1976 that he had seen rock 'n' roll come and go three times. And he looked me straight in the eye and said, "It always comes back."
http://www.vancouversun.com/Flamin+Groovies+Cyril+Jordan/10880479/story.html
GEORGIA STRAIGHT
(Vancouver weekly)
The Flamin' Groovies are still on fire after 50 years
by Doug Sarti
If there's a label, it's probably been hung on the Flamin' Groovies.
Protopunk. Power pop. Garage rock. Blues-rock. New wave. Hell, even "a reincarnation of the Beatles"—they've heard it all.
"People always try to pigeonhole you," says singer-guitarist Chris Wilson, chuckling at the urge to classify, "but labels are unnecessary. We're just a rock 'n' roll band."
Still, there's no denying that the Groovies have been hugely influential across the breadth of alternative music, despite their biggest hit topping out at No. 142 on the Billboard chart.
Founded in San Francisco in 1965, the Groovies rarely found themselves in lockstep with the mainstream (or, for that matter, the counterculture). While Haight-Ashbury was turning on and dropping out, they were recording Supersnazz (1969), an earnest, cheery collection of rock 'n' roll stompers. Great fun but not, apparently, what the nation needed as it tore itself apart at the end of the '60s.
Time and place aligned somewhat with 1971's Teenage Head, a growly, bluesy gem often touted as a first-rate American version of Sticky Fingers. (Indeed, Mick Jagger reportedly thought the Groovies did it better.) But again, sales didn't reflect the group's craftsmanship.
Enter Wilson—stepping in for departed lead singer Roy Loney—and a Welsh sojourn with producer Dave Edmunds at the legendary Rockfield Studios in 1972.
"A lot of great songs came out of being there," the 62-year-old Wilson says, on the line from his home in Oregon. "Being in the middle of the Welsh countryside, there was very little else to do but sit and play. We had a studio full of great instruments, and we'd just bash things out all day."
There, the Groovies created their magnum opus, "Shake Some Action".
"We literally wrote it there in the studio in Rockfield," Wilson recalls of their signature single, a yearning tale of romantic loss and defiance so staggeringly great it strikes like a bolt from the blue in the '70s quagmire of prog rock and singer-songwriters.
Languid but driving, brash though sentimental, the result is so definitive that music writer Greil Marcus would place "Shake Some Action" at No. 1 in his book The History of Rock 'n' Roll in Ten Songs.
"You could have knocked me over with a feather," Wilson says with a laugh, "because he'd written some disparaging things about us years ago. I don't know what caused him to change his mind, but it warms the cockles of my heart."
Between critical praise, a new tour by Wilson and original Groovies Cyril Jordan and George Alexander (plus newcomer Victor Penalosa on drums), and a documentary in the works, it seems that the band is on a roll. When asked if the Groovies are finally receiving the recognition they deserve, Wilson laughs heartily.
"Well, that's not for me to say; I don't know what we deserve. I'm just hoping that it shows we have a lot of fun and we're still true to the music—hopefully, it gives people a good time and a few minutes of forgetting about this crazy-ass world."
The Flamin' Groovies play the Rickshaw Theatre on Saturday (March 14).
http://www.straight.com/music/409441/flamin-groovies-are-still-fire-after-50-years
KBOO RADIO
(Portland Community Radio)
The Flamin' Groovies open their 2015 tour on KBOO's Drinking From Puddles !!
Program: Drinking from Puddles
Air date: Wed, 03/11/2015 – 8:00pm – 10:00pm
Short Description: The Flamin' Groovies open their 2015 tour on KBOO's Drinking From Puddles !!
The Flamin' Groovies open their 2015 tour on KBOO's Drinking From Puddles !!
Having formed in 1965, and releasing their first record in 1968, San Francisco's The Flamin' Groovies pre-dated most of the musical trends they are aligned with (New Wave, Punk, etc..), and are considered the one of the main U.S. architects (along with Alex Chilton's Big Star and a small handful of influential others) of a style that would become known as "Power-Pop".
The Knack, The Plimsouls, The Smithereens and countless others would hike the audio-trails that the Groovies helped carve out.
Because of record label demises, bouncing and other factors, many more casual music fans may have heard their most well-known tune "Shake Some Action", without actually knowing that they were listening to The Flamin' Groovies. But if you talk to musicians, music-historians, record-clerks and collectors, and others who pay closer attention, The Flamin' Groovies are legend.
It is with great pride that I announce that The Flamin' Groovies 2015 Tour is opening with a Live-In-Studio set on Drinking From Puddles !!
Don't miss this historic-sonic-occasion !!
http://kboo.fm/theflamingrooviesopentheir2015touronkboo
THE PROVINCE
(Vancounver daily)
Flamin' Groovies always one step ahead of their time
They've always played the wrong music at the wrong time with the wrong look, but maybe times have finally changed for the legendary band
BY TOM HARRISON
The Flamin' Groovies always have been out of step with the times, but this time …
This time …
Well, you never know, but this time …
This time, might be the right time for The Flamin' Groovies.
Their Shake Some Action is one of the 10 in critic Greil Marcus's latest book, "The History Of Rock 'N' Roll In 10 Songs,"
Typical of Marcus, he uses the 10 as a jumping off point for an examination of culture, particularly American culture. Shake Some Action is quintessential rock 'n' roll in that it is both inside and outside arts culture. It comes from within it, but its cult status means it stands outside. As well, Shake Some Action has a prominent place in Ken Sharp's book on power-pop. Coming is a film on the history of the band, which is half way through completing a new album.
So, this time …
Founder Cyril Jordan isn't holding his breath. He's been hearing this for nearly 50 years and nothing has happened. Some appreciation would be nice though. He's ready for it.
"You've got to understand that the Flamin' Groovies have always been ahead of its time," he claims. "I'm only hoping that we're not ahead this time."
In San Francisco in 1967, the Groovies mix of good-time romp and old rock and roll made them outcasts in a hometown crawling with hippies playing psychedelic rock. It did anticipate the rock and roll revival by a few years. Later, Jordan's take on '60s power-pop, its back-to-the-basics attitude and the band's own Shake Some Action came just before punk. The Groovies subsequently was cast among the nascent punk-rock, but it didn't really fit.
And so it went until the Flamin' Groovies broke up in 1990. Unauthorized compilations, singles and live recordings proliferated long after as testaments to its unsung greatness, but they didn't stop Jordan from having to take a day job.
"All those are bootlegs," he says now.
"Anything that's released from Australia is a bootleg. It's a total rip off. We never received cent one."
And then George Alexander, an original Flamin' Groovy, and singer Chris Wilson joined a push to reunite the band with Jordan.
"It was as if time and space didn't exist," Jordan says. "It was me and Chris doing exactly what we did 33 years ago."
He pauses to play over the phone one of the songs that will be on the new album, Crazy Mazie. It's vintage Flamin' Groovies — a rockabilly foundation with overlaid guitar and a strong melody. Maybe this time …
"As far as I know there was no legacy," Jordan modestly denies the band's legend.
"Shake Some Action is like gum on my shoe; no matter what I do, I can't get it off."
He plays another, Crying Shame, this one needing a vocal but intended to illustrate what Jordan calls the band's folk side. This one is more like folk-ROCK, with a Byrds element. Maybe this time …
The reunited band has been going for two years as Jordan, Wilson, Alexander and drummer Victor Penalosa.
"Two guitars," Jordan says. "We down-sized to a quartet, like The Beatles. It's worked out fantastic. We pretty much rock out full blast."
ON STAGE
WHO: Flamin' Groovies
WHERE: Rickshaw Theatre
WHEN: Saturday, March 14
TICKETS: $20
http://ow.ly/KdKQf
THE OREGONIAN
(Portland daily)
1970s rock act Flamin' Groovies set to 'Shake Some Action' in their first Portland gig, at Dante's
By Curt Schulz
The standard line on the Flamin' Groovies is that they were doomed to obscurity because they zigged when everybody else zagged.
What else explains releasing the unapologetic boogie of 1969's "Supersnazz" at the apex of the love-bead era? Or that their mid-70's landmark "Shake Some Action" hearkened back to the British Invasion while also pointing toward the upcoming power-pop movement and ignoring the punk elephant in the room?
"We never thought about it, we just got on with doing what we loved doing. We obviously thought we had great songs," says Chris Wilson, singer/guitarist for the band in the '70s.
Three quarters of the Groovies' 70's-era lineup (Wilson, founders Cyril Jordan and George Alexander plus new drummer Victor Penalosa) kick off their spring tour at Dante's on Thursday, March 12. The show (their first in Portland) will be a rare opportunity to see the band in an intimate setting.
Among their many performances over the years, a 1976 London Fourth of July gig will be familiar to Groovies fans, but not for obvious reasons. A night that should've been a triumph for the band is legendary now because of impact of the opening act: The Ramones.
Wilson — a longtime Londoner now relocated to Portland — recalls the show fondly. "Despite what you may hear to the contrary, [The Ramones] were unknown in Britain at the time," he says. "They were good lads."
At the Groovies' best moments, the band ranked with the greats. Lacking the typical gloss of the period, their 1970's output still holds up more than 40 years later. Especially driving and vital are 1971's ferocious "Teenage Head" and ""Shake Some Action", which came out in 1976.
As noted cultural critic Greil Marcus told the Chicago Tribune last month, referring to the record's title track: "This is what rock 'n' roll is. Nothing like this song, this performance, this sound had ever been heard on earth before rock 'n' roll emerged. It's the purest distillation of what the form wants to be."
— Curt Schulz for The Oregonian/OregonLive
***
The Flamin' Groovies
Also: The Pynnacles, Criminal Guitars
When: 9 p.m. Thursday, March 12
Where: Dante's, 350 W. Burnside
Tickets: $18, available in advance at Dante's website, 21 and older
More info: twitter.com/flamingroovies
http://www.oregonlive.com/music/index.ssf/2015/03/the_flamin_groovies_shake_some.html#incart_river
BEAT ROUTE
(British Columbia weekly)
Flamin' Groovies are gonna shake some action
By Tiina Liimu
VANCOUVER — Check out the bin of any self-respecting record hoarder, especially those with a penchant for garage, psych or punk, and the odds are high that your gonna find one or more well-worn Flamin' Groovies albums and definitely a project or two from one of their members.
To define the sound of Flamin' Groovies in the '60s and '70s might get a little complicated because what eventually set these eras apart and the Groovies from their contemporaries was their mingling of influences that had come to shape their sound. Roy Loney's tenure was definitely a nod the '50s bringing Supersnazz, Flamingo and Teenage Head to your turntable. Yet, another influence was making its way into their musical consciousness. Chris Wilson, the guitarist-vocalist for the second era of the Flamin' Groovies sheds some light on the evolution of the band.
By the time the '60s turned a corner, Flamin' Groovies found themselves on the road with headliners Dan Hicks and His Hot Licks and a third band. At that time Wilson was still with Mike Wilhelm's harder edged project known as Loose Gravel, which rounded out the three. It was that Midwest tour where a musical kinship with Groovies guitarist Cyril Jordon, had been sown. "The night before had I seen Son House, after that show I met the Flamin' Groovies because we had all gone to see him and Cyril and I just got on really well," explains Wilson.
Between tour schedules and on weekends Wilson and Jordon would meet, share and play records. "One of the biggest being Dave Edmunds' album Rockpile which came out late '69-'70 but we didn't get to hear it till '71. Cyril and I just went bonkers over it, thinking the production was just so fabulous," recalls Wilson," After hearing the track "I'm Comin' Home," I was just transported, as was Cyril. We were just determined that we must meet this guy…"
It wasn't long after that when Roy Loney left the band and Wilson was ready to head back to New England, since there wasn't enough work for Loose Gravel. Apparently, Fillmore promoter Bill Graham had blackballed them (LG) due to differences with Mike Wilhelm. With the Groovies' now looking for a new guitarist-vocalist, Wilson was asked if he wanted to join. "Hell yes," was his response.
By that time, Chris Wilson had picked up his own copy of Edmunds' Rockpile. "There is a picture of him at the back with a little Yorkshire Terrier in the garden of this house in Monmouth… which was made with stones from Goodrich castle. I just sat there going, 'damn I wanna be there' and I'll be damned but six months later I was standing right there," exclaims Wilson.
Shopping their material to reps around L.A., proved unfruitful for Flamin' Groovies. However, the head of A&R for United Artists in the U.K. took notice and had them set up house overseas. "So we managed to record some stuff and we did our first gigs in France and Germany and became legends in our own lunchtime," he chuckled. That studio was the Rockfield Studios in Monmouth, Wales and and Dave Edmunds was producing. Incidentally, a facility with 1970s legacy of recording alumni, which includes Motorhead, Hawkwind and Black Sabbath was undoubtedly a formative experience. By 1976 they returned again to work with Edmunds producing Shake Some Action, and it was that namesake track that was to become a power-pop standard.
Fast-forward through thirty years with Wilson overseas working with the Barracudas, solo projects and raising a family, Jordon active with his art and music, notably Magic Christian and George Alexander living his life. Then around 2011- '12 in London, Wilson had a craving to put together material, which resulted in a release titled It's Flamin' Groovy bringing in former members including Mike Wilhelm and original vocalist Roy Loney. A geographical feat accomplished only by means of digital technology.
That project was the spark. "Oh hell, let's put the band back together," says Wilson. That meant relocating to the U.S. and soon enough; they found themselves on tour in Japan, incidentally with documentary filmmakers William Tyler Smith and Kurt Feldhun in tow. With the line up of Chris Wilson, Cyril Jordon, George Alexander and recruiting Magic Christian drummer Victor Penalosa they are recording again, with six tracks finished. One of them is "End of the World" which has already streamed at Rolling Stone.
Flamin' Groovies, were always the cool kids, a little dangerous and you knew it. What kind of music do they play? "There is no the label," says Wilson, "they are a rock 'n' roll band and remained and haven't changed." With upcoming dates booked across the U.S and Europe be sure to shake some action.
Flamin' Groovies perform at Rickshaw Theatre on March 14.
http://beatroute.ca/2015/03/03/flamin-groovies-are-gonna-shake-some-action/
GO LOCAL PDX
(Portland music site)
High Notes: The Best Live Music in Portland This Week, March 10 – 15
Flamin' Groovies
Mar 12 @ Dante's
File this one under "rare opportunities." If your merely adequate knowledge of rock 'n' roll has earned you nothing but scorn from the cool kids, then run, don't walk to bask in the glow of these Bay Area icons, currently rolling through their sixth decade of inspirational whap-a-dang. The Groovies' evolution from turbo-charged garage-rock torchbearers (1971's essential 'Teenage Head' album) to power-pop potentates (the equally vital 'Shake Some Action,' 1976) is required study for any pilgrim seeking the most sacred sounds. Their combustible version of Freddy Cannon's "Tallahassee Lassie" alone is worth the price of admission.
$18. Dante's, 350 W Burnside St. Sandy Blvd.
http://www.golocalpdx.com/arts/high-notes-the-best-live-music-in-portland-this-week-march-10-15
WILLAMETTE WEEK
(Portland weekly)
Flamin' Groovies, the Pynnacles, Ape Machine, Witchburn, Pseudoboss
Music Calendar, Music Listing
DAVE CANTOR
7 pm, Thursday March 12 | $18.
Dante's
350 W Burnside St.
[REVISIONIST HISTORY] San Francisco's Flamin' Groovies touring on the 40th anniversary of its Shake Some Action disc is a bit of revisionist history. Not because the album—and the perfectly-crafted power-pop of its title track—isn't notable among the detritus of American rock. But obsessive garage collectors most frequently associate the troupe with a Roy Loney-helmed band that offered up crazed tracks like "The Slide." Cyril Jordan, though, has been at the helm for the majority of the band's existence. There's nothing wrong with copping a Brit attitude, but these Groovies sound removed from the S.F. garage that birthed the ensemble.
http://www.wweek.com/portland//event-210057-flamin_groovies_the_pynnacles_ape_machine_witchburn_pseudoboss.html
AMERICAN STANDARD TIME
(Seattle music site)
THE FLAMIN' GROOVIES
In the late '60s/early '70s, while much of San Francisco's acid generation was tripping away, endlessly noodling to the new psychedelic scene, The Flamin' Groovies carved out a path more influenced by early rock & rollers like Chuck Berry and Eddie Cochran and the rough and ready blues snarl The Rolling Stones and their ilk. After touring to the east and midwest they found kindred spirits in the MC5 and Stooges. A kick-ass band that liked to have fun!
The original Flamin' Groovies lineup, featuring lead singer Roy Loney, Cyril Jordan, Danny Mihm, Tim Lynch, and George Alexander, cut 4 records together including the indispensable and highly influential Flamingo and Teenage Head LPs. Cyril and Roy penned original garage band classics including "Teenage Head," "Slow Death," "Heading for the Texas Border" (recently covered by the White Stripes), "Second Cousin," and many more. You Rock & Rollers NEED these records!
Roy Loney left the Flamin' Groovies in 1971 to pursue other projects. Singer Chris Wilson joined as the band moved to England and pursued a more classic power pop sound—highly influenced by the Beatles, Byrds, et al. In 1976 with Dave Edmunds at the helm, they recorded their high-water-mark Shake Some Action LP—the title track being one of the all-time power pop greats!
The Flamin' Groovies San Francisco's Iconoclastic Rock & Rollers
Meanwhile, Back in the States . . .
After a few years pursuing an acting career and working in the record biz, Roy got back in the game with an EP entitled Artistic as Hell. Soon after that he formed a new band, Roy Loney and the Phantom Movers, with original Groovies' drummer Danny Mihm, former Groovie James Ferrell, and Larry Lea and Maurice Tani. Together they cut a stack of great rock-and-roll albums for the Solid Smoke label and played and toured throughout 1980s.
It was around 1990 that Roy made his way to the Rainbow Tavern in Seattle's University District with a band made up of Oregon musicians. A small but dedicated cadre of Groovies and Phantom Movers fans excitedly awaited, including members of the Young Fresh Fellows and Squirrels. We were not disappointed! Roy is a fire-y showman—an old school Rock & Roller who gets down and gets with it!
A year later Roy was back for a tour of the Northwest with a band consisting of 3 Young Fresh Fellows and a Squirrel. This band would eventually be called Roy Loney and the Longshots. Since then Roy has been back almost yearly, and the band has cut three studio albums, a live album, several EPs, and toured Spain numerous times. The band now consists of Johnny Sangster (Tripwires), Joey Kline (Squirrels), Graham Black (Model Rockets) and myself, Jim Sangster (Young Fresh Fellows/Tripwires).
Flamin' Groovies Now:
In the intervening years Roy and Cyril kept in touch but never really played together until 2008 at the Pondersa Stomp in New Orleans when, backed by Norton Records' A-Bones, they put on a triumphant show to a mass of excited fans. They played a few more shows with this lineup and attempted a reunion of sorts but it was not to be.
Cyril has recently reformed the Flamin' Groovies with Shake Some Action-era singer Chris Wilson and original bassist George Alexander, and they are currently touring and working on a new LP.
Roy has kept himself busy performing and recording with The A-Bones, his Spanish band, Señor No, and the recently re-formed Phantom Movers featuring Larry Lea, Maurice Tani and John Moreman.
More Flamin' Groovies Goods:
Check out the Norton Records catalog for recordings with Roy Loney and Flamin' Groovies Reissues and Rarity Collections. Rock!
Flamin' Groovies are slated to release a new studio album and a documentary in 2015. Here a new track here, and watch the trailer here.
See The Flamin' Groovies w/ Bread and Butter and The Tripwires Friday March 13th 9pm at Tractor Tavern, Seattle, WA, $20 / 21+
http://www.americanstandardtime.com/flamin-groovies-san-franciscos-iconoclastic-rock-rollers/
KEXP RADIO
(Seattle radio)
1970s rock act Flamin' Groovies set to 'Shake Some Action' in their first Portland gig, at Dante's
The Stranger Recommends: Tractor & Studio 66 Presents
Flamin' Groovies!
Fri. 03/13 | 9:00PM @ The Tractor Tavern
The Flamin' Groovies story goes all the way back to 1965 when the band began as the Chosen Few in their hometown of San Francisco, California. After a name change and a self-released 10-inch album called Sneakers, the band caught the attention of Columbia Records, who signed them and sent them into the studio with a big budget to record their first full-length album, Supersnazz, for the Epic label. Their next two albums were on Kama Sutra (home of their heroes, The Lovin' Spoonful): Flamingo, and the now revered classic Teenage Head.
Lead singer Roy Loney left the band at that point, and lead guitarist Cyril Jordan moved the group to England with Chris Wilson (formerly of Loose Gravel) taking over as front man. They continued their style of straight-ahead guitar-driven rock 'n' roll, but this time with a more 60's rather than 50's influence. A few singles on United Artists, recorded at the legendary Rockfield Studios in Wales with Dave Edmunds producing, followed in the early 70's. In '76 they signed to Sire Records, who released three true gems of power pop: Shake Some Action, Flamin' Groovies Now, and Jumpin' In The Night.
Another lineup change ensued in the next decade with Wilson moving to England and joining the Barracudas. The Groovies continued on through the 80's and into the early 90's touring Australia and Europe, putting out a fine but overlooked album called Rock Juice and then finally calling it quits. Jordan formed a new band called Magic Christian while Wilson released solo albums in Europe.
Then, in 2013, Jordan, Wilson and original founding member and bass player George Alexander reunited for the first time since 1981. With new drummer Victor Penalosa, a fine musician in his own right, the foursome has not only recorded fresh material but has also completed earlier material that has never before been captured.
They recently toured Japan and Australia, returning home to San Francisco to headline a show that sold out in less than 24 hours. Fans have been delighted with what is being called "a dream set list," including original songs the band has never performed before onstage. Newcomers are asking, "Why haven't I ever heard of this group?"
It's hard to say just why the group hasn't gotten the attention they deserve (at least in the USA), but they're back to give everyone another chance at hearing and seeing just why those in the know consider them one of the greatest rock n' roll bands of all time.
Currently there is a feature length documentary in production called The Incredible Flamin' Groovies Check it out: http://vimeo.com/97155756
http://calendar.kexp.org/event/2015/03/13/tractor-and-studio-66-present-legendary-punk-power-pop-flamin-groovies-2
VANCOUVER WEEKLY
(Vancouver weekly)
Flamin' Groovies @ Rickshaw Theatre Mar 14 @ 8:00 pm
The Legendary Flamin' Groovies are stopping by the Rickshaw to deliver an Electrified dose of their Proto-Punk Rock & Roll Magic. The Cyril Jordan, Chris Wilson, George Alexander line-up that rocked the UK, Europe and the US from 1971 – 1980 are BACK IN ACTION.
With the addition of Victor Penalosa on drums, they continue to present their own unique and infectious style of rock n roll with such cult
classics as "Slow Death," "Shake Some Action," and "You Tore Me Down."
After seeing them live you will understand why those in the know consider them one of the greatest rock n' roll bands ever.
http://vancouverweekly.com/events-calendar/
FEARLESS RADIO
(Chicago internet radio station)
The Flamin' Groovies Kick-Off North American Tour in Portland. OR March 12th!
http://www.fearlessradio.com/featured-news/news/1502-the-flamin-groovies-kick-off-north-american-tour-dates-march-12th-in-portland-or
VENTS MAGAZINE
(music site)
The Flamin' Groovies Announce 2015 North American Tour. Dates Kick-Off in Portland. OR March 12th!
http://ventsmagazine.com/the-flamin-groovies-announce-2015-north-american-tour-dates-kick-off-312-in-portland-or/
BLURT MAGAZINE
Flamin' Groovies Announce Tour; Plan to do Entire "SSA" Album
Greatest American rock 'n' roll band, evah!
By Uncle Blurt
Having completed successful tours of Japan, Australia, London and the U.S. over the last two years, THE FLAMIN' GROOVIES are hitting the road again in full force for their 2015 North American Tour. The Cyril Jordan, Chris Wilson, George Alexander line-up that rocked the UK, Europe and the US from 1971 – 1980 are back in action. With the addition of Victor Penalosa on drums, they summon such gems as "Slow Death," "Shake Some Action" and "You Tore Me Down."
And to mark the 40th anniversary of their classic album Shake Some Action the Groovies plan to perform the LP in its entirely in San Francisco on April 17. See full itinerary, below, and meanwhile, check out a few trailers for the forthcoming documentary about the band. Flame on, brothers and sisters.
Tour Dates:
March 12 – Dante's, Portland, OR (w/ Criminal Guitars and The Pynnacles)
March 13 – Tractor Tavern, Seattle, WA (w/ Bread and Butter, The Tripwires)
March 14 – Rickshaw Theater, Vancouver, BC (w/ BUM)
April 17 – The Chapel, San Francisco, CA (THE FLAMIN' GROOVIES performing their album Shake Some Action in its entirety! w/ special guest Kelley Stoltz)
April 25 – Atlanta Mess-Around 2015 @ The Earl, Atlanta, GA
(more dates to be announced soon)
http://blurtonline.com/news/flamin-groovies-announce-tour-plan-to-do-entire-ssa-album/
CMJ
The annual congregation of sauced slop-punks known as the Atlanta Mess-Around has announced its official 2015 lineup. The seventh edition of the fest will once again take place at two Atlanta joints—529 and The Earl— on the weekend of April 24-26, all day and all night, and will no doubt leave you wondering Monday morning whether you actually went or not, while you rub your head and curse your birth. But before that, expect an ear canal-cracking collection of the best modern trash-rock. This year features the usual cool reunion of a cult fave, the Flamin' Groovies,
http://www.cmj.com/news/atlanta-mess-around-announces-lineup-plus-qa-organizer-damon-hare/