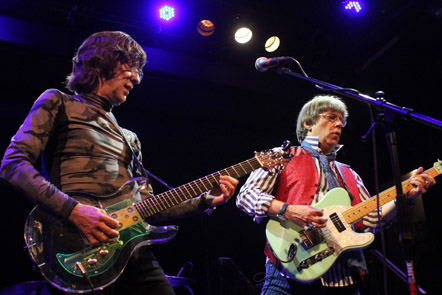 The Flamin' Groovies are back out on the road and media outlets in all of their tour markets have been raving about the band, with feature stories, interviews, show previews & reviews, and radio sessions. Here's just the start of the media avalanche….
SANTA CRUZ, CA
GOOD TIMES WEEKLY (Santa Cruz weekly)
Friday April 25 The Flamin' Groovies
The Flamin' Groovies have always marched to the beat of their own drum. From their inception in 1965, they tended to be ahead of the curve, being forerunners of now-familiar genres like power pop and punk music before those scenes were cool. Now, after reuniting with founding member and guitarist Cyril Jordan for the first time in decades, and officially being back full-time for the first time since 1992, they are ready to unleash more of their driving, British-Invasion-style rock. A new EP is set to release this year, and the first track to be released, "End of the World," is reminiscent of the tone and feel of "Don't Fear the Reaper." BRIAN PALMER
INFO: 9 p.m. The Crepe Place, 1134 Soquel Ave., Santa Cruz. $26/adv, $30/door. 429-6994.
http://www.gtweekly.com/index.php/santa-cruz-area-events.html
KZSC RADIO (Santa Cruz radio) by Michael Bryant
One of America's greatest, most influential, and legendary cult bands, Flamin' Groovies came out of the San Francisco area in 1965 playing greasy, bluesy, rock & roll dashed with a liberal sprinkling of British Invasion noise. Caught in a double bind of playing the wrong kind of music at the wrong time (as well as not looking the part), the Groovies were almost completely forgotten as the Fillmore/Avalon Ballroom scene spotlighted long jams and psychedelia. Flaming Groovies fame spread abroad with a larger, more enthusiastic following in Europe while the punk movement began. "Shake Some Action" with the Groovies Friday, April 25th at The Crepe Place in Santa Cruz. Showtime is 9 pm. The Groggs will open.
 http://www.kzsc.org/blog/2014/04/07/flamin-groovies-april-25th/
SAN FRANCISCO
SF GATE Show preview with band photo and cartoon with stock band bio
Flamin' Groovies
Saturday, Apr 26 8:00p
Great American Music Hall, San Francisco, CA
with The Tyde and Life Fantastic
Having completed a successful 2013 tour of Japan and Australia, and then dates in June and July in London, NYC, San Francisco and LA, and a November tour of the Midwest and Northeast that included both a featured appearance at the Rock and Roll Hall of Fame Tribute to the Rolling Stones in Cleveland, and a big show in Brooklyn co-headlining with The Sonics, …the FLAMIN' GROOVIES have returned in full force.
The Cyril Jordan, Chris Wilson, George Alexander line-up that rocked the UK, Europe and the US from 1971 – 1980 are BACK IN ACTION. With the addition of Victor Penalosa on drums, they continue to present their own unique and infectious style of rock n roll with such cult classics as 'Slow Death,' 'Shake Some Action,' and 'You Tore Me Down.'
http://events.sfgate.com/san_francisco_ca/events/show/369837355-flamin-groovies
THE BAY BRIDGED (San Fran music site)
(((folkYEAH))) Presents
The Flamin' Groovies, The Groggs
Fri. 04/25 | 9:00PM @ The Crepe Place.
The Flamin Groovies: One of America's greatest, most influential, and legendary cult bands, Flamin' Groovies came out of the San Francisco area in 1965 playing greasy, bluesy, rock & roll dashed with a liberal sprinkling of British Invasion panache, in an era soon to be dominated by hippie culture and hyperextended raga-rock freakouts. Caught in a double bind of playing the wrong kind of music at the wrong time (as well as not looking the part), the Groovies were almost completely forgotten as the Fillmore/Avalon Ballroom scenes, dominated by the Dead, the Jefferson Airplane, et al., rendered them anachronistic. The plain truth, however, was that despite not being in tune with the zeitgeist, the Groovies made great music, and managed to sustain a career that lasted for over two decades. Sneakers [EP] What made the Groovies such a formidable band was the double dynamite supplied by guitarist Cyril Jordan and singer/wildman Roy A. Loney. Together they formed an uneasy partnership that guided the band through its most fertile period, from 1968-1971. In 1968, for next to nothing, the band recorded a seven-song EP entitled Sneakers. This little bit of DIY ingenuity resulted in a contract with Epic and the huge sum of 80,000 dollars (1968 dollars, mind you) to be spent on their debut recording, Supersnazz. It was a great album that didn't sell, but did get them dropped from Epic. Quickly signing with Kama Sutra, the Groovies closed the '60s and started the '70s with two terrific records (Flamingo and Teenage Head), but public apathy and the increasingly tempestuous relationship between Jordan and Loney led to the latter's departure for a solo career in 1971. Jordan, now free to run the band as a "benevolent" dictator and indulge his passion for a more folk-rock (read: Byrds) focus, hired guitarist/vocalist Chris Wilson, curiously added the apostrophe to their first name, and in 1972 moved the band to England. Shake Some Action Oddly enough, the Groovies had a larger, more enthusiastic following in Europe (especially in England and Germany) than they did in the States, and it seemed perfectly reasonable to assume that if great rewards were to be reaped, it would happen in Europe first. Hooking up with Dave Edmunds, who was keen to produce them, Jordan and company recorded a handful of songs as early as 1972. However, this seemingly natural collaboration yielded little until 1976, when the Groovies released their finest post-Loney effort, Shake Some Action. Loaded with ringing guitars, great covers, and Edmunds' spongy, bass-heavy production, Shake Some Action became a well-received album in punk-era Britain, as was the fine follow-up, Flamin' Groovies Now. This new notoriety brought renewed interest in the Groovies in America, but the string of good albums ended abruptly with the mostly covers and mostly forgettable Jumpin' in the Night, in 1979. Clearly, the band had run out of gas. That fact, however, did little to convince Cyril Jordan that Flamin' Groovies in any form were no longer viable. So, after five or six years of no new music — there were instead countless repackagings, anthologies, and lousy bootlegs — the band ended up in Australia, now reduced to Jordan and a bunch of unknowns (with the exception of longtime bassist George Alexander), shamelessly covering '60s material and living off the band's legend. It should be noted that after his departure in 1971, Roy Loney, after a couple of music industry jobs, made some wonderful records with his band the Phantom Movers (with ex-Groovies drummer Danny Mihm). Loney occasionally worked behind the counter at Jack's Record Cellar in San Francisco, and recorded with the Young Fresh Fellows.
http://thebaybridged.do415.com/event/2014/04/25/folkyeah-presents-the-flamin-groovies-the-groggs
NEW ORLEANS
GAMBIT WEEKLY (New Orleans weekly)
Alex Woodward breaks down the night moves and groove things during two weekends of Jazz Fest – THE FLAMIN' GROOVIES at One Eyed Jacks
by Alex Woodward
Cyril Jordan is the only part-time usher at The Orpheum in San Francisco who also had The Ramones open for him. Jordan's band Flamin' Groovies  the protopunk and power-pop outfit that inspired generations of emulators after its 15-year-long career fizzled in 1979   took the Forest Hills, Queens, punk rockers to London in 1976, the year Flamin' Groovies released their seminal power-pop album Shake Some Action. A few years later, the Groovies disbanded. Last year, Jordan and guitarist Chris Wilson and bassist George Alexander performed together for the first time in more than 30 years.
"There was a 10-year period where I didn't play guitar, I didn't listen to music. That whole part of my life was over," Jordan says. "It was dead and gone and never gonna come back. All of a sudden it's back, we're back together and we're all kind of shaking our heads like, 'How the hell did this happen?'"
The Flamin' Groovies and spiritual successor The Men headline One Eyed Jacks on Monday, April 28. It's also the Flamin' Groovies' first time playing with this lineup in New Orleans. (Jordan and early Groovies guitarist Roy Loney performed at the Ponderosa Stomp in 2009 with members of Yo La Tengo.) In tow is a film crew for The Incredible Flamin' Groovies, a documentary about the band, its influence and reunion.
The band survived the hippie onslaught of the Haight-Ashbury scene in the late '60s and emerged as godfathers of the punk movement. "By the time the music scene here started we were full-tilt boogie playing the type of garage rock we continued to play through all of it," Jordan says. "We never got into the business to be some world famous rock stars. … We were kids. We decided we were going to be a band and decide what kind of music we were going to play and to hell with everybody else."
The band's 1971 album Teenage Head is considered a garage rock classic, while its follow-ups, Shake Some Action (1976) and Flamin' Groovies Now (1978), are shimmering pop opuses, not unlike Big Star's guitar-pop and early Beatles hits. Last year, Flamin' Groovies debuted a new song, "End of the World," and plan to release an EP this summer, followed by a full-length studio album.
"We should've been down for the count a long time ago," Jordan says. "Shows how much I know."
April 28 Flamin' Groovies and The Men at One Eyed Jacks
http://www.bestofneworleans.com/gambit/night-concerts-during-jazz-fest/Content?oid=2423184
WWLTW-TV (New Orleans CBS-TV affiliate)
"Flamin' Groovies are a classic proto-punk band… this is the first time that the classic line-up will be in New Orleans… ever. A very momentous show and there's going to be a film crew filming them for a new documentary "The Incredible Flamin' Groovies. "It's going to be a big show. – Noah Bonaparte Pais / GAMBIT
http://www.wwltv.com/eyewitness-morning-news/Gambits-entertainment-picks—Jazz-Fest-weekend-all-music-edition-256546111.html
MY SPILT MILK (New Orleans music site)
The Flamin' Groovies Can't Stop Shakin'
The storied rock 'n' roll band is back and the possible subject of a new documentary.
When I told Cyril Jordan of The Flamin' Groovies about seeing the band play two nights at a banquet hall in Southern Ontario – the sort of thing you'd think would make an impression on a rock band – he answered, "Wow. I don't remember that." But it was the early 1980s and the band had more or less just come apart, fueled by exhaustion and drugs. The Groovies started in San Francisco in 1965 playing wild versions of songs from the first rock 'n' roll era. The band's Supersnazz album includes covers of Little Richard's "The Girl Can't Help It," Huey "Piano" Smith's "Rockin' Pneumonia and the Boogie Woogie Flu," and Eddie Cochran's "Something Else." That incarnation ended in the early 1970s, and Jordan put together a new version with singer and guitarist Chris Wilson, and this more Beatles-oriented incarnation cut the classic "Shake Some Action" with producer Dave Edmunds and released three albums on Sire Records before being released. After that, the band imploded but the offers didn't.
"We got a really good offer from [the] William Morris [Agency] to tour the East Coast," Jordan says. "I quickly put a ragtag band together and brought Danny [Mihm, the Groovies original drummer] back in. Then that band broke down and George [Alexander, the Groovies' bassist] and I put a band together and started working on Rock Juice," the album the band released in 1993.
Jordan, Chris Wilson and George Alexander have reunited, and that version of The Flamin' Groovies will play One Eyed Jacks tonight. A Kickstarter campaign has been started to fund a documentary film by William Tyler Smith and Kurt Feldhun about the reunion tour. It's the story of the band that never got in sync with its time, particularly the '70s incarnation that made three very good albums – Shake Some Action, Now, Jumpin' in the Night – at a time of The Eagles, Kiss, The Bee Gees and punk. "There was always enough people that went crazy when we played that we never got to the point of, Well, nobody digs us," Jordan says, but eventually, banging their heads against that satin-jacketed wall broke them down and led to a lengthy rift between Jordan and Wilson.
"We were being dropped by Sire Records," Jordan says. "We got tired. We were beaten up and cast aside, and the feeling was that this thing's over, and you couldn't stop that feeling with anybody in the band because it looked like it was." When Wilson didn't show up for a show and left Jordan to sing, it was over. The two made up a couple of years ago when Jordan and the first Flamin' Groovies singer, Roy Loney, played England after playing the Ponderosa Stomp in New Orleans. "We probably would have made up sooner if we'd have seen each other. But he was in England and I'm here in California, and the distance kept us apart."
The process of putting this incarnation together was a wake up call for Jordan. He found out that Danny Mihm had suffered a stroke and was unable to play, while other former members had lost interest in playing. "I live in a time warp," he says. "I'm pretty much the same as I was 50 years ago. I still dig Famous Monsters magazine, Mad magazine, and found out that a lot of people have outgrown what I call 'The Craze' – the disease of wanting to be in a rock band."
The Sire albums were sympathetically produced by Dave Edmunds, whose respect for rock 'n' roll tradition and restraint made him the logical choice. "When we heard [Edmunds' version of] 'I Hear You Knockin'' in 1969, the sound on the record was so great that we thought Rockfield was the new Sun recording studios," Jordan says. Edmunds found out he was going to produce the band through the press. Jordan got assurances from their label that getting Edmunds would be no problem, so he did interviews with the British music press saying that Edmunds was going to produce the band.
"UA had never contacted Edmunds," Jordan says, and Edmunds learned he was doing the session when the Rockfield Studios owner called him to say the Groovies were on their way and he'd better come over. "They all thought we were this big band from America."
The sessions were productive. "We recorded all of our classics," Jordan says. "We wrote 'You Tore Me Down' in 10 minutes. We cut 'Slow Death,' 'Get a Shot of Rhythm and Blues,' 'Talahassee Lassie' and we've been living off those songs ever since. We were so excited to be there that all this originality poured out of us."
"Slow Death" had been around since the Roy Loney days, written after seeing how many friends and acquaintances were dealing with heroin addiction. It was an odd choice for a single in England, and one that really didn't work out when the BBC banned it because it mentioned morphine.
One of the high points from those sessions was "I Can't Hide," which features Chris Wilson on guitar because the other guitarist was done for the day and didn't want to home back. "Chris came up with guitar parts that were so brilliant and complicated that I still can't figure out what he was playing," Jordan says. "We wanted to revamp the band to where we were when we recorded 'I Can't Hide.'"
All of that material is available on the band's Sire albums including the last and least-loved, Jumpin' in the Night. It has some pedestrian moments, but it also includes the rave-up title track, the great "In the USA" that emerges oddly and organically out of a drum beat, and covers of Bob Dylan's Absolutely Sweet Marie" and, improbably, Warren Zevon's "Werewolves of London." They played the latter during a rehearsal and someone said it was better than Zevon's and that they had to cut it. "The other thing is that we were having trouble with Seymour [Stein, owner of Sire Records], and Seymour gets half of our publishing. I figured, Fuck this, I'm not going to write any songs. So we cut a bunch of covers. We had four or five songs finished and ready, but we're the kind of band that comes up with the goods when we're excited. The sessions for Jumpin', we kind of had the wind taken out of us, and that's probably why we don't have more originals on it."
In the last few decades, The Flamin' Groovies' recording history has been shaky, with albums of uncertain provenance appearing on the market. For a while, even Jordan flirted with quitting. "Frankly, it's been difficult to get out of this business," he says. "It's been like gum on my shoe. When the band broke up in 1990, I didn't play my guitar for five years. I was working for Walt Disney doing Mickey Mouse comic book covers. I went back to art. One day I get a letter from Paramount Studios and it's an offer to use 'Shake Some Action' in a movie some director's making with actors I've never heard of. It turns out to be Clueless , so all of a sudden I'm sucked back in."
http://myspiltmilk.com/flamin-groovies-cant-stop-shakin
 TIMES PICAYUNNE (New Orleans daily)
New Orleans music 'Hot Picks' for Monday, April 28, 2014: Flamin Grooves
Another good choice for Monday, is the Flamin' Groovies, the veteran garage-rock 'n' roll group reunited in its early '70s-era form — the lineup that recorded the classic "Shake Some Action" album – at One Eyed Jacks. Check out George Porter Jr. & His Runnin' Pardners at the Maple Leaf or Eric Lindell at d.b.a.
http://www.nola.com/music/index.ssf/2014/04/new_orleans_music_hot_picks_fo_299.html
GAMBIT WEEKLY (New Orleans weekly)
Interview: Cyril Jordan of Flamin' Groovies
POSTED BY ALEX WOODWARD
It's not uncommon for someone to ask Cyril Jordan, "Who the f— are you guys?" Jordan founded San Francisco's Flamin' Groovies, rock 'n' roll stalwarts and punk progenators — maybe moreso to record crate diggers than the average Rolling Stones fan. (Legend has it, however, that Mick Jagger himself said the Groovies were doing a better job at what the Stones were trying.)
Band co-founder Roy Loney left after the Groovies' landmark 1971 album Teenage Head, and Jordan, along with bassist George Alexander and new guitarist Chris Wilson, focused on a more power-pop direction, with producer Dave Edmunds at the helm of 1976's Shake Some Action and 1978's Flamin' Groovies Now. In '76, the band toured the U.K. bringing along New Jersey's Ramones. The Ramones' impact there made history while the Groovies began to unravel. The Jordan/Alexander/Wilson lineup played for the last time in 1981.
But in 2008, Loney and Jordan reunited to perform Teenage Head material with some famous fans: Yo La Tengo and The A-Bones. (That lineup had a memorable performance at the 2010 Ponderosa Stomp.)
Another group of famous fans, Australia's favorite garage-pop sons the Hoodoo Gurus, heard that Jordan was considering getting Alexander and Wilson together. The band invited Flamin' Groovies to perform in Australia last year, kickstarting a Flamin' Groovies "classic lineup" reunion tour and inspiring a documentary about "the greatest rock band you've never heard."
Ponderosa Stomp and Aquarium Drunkard host a New Orleans tour stop at 10 p.m. Monday, April 28 at One Eyed Jacks (615 Toulouse St., 504-569-8361). The Men co-headlines. The Royal Pendletons open with DJs Matty and 9ris 9ris. Tickets $20.
Below, Jordan talks to Gambit about reuniting the band, surviving the Haight-Ashbury scene, The Beatles, and life without a computer or cell phone.
When you last toured here with Roy, you had members of Yo La Tengo filling in. How did they get involved?
Those guys are fans. [Yo La Tengo's Ira Kaplan] is an old friend and fan from way back. It's the fans who have put this thing back together. After Chris and I saw each other a few years ago, and we hadn't seen each other in 30 years, word got out that we were back together hanging out, and the requests just started coming in. We got an offer in Australia to tour with Hoodoo Gurus. That gave us about 60 grand to kickstart this project and we're back on track now.
What is the chemistry like? Has it been difficult or is it like you've never left?
Exactly. It's very strange. It's 33 years later. By the third day of rehearsal last year it was like the day after we broke up in the '80s. We turned back into who we were back then. After about a day or two all of a sudden we're acting how we were back in those days, and to hell with the last 33 years. It's like time and space didn't mean nothing. I still haven't been able to figure that one out.
How did the documentary come about?
It's something that attached itself to us while we were on the road. It's like how it used to be — we'd go somewhere and make friends and people start hanging out with us and pretty soon we've got a crew of people in this town and that town and they're digging us. We went to the East Coast with our producer Joel Jaffe, who had done the last Ray Manzarek album. The filmmaker [William Tyler] was shooting Manzarek for a documentary, that's how Joel met him. When we got to New York, Joe called up Bill and said "Why don't you come and see the band, we'll put you on the list." Bill showed up and 10 minutes later said, "I gotta get my camera, I'll be back." Him and [filmmaker Kurt Feldhun] have been with us ever since. They tripped out on the band. Of course they'd never heard of us.
Never?
Yeah. And when they realized how good we were working together, he dug the music we were doing, they became fans, instant fans. It was a no-brainer from that point: "Hey, lets do a movie on you guys."
All these rock documentaries are coming out about these under-the-radar bands —
It's cool, but a lot of it is overdue. There's a Mike Bloomfield set that's just come out, it's got three CDs and a DVD, which is a short film of him. Al Kooper just put it out. It's long overdue.
So these guys weren't necessarily familiar with the Groovies.
That's where they came up with the subtitle of the film: "the greatest rock band you've never heard of." Last year Chris and I were invited to play (a show) the Rock and Roll Hall of Fame was having for the Rolling Stones, and when we walked onstage for the rehearsal, Steve Jordan called me the week before, he was the musical director. … When we came for rehearsal, we fucking blew minds. Me and Chris ran through it, boom boom boom, and it sounded fucking incredible. They're looking at us like, "Who the fuck are you guys? How come we don't know who you guys are?" I looked at [bassist Willie Weeks] like, "This proves the point that this is a very large world we live in." If it wasn't for Brian Epstein we wouldn't have heard of the Beatles. Who knows how long they would've gone on. If they just went on like the Groovies, there'd be this gem in Liverpool waiting to be discovered.
A missing link.
Totally.
A lot of writers now are calling the Groovies the godfathers or precursor of punk.
This has been going on for decades. The band breaks up in 1980 and all of a sudden a couple years later there's this band cutting one of our songs. All these local bands are forming — this band does "Shake Some Action," another band does "Slow Death." It's very strange. Someone asked me the other day, "How do you guys manage this chameleon type ability? You came from Haight-Ashbury in '60s, in England you're attached to the punk scene." It's puzzling to us. I kind of got a handle on it now, I realized all of a sudden we were never contemporary at any one period, because we were playing timeless classic-style rock. That helped us fit in whenever some new scene came… except for disco. There was no way for us to attach to that fucker. And rap music. It's a big surprise to me that we didn't get categorized as some retro thing.
Where did you fit in with San Francisco?
We really didn't fit in. We were the only band that really was from San Francisco. The Grateful Dead, all those people were from the East Bay. [Quicksilver Messenger Service], all those guys were not born in San Francisco. Flamin' Groovies were all born in San Francisco. Before the Haight-Ashbury scene started, we were in bands, playing surf instrumentals or whatever. Then the British Invasion came and next thing you know we all have Fuzztones, doing "Heart Full of Soul" and "Gloria." By the time the music scene here started we were full-tilt boogie playing the type of garage rock we continued to play through all of it. We never got into the business to be some world famous rock stars and fuck every chick on the planet, or make a million dollars. We were kids. We decided we were going to be a band and decide what kind of music we were going to play and to hell with everybody else. That was the attitude. It's the same attitude as the Beatles. Those guys couldn't get signed in '62 right away because everyone said, "Oh, they do 'Long Tall Sally,' they sound like the Everly Brothers. We already had this."
'Guitar music is over'.
Yeah. I remember thinking as a kid they were heroes, to me and the guys, because they were proving them all wrong, "Guitar music ain't dead. Listen to this!" They were total heroes to us.
Was there a divide over whether, "Are we a Beatles band or a Stones band?"
We were always both. We cut "Slow Death" after Roy left. After the end of that decade, we cut "Jumpin in the Night" which is pretty R&B. We love all kinds of music. When we do stuff like that, we're emulating our influences. We didn't did too much pop music when Roy was in the band because we didn't have the ability to do three-part harmonies. George, Chris and I, and now with (Victor Penalosa), our drummer, in the band, we're just like the Beatles. Everybody can sing. We got four singers in the band. It's just a question of figuring out new songs — I sing this, you guys do harmony, or I sing that, or Victor sings one and we do a three-part behind him. We have the tools to do that. We'll probably evolve into that and branch out into another realm of our style of music. I don't know what it'll be called.
Chris and I wrote our first new song last year, "End of the World." It got picked by Rolling Stone for streaming. Dave Marsh, who is an old friend, who we haven't seen since 1969, he pretty much jumped off the Groovies bandwagon all those decades ago. He seems to be back on, with what he said about the new song. It was amazing. I had to read it twice, like, "Did he really say that?" I'm thinking to myself, "maybe this attitude we've had all this time, which is we're going to do what we think is cool, maybe it caught on," I don't know.
We did a couple shows in England last year. We opened for Bruce Springsteen at Olympic Park. It was incredible. We did a headline show in London. When we were in Australia a few months before that, we got an email from Matthew Fisher, the keyboard player in Procul Harum. He was the arranger on "Whiter Shade of Pale." He said, "I'd love to sit in." and we were like, "Oh wow, no shit." We figured he'd do two songs or something. We get there for rehearsal and he's made charts for every song.
It was all old geezers. We sold the place out, mind you, but they were all old people. The scene in Europe is completely detached — you've got the old timers and the new bands and the kids into the new stuff. There's no unity. They're completely isolated. We come to America and start playing the East Coast and start getting young kids at the show. By the time we play the Echoplex in L.A., it's all young kids. We're going like, "Holy shit, this is fucking great." One of the girls I work with, she's in her early 20s, she came to our show last year. Later on I asked her what'd you think. She said, "It's incredible, I knew you guys were old school but I didn't know old school was so heavy."
I think a lot of the kids come to see us, they get off on it. Who couldn't get off on a band playing rock 'n' roll music and doing it right? Especially when you're a young kid and you've never heard it before. Something old becomes something new, after generations.
You're playing with this band out of New York, The Men. You have these two bands doing great rock 'n' roll, one of young guys and —
You have the old geezers. (laughs) There are other new groups playing with us. We have the Muck & the Mires. [Evan Shore] called me a couple weeks ago, he said, "I heard you guys were touring. We'll drive to wherever and open." … So they're going to be on one of the shows. We get a big kick out of these kids starting rock bands, using us as a direction. It's very flattering.
What goes through your mind when you see a band emulating what they think is new territory?
It was kind of neat 30 years ago when the band broke up and a couple of years later people were covering "Slow Death." It was a trip, like, "Thank God we haven't been forgotten." Now, it's very strange. How come it's still going on? (laughs) That one I can't figure out.
What are plans beyond "End of the World"? Is there an album in the works?
Yeah, since last year. We've cut four songs, new ones. We're going in the studio and we're going to lay down more tracks. We should have half an album finished by the time we tour. We're thinking of putting out an EP for the summer, on vinyl and CD. Of course it'll be up on iTunes.
The cool thing about iTunes, you don't have to wait a year for royalties. In the old days, it would take ASCAP a year to collect. Last year we get off the road and a month later I get a check for $2,000 from Warner Bros. It's all streaming, people downloading.
I'm like, "Wow, they pay this quick. OK, let's move our organization to the computer." I'm one of those guys who still doesn't have a computer. I don't have a cell phone. I'm off the fucking grid. George and Victor, when we're on the road, the first thing they do before they have coffee, they go to the computer. "Hey look that this photograph." I'm that guy who has a pad of paper and pencil.
That's rare.
(laughs) The other day I was at work, I work as an usher at the Orpheum in San Francisco for big musicals, I see all these young kids, they're freaking out. "You're on Wikipedia!" I'm like, "What the fuck is Wikipedia?" I asked, "Is that good?"
Someone else wrote your Wikipedia.
There you go. I got my 15 minutes like Andy Warhol said.
I'm very impressed with this computer age. I still don't think I want to plug in. Seems to me everyone who does, there's a great responsibility in doing this. you can't ignore emails and texts. Frankly, I'm busy painting on canvas all day long, so I don't really have time to be that responsible. I imagine if I did set something up like that, I would get in big trouble real quick. Everybody would get pissed off I wasn't answering them.
This way you don't have anything to worry about.
This way, I'm some eccentric weirdo.
You're in town during Jazz Fest.
We'll be there a few days. The filmmakers are going to meet us in New Orleans and we're going to be shooting there. I thought it'd be great, man, what a place to make some film. The French Quarter, that's a wonderful place to take photographs.
George and the rest of the boys in the band have never been to New Orleans. They're really looking forward to it.
The Groovies never played in New Orleans?
We never did the South. We never did Texas. That's why we're calling it the Invasion tour.
We should've been dead for the count a long time ago. We were down and out and we were gone. There were years where it was like, "It's over forever." All of a sudden this thing starts up again, like boy, shows how much I know.
Did you ever feel any desperation where that was the end of making music?
Oh yeah. That happened to me in the '90s when George and I split the band up.
There was a 10-year period where I didn't play guitar, I didn't listen to music. That whole part of my life was over. It was strange to be in this new land. I had grown up into this. when it was all over in the '80s and '90s, it was like, "Wow, what do you do with yourself?" I came to terms with it. It was fine, it's over, I can move on. But it was dead and gone and never gonna come back. All of a sudden its back, we're back together and we're all kind of shaking our heads like, "How the hell did this happen?"
It's the fans, really. The Hoodoo Gurus picked us for their tour because they're fans. That was enough money to kickstart the project again. I would have to say the fans saved us.
http://www.bestofneworleans.com/blogofneworleans/archives/2014/04/25/interview-cyril-jordan-of-flamin-groovies
AUSTIN
AUSTIN CHRONICLE (Austin weekly)
Austin Psych Fest Live (Thursday): Flamin' Groovies
Sold-out APF opener boasts reunited S.F. cults icons
BY SCOTT SCHINDER
In its two most significant incarnations, R&B-loving Sixties garage rockers and Seventies power-poppers, the Bay Area-born Flamin' Groovies went against then-current mainstream tastes in creating timelessly resonant rock & roll. All three sounds were on display Thursday night at Red 7 for the first night of Austin Psych Fest.
In the group's current resurgence after a two-decade layoff, these venerable cult icons have finally caught up with their underground-legend status, attracting an eager audience that's turned what was initially intended as a short-term reunion into a surprise comeback.
In this, their first Austin gig, the reactivated Groovies – founding guitarist Cyril Jordan, Seventies singer/guitarist Chris Wilson, original bassist George Alexander, and new drummer Victor Penalosa – attacked vintage nuggets with a raucous fervor that transcended mere nostalgia. If the creamy harmonies that grace such beloved classics as 1975's Shake Some Action sound considerably more frayed now, the foursome performed with a bracing urgency that compensated for the lack of vocal finesse.
The Groovies' time-tested grit was in full effect on catalog favorites "Yeah My Baby" and "You Tore Me Down," as well as covers of Freddy Cannon's "Tallahassee Lassie" and the Byrds' "I'll Feel A Whole Lot Better." Chuck Berry's "Don't You Lie to Me" and the Alexander-sung "Married Woman," meanwhile, emphasized the raunchy blues edge that balances the foursome's Beatles fetish. The only number not drawn from the band's vintage repertoire was a surging take on NRBQ's "I Want You Bad."
By the time the set climaxed with a rousing one-two punch of bigger-than-life Groovies anthems "Slow Death" and "Shake Some Action," spirits at the packed outdoor stage at Red 7 were so high that even the portly knucklehead who briefly bum-rushed Wilson's microphone couldn't harsh the vibe.
http://www.austinchronicle.com/daily/music/2014-05-02/austin-psych-fest-live-thursday-flamin-groovies/
AUSTIN CHRONICLE (Austin weekly)
The Flamin' Groovies Thu. @ Red 7
BY SCOTT SCHINDER, FRI., MAY 2, 2014
"We're still shaking our heads saying, 'How the hell did this happen?'" acknowledges Cyril Jordan. "I keep asking myself, 'Why now?'"
The veteran guitarist, singer, and rock & roll true believer pauses to consider the current resurgence of the Flamin' Groovies, a scrappy cult combo he's led in various incarnations since the mid Sixties, and which he'd laid to rest in the early Nineties. For starters, the group's participation in Psych Fest is ironic in light of the fact that, when they started in San Francisco in 1965, their R&B-inflected rock & roll – as manifested on early LPs Supersnazz, Flamingo, and Teenage Head – was the antithesis of the acid-fueled excess that would soon dominate the local scene. By the time the Groovies reemerged with 1975's now classic Shake Some Action, Chris Wilson had replaced original frontman Roy Loney and they'd adopted a punchy jangle-pop sound.
The current Groovies lineup – Jordan, Wilson, original bassist George Alexander, and new drummer Victor Penalosa – convened last year after Australia's Hoodoo Gurus invited the band to join them on tour Down Under. Those shows were so well-received that the reunion continued with successful gigs in England, Japan, and America.
"In the old days," he says, "everything the Groovies did was kind of a struggle. Now people are coming to us. It definitely feels like a vindication."
In addition to working on a new studio album, the foursome plans to follow its current U.S. tour with several weeks of dates in Spain and France, followed by more touring in America.
"It feels like we're back on track, so we're just rolling with it," Jordan asserts. "We're gonna gig as much as we can and put out as much music as we can, and we'll see how far it takes us."
http://www.austinchronicle.com/music/2014-05-02/the-flamin-groovies/
 AUSTIN AMERICAN-STATESMAN / AUSTIN 360 (Austin Daily)
EDITOR'S PICK: The Flamin' Groovies, the Warlocks Thursday, May 1 7:00p at Red 7
Ready to reverb? Austin Psych Fest kicks off at Carson Creek Ranch on May 2, but the party starts early with a pair of preview shows. The Mohawk features Seattle psych-soul act Night Beats and Canadian act Elephant Stone who mix elements of traditional Indian music into indie rock. Meanwhile over at Red 7 San Francisco retro rockers the Flamin' Groovies share a bill with L.A. psych rockers the Warlocks.
http://events.austin360.com/austin_tx/events/show/370329619-the-flamin-groovies-the-warlocks
OVRLD (Austin music site)
Shakin' Some Action: An Interview with The Flamin' Groovies' Cyril Jordan
The Flamin' Groovies are one of the most beloved early garage rock and power pop pioneers, but in their own time, they never truly got their commercial due. I had the chance to talk with Groovies co-founder and lead guitarist Cyril Jordan, who is playing at Red 7 tonight with a reunited Flamin' Groovies for Psych Fest. I spoke with Jordan about the band's two distinct eras, the early R&B-influenced period featuring Roy Loney as the frontman, and the more power pop oriented version of the band that is playing Red 7, with Chris Wilson at the front. We also spoke about how the band wound up on Sire at its peak, what happened to the manager that got them on Sire and why vinyl will always be the best way to listen to rock music.
Morgan Davis for Ovrld: The Flamin' Groovies are set to play a reunion show here in Austin for Psych Fest, but you've already played well-received shows everywhere from Australia to Japan. Have you been surprised by the reaction?
Cyril Jordan: Yeah, really surprised, it's been really great. We should have been forgotten. It's been a long, long time since we played rock 'n' roll.
Ovrld: Do you feel like today's music scene is in some ways more receptive to what you're doing than the last time you toured together?
CJ: Yeah, a lot more.
Ovrld: Other garage rock groups from your era, like the Sonics, also seem to be get a great reception with their reunions. Would you say the garage rock scene today is thriving?
CJ: It's funny because when the mainstream rock scene breaks down, and the stuff up there at the top flakes off, it always comes down to the underground garage level, the interest always comes back to that, that's where the real roots are. We don't come from the Julliard school. We come from oblivion. There are garages everywhere here in America. I think it's really healthy when it gets back to that level.
Ovrld: You did a tour a few years ago with fellow Flamin' Groovies founder Roy Loney, and I know he's absent from this line-up, but I remember that you toured with members of Yo La Tengo and the A-Bones, what was it like working with those musicians, who kind of came up inspired by what you had done?
CJ: Those guys were friends first and fans second, so it was great because they really got the material. And they're pretty much why we've come back, first with the tour with Roy and now the Shake Some Action stuff with Chris. If it wasn't for the fans, we'd be out floating in the void. It's the fans that have kept this thing going. Apparently we're getting new fans too, because there are a lot of young kids coming to the shows.
Ovrld: The Flamin' Groovies have been seen as a major influence on a lot of genres that are big now, everything from punk to power pop to garage rock. But you were also pretty influential in your own time, because Cheap Trick, the Cramps and ZZ Top have all cited you as an influence. What aspect of your style do you feel has been your greatest legacy?
CJ: You know, I think one of the main reasons we're even still around is because we were on major labels back in the '70s. Those companies have been bought up by huge companies so there has been a constant barrage of rereleases even though the band has been down for the count for pretty much the past 30 years. One album after another has kept coming out and the media image has been kept alive.
As far as the kids go, well, we've got a couple sides to us; we've got the Rolling Stones side, we've got the Beatles side and then we have our own side. So, it's a little bit of folk rock, it's a little bit of rock 'n' roll, it's a little bit of grunge. And the other fact is that we were never really contemporary at any time we were working, so we had this chameleon-like ability to fit in because the music we were playing was a classic style of rock 'n' roll. By the time we got rolling in San Francisco in '64 or '65, that was seen as old hat, especially on the West Coast. We were all puzzled by it, because what we were doing was basically roots, we're all about roots.
Ovrld: One of my favorite works of yours is Teenage Head, which Mick Jagger even infamously claimed was better than Sticky Fingers. What was it like to balance those kinds of accolades, and be seen as the West Coast response to the Rolling Stones?
CJ: It was really cool because they were our idols. We loved pop but we also loved R&B, and the Stones were some of the greatest guitarists of all-time. When we started as kids, that was basically where we were coming from because we wanted to be great guitar players. And we always got a kick, too, on doing a take off on something. I was a big fan of MAD Magazine too, and I grew up reading their crazy ads, take offs on real ads. By the time we got to do Teenage Head, Roy was really into that, too– Roy was kind of the king of great take offs, his writing was just fantastic back then. The combination of me on the arrangements and parts and Roy on the melodies and lyrics, we were pretty good at doing our version of the Stones.
But "Teenage Head" is also basically our version of Led Zeppelin. We had the idea "What if the Mothers of Invention did Led Zeppelin?" So that was "Teenage Head." [laughs]
Ovrld: That's crazy, that makes me view that song a whole different way now.
CJ: Yeah, yeah. [laughs]
Ovrld: One of the things that really appeals to me about that song is that it's full of elements that you wouldn't think would work well together, but do work well together, like the combination of that stompy guitar lick and that harmonica that comes out of nowhere and the snotty vocal take. You spoke about the arrangements and I was curious about how you guys always managed to have this tight but chaotic sound. How did you hold it all together? Because it always sounds great, but it also sounds like something menacing is coming.
CJ: Well, we all were back then– and pretty much still are now– goof offs. We love to goof. Serious is all fine and dandy, but when we cut that material, we pretty much came up with it on the spot in the studio. So it was all very brand new. We got a gripe from one of the guys in the band, one of the drummers, he said "Hey man, I wish I had a little more time to work on it," but I like the idea of someone being a little anxious in the recording session– it makes them a little more alert. It gives an edge to the recording that…I don't know if the word is "chaos," but I know what you mean, it sounds like it's going to break loose. That's because people aren't used to it, I just showed them the song that day, maybe an hour before the session. So everyone was real anxious and nervous [laughs]. But they're all playing well, it gives it this raw edge.
Ovrld: That album was also the defining statement on that era of the band, since Roy Loney left after that. Was it intended as a goodbye to that era of the group? When you were recording it, did you know you were transitioning from one era to another?
CJ: No, not really. We were always glad when we had the chance to cut another album. But we would wait until seconds before the session, even though we were real serious about it. He would have notes on this song, I would have notes on that song. Being a bunch of lazy guys, though, we would wait until the last second.
I remember when we got signed to Sire and Seymour Stein [Sire founder] came out to audition us, and he said "Play me some new songs," and I looked at him and I said "You know, Seymour, I don't really write new songs until I know they're going to be produced on a new album." And he just looked at me and said "Well, what can you play us?" I said "We can play 'Please Please Me,' by the Beatles…" So we did "Please Please Me" for him, right there, and he signed us on the spot because apparently that was his favorite Beatles song [laughs].
Ovrld: You guys had always had a Beatles influence to even out the Stones influence, and you even covered quite a few of their songs, right? I know you said the Stones were your idols, but since as a songwriter you have a more melodic side to you too, was it always a matter of balancing those two.
CJ: It's really an artistic preference, because as a writer, the pop style of the Beatles is way more difficult to write than the R&B style of the Stones. To me, that's always been a challenge, as far as I'm concerned. Some of the greatest melodies of all-time came out of the minds of Paul McCartney and John Lennon, especially John Lennon which you could see after he left the Beatles and was still coming up with really great ideas. That kind of music is much more difficult to write, I like the challenge of it.
When Roy was in the band, we had a singer who was like an R&B singer. We didn't really have pretty boy voices. But when Chris [Wilson] came into the band, all of that changed. We were able to up our innovations and take our ideas to a level that would have been more challenging to me. I got a big kick out of that. But we never got rid of that raw edge side, because our last album [1979's Jumpin' In the Night] we stuck very close to songwriting in the style of [Teenage Head-era single] "Slow Death." We never forgot that stuff, we still wanted to blow their barns. We may not have been getting hit records, but we were coming up with licks that Keith and Mick think are really cool. That was a good reason to continue doing it, even though the big bucks weren't coming in.
Ovrld: When you guys joined up with Sire, you went in a more power pop direction, which fit in with what they were putting out at the time, too. Something that has always fascinated me about your Sire debut Shake Some Action is that it was co-produced by Greg Shaw [of Bomp! fame] and Dave Edmunds, which symbolized a marriage between two worlds of power pop, from Shaw's West Coast and Edmunds being the pub rock producer of choice. Were you drawn to the pub rock scene because they were also attempting to merge pop and R&B in a raw way?
CJ: Oh yeah, for sure! When we moved to England in '72, we got hooked up with a lot of the early players, guys like Nick Lowe [pub rock pioneer and long time Elvis Costello producer who also wrote "(What's So Funny 'bout) Peace, Love and Understanding?"], we fit right in, it was amazing. We had cut the song "Shake Some Action" in '72, but it was never released. I wound up owning the recording masters. So I shopped those tapes for about three to four years, it was very difficult to get signed.
When I met Greg Shaw, he had come out of the same cookie box we had come out of, being influenced by the British Invasion. A guy like Greg was always trying to find the next "pop" band. We all loved what the Beatles did, so he got really jazzed when he met us. At that point in time, we were doing more Beatles-style pop music. He was getting ready to become the Vice President of Sire Records, so we signed up with Seymour's label and Greg became our manager. He went to England with us to do the album, Shake Some Action. None of us knew Greg was a diabetic, he kept that secret, and three weeks into recording the album, he was partying with us all night long, drinking all these bottles of wine. The next day we were on the M4– it was raining, I remember that– and he collapsed and he went into a seizure, we had to call for the police and an ambulance. They took Greg away and we never saw Greg again. He just vanished like a fart in the wind, it was fucking unbelievable. I guess after that he lost his connection with Sire and went back into the underground and stayed there for the rest of his life [Shaw died in 2004 from heart failure at the age of 55]. But he was a big help. Without him and his labels, the underground scene would have had a hard time staying alive. We owe Greg a whole bunch, and Seymour too. Seymour was the only guy in the recording industry that was on top of it, he had a lot of money, and he loved that style of pop music. He kind of got burned out after four or five years of putting money into it, and never having it go anywhere.
It was difficult back then for anyone in the music scene to try to bring that kind of melodic style of music. The competition was intense. I was thinking about it the other day and I must have been insane in my '20s, because the competition was fierce, with stuff like Led Zeppelin, the Who, the Rolling Stones [laughs]. We were competing against some bands that had some incredible guitar players. Things were different then. We don't have that kind of playing anymore. Clapton is still touring and whatever, but as far as the young kids go, I would imagine a lot of them don't even know who he is. You know what I mean? [laughs] I mean, guys like you…you guys know. But the kids who listen to Bruno Mars, they've never heard of Eric Clapton. [laughs]
Ovrld: Well, it seems like the scene in the UK that you wound up in the middle of was coming from a similar place, with a group of kids deciding they wanted to take things back to a real primal form of rock 'n' roll. You mentioned Nick Lowe earlier, and guys like him wound up defining that brand of UK pop, with all the acts he worked with, from Elvis Costello to Ian Dury and so on. Did you feel like you were stuck between both worlds, since you were great players but also had a clear appreciation for that raw form of rock?
CJ: Pretty much, yeah. The fact is, we influenced each other, too. When we came over, we were still doing a lot of Chuck Berry-style rock 'n' roll. That pretty much gave us some clout with these new people in the garage and punk scene in England. Then '76 came around, and the Sex Pistols came around. I remember we were on Warner Bros. through Sire, and of course the Sex Pistols were signed to Warners. There was a songbook called "Rock" that came out, and the cover had a picture of the Sex Pistols and a picture of the Groovies and a picture of the Ramones, and we were like "How did we get connected to this?" [laughs]. I think it's because of the fact that we were playing a raw style of music, we were doing something that was looked upon as questionable by these other players who were writing music where they were trying to intellectualize it.
In the '60s, when electric guitar got really big because of the British Invasion, a lot of people that were in universities and colleges and listening to Bob Dylan, they looked down on the music as a bubblegum, teenage thing. That's why Dylan got in a bunch of trouble when he went electric. It was as if you played acoustic back then, you were grown-up. If you played electric guitar, you were like a kid or something. So this attitude kept building and building until by the time '75 rolled around, we were looked at as idiots or something because we were covering early Beatles songs. I looked at these people like "How dare you put down this stuff, this stuff is why Dylan went electric." If the Beatles hadn't come out, who knows what the shape of the world would be today? It definitely would not be what it is. Not that it's in good shape [laughs]. A lot of people don't realize that stuff like the Beatles helped communism deflate. There was a big Beatles craze in Russia, apparently. All these groups in the underground were making Beatles records. They were making these bootleg Beatles records. They had these recording booths in Red Square, so soldiers could record a Happy Birthday message for their mom or something. So they'd be in there, making a copy of a Beatles record or something, in secret [laughs]. But the Beatles didn't get the credit they really deserve because of this weird stigma of pop. And we're far enough in the future now that that's all been forgotten.
Ovrld: At that time, Shake Some Action's poppier sound must have seemed like a seismic shift to people used to your earlier sound. Did you feel people were caught by surprise with what you did with that album?
CJ: There are definitely two camps of Groovies fans. There's the Teenage Head group of fans, and then there's the Shake Some Action group of fans. Sometimes they clash. The funny thing is, when I did that tour with Roy, about a year and a half before Chris and I got together, the halls didn't exactly fill up. It's as though the people who know about Teenage Head are a little hipper or something. So there's fewer of them. I guess the hip are always in the minority. But it doesn't bother me. I mean, sometimes with this line-up, I'll get up on stage and people will request stuff from Teenage Head and I'll just have to tell them "You got the wrong band." [laughs] That stuff is with Roy, we don't do it with Chris.
Ovrld: The Shake Some Action line-up has had multiple revivals, because I know a lot of people came to your music through Clueless, which featured Cracker's cover of "Shake Some Action." Was it interesting to you to see a new generation of fans get turned on to your music through that?
CJ: The band had been broken up for at least five or six years when that offer came. That offer came in the mail, I got a letter from Paramount Studios one day. I was kind of puzzled. I looked at it and it had the Paramount logo, and I thought "What is this? Is this an advertisement?" And I opened it up and it's this director [Amy Heckerling, who also directed Fast Times at Ridgemont High] and she's telling me she's going to make this movie, and these are the people that are in it. I didn't recognize any of the names. I was in disbelief. I figured it would probably barely come out and not even be shown on airplanes. But I went ahead and did the deal anyway. And the next thing I know, it's this big teenage hit! [laughs] It was pretty amazing, to have us be brought back and clued in to a new teenage market. It really helped us get back on the grid, we probably made more money from royalties from that than anything else. It was pure luck.
Ovrld: It seems like around that time, a lot of your stuff was also getting rereleased. I think I first found out about your stuff through the Buddha Records reissues, which were updates on the stuff Big Beat did. And Rhino has kept your stuff in print, with the inclusion of singles from around the time of the albums and other bonus material. Now that a lot of people are coming back to vinyl and are into collecting on that format, has that helped build interest in the band?
CJ: Definitely. The problem with CD is that the thing doesn't have much weight. If you want to listen to rock 'n' roll the right way, you gotta get vinyl. I know they designed the CD format so they could basically resell their catalogs. And it did work to a point. But part of listening to rock music is playing it loud, and you've got to get vinyl if you really want to turn the volume up.
Ovrld: Plus there's the art aspect. I know a lot of people who just like owning vinyl because the art is so much bigger, it's more of an artifact.
CJ: It's totally a work of art. CDs were down to like a quarter size of an LP. So the artwork's quality went down a bit. When you're looking at a CD, it's really small, so who cares what the art looks like? I totally agree with you. When you own vinyl, it's like there's something magical about it.
There's also a whole thing about ownership. Because people are being taught now to buy things in a virtual sense. Fact is, you really don't own that stuff because it doesn't exist physically. When I started in ProTools about ten years ago, I remember asking one of my engineers about an overdub I had recorded that we lost, "Where is it? And what is it made out of?" [laughs] And he looked at me and he said "Well, we really don't know." [laughs] It's hiding out there in some circuits somewhere.
Ovrld: So my friend Mike Prezzato, who runs a label called FleshWave and has played in a number of punk and garage rock bands in Detroit, wanted me to ask you: "If you could only play one of your songs for the rest of your life, what would you choose and why?"
CJ: That's a hard one. From the old catalog, huh?
Ovrld: Yeah, anywhere in the catalog…
CJ: It would have to be "Slow Death."
Ovrld: Why that one?
CJ: Because that one, when Roy and I wrote it, we had been out in Detroit in '67 or '68 and around 1970, we were really looking forward to going back. Because we made a lot of friends there. And when we get back, we were in what must have been a hooker motel out in Dearborn, it had all this purple wallpaper, real rococo. And all the people we had met and been friends with were either in jail or dead. It was a big bummer. It was two in the morning after the show and Roy and I were back in the room, and I had written that riff six or seven months ago. I was just playing around with that lick, and Roy started writing lyrics, we wrote that song in about ten minutes at two in the morning in Dearborn. About nine months later, Roy left the band after cutting one of our most famous albums. It was a very strange period. The album was a flop, I mean, not artistically, but commercially it was a flop. But it really brought down Roy and he decided to leave. And when Chris came into the band, we worked up "Slow Death" and it was extremely amazing, the energy that would come off the stage when we played that song made it seem like we had struck some kind of chord with rockers out in the audience. Out of all the material we've recorded and wrote, "Slow Death" is the one that gives the most satisfaction when you play it, especially that intro, the way it opens up.
Ovrld: It's interesting that it bridges both worlds of the band like that, too..
CJ: Yeah, I still don't know why we didn't put it on Teenage Head. The only thing I can say is that when we were ready to cut albums, whether it was with Roy or it was with Chris, the attitude was always the same, we would wait until the last second and start coming up with ideas right there in the studio. We must have forgotten about "Slow Death."
Ovrld: I guess it worked out for the best, though…
CJ: You never know why things happen the way they do. Some people call it destiny. Some people call it seasons of motivation, or lack of motivation.
The Flamin' Groovies will kick off PsychFest tonight with the Warlocks and more at Red 7.
http://ovrld.com/interviews/shaking-interview-groovies/
Thu. May 1 KUTX Austin Radio in-studio performance (1 pm CDT) with Peter Babb
 Thu. May 1 KOOP Austin Radio interview w/ spins  4:30-6pm CDT
HOUSTON
HOUSTON PRESS (Houston weekly)
Critic's Pick – Flamin' Groovies 8:00 p.m. May 3 @ House of Blues
More or less the flagship band for Little Steven's Underground Garage, San Francisco's Flamin' Groovies have been flying the flag for unruly, melodic, fuzz-clouded garage-rock for almost 50 years. Though never even close to breaking through to mainstream rock audiences, the Groovies left a profound mark on solo musicians (Dave Edmunds, Jack White) and bands (the Stooges, Cheap Trick) alike. Fading into legend by the early '80s, the Groovies were jump-started last year when founding members Cyril Jordan and George Alexander reunited with longtime Groovies singer Chris Wilson (who replaced original howler Roy Loney) and drummer Victor Penaloa  to give it another go, which led to this unlikely tour and new music on the way. — By Chris Gray
http://www.voiceplaces.com/houston/flamin-groovies-3727561-e
HOUSTON CHRONICLE (Houston weekly)
Flamin' Groovies frontman remembers not-so-psychedelic '60s
By Andrew Dansby
The Flamin' Groovies, founded nearly 50 years ago, were always a step out of time. The San Francisco band was playing R&B-inspired rock in the '60s when their contemporaries were lost in a psychedelic haze. As arena rock took hold in the '70s, the Groovies turned toward an edgy update of the British Invasion sound. The band produced some excellent albums between 1969 and 1978, though it remains best known for the single "Shake Some Action," a 1976 garage-rock anthem that should've been a monster hit. Guitarist/singer Cyril Jordan, bassist George Alexander and singer Roy Loney founded the band. Loney departed in 1971 and was replaced by singer/guitarist Chris Wilson. The Groovies stopped grooving around 1981 until a 2013 reunion of Jordan, Wilson and Alexander with new drummer Victor Penalosa. That lineup plays Saturday at House of Blues.
Jordan talked about the Groovies' big hit, the '60s San Francisco scene and lots and lots of drugs.
Q: The Flamin' Groovies were an interesting band in that you were around San Francisco during the whole hippie thing, but your music didn't sound like that at all.
A: And it's funnier because we were really the only band of that era in San Francisco that was from San Francisco. Jefferson Airplane, Quicksilver Messenger Service, none of them were born here. And we were the ones tagged as not really being from San Francisco. (Laughs.) … The thing about the Groovies that was unique was because we were playing out of context from what was contemporary at the time we managed to have this chameleonic ability to fit into different eras. We moved to England and got tagged with the punk scene. Warner Bros. put a punk song book out: It was Sex Pistols, the Groovies and the Ramones. I just got into this thing to make incredible music. I wasn't into it to get laid or make millions. So that fed this search for great tunes. Keith Richards, I saw him interviewed, and he pointed to the fingerboard on the guitar and he said, "There's secrets there." And I knew exactly what he was talking about. We're all searching for those great parts that are hidden. That was the main motivator for us in the Groovies.
Q: You guys were never very psychedelic sounding.
A: No, but that was the cool thing about San Francisco, all these bands were trying to innovate something new. Rock 'n' roll was so pliable then. We were trying to shape it into things we thought were cool. One band would do it this way, one would do it that way. It's funny you bring that up because we have this new song, "Into the World," [sic] it's very psychedelic. The break at the end is reminiscent of the early days at the Fillmore. So we finally became psychedelic 50 (expletive) years later. (Laughs.)
Q: Do you recall where the phrase "Shake Some Action" came from?
A: Funny thing, I was watching this movie with Frank Sinatra in it, "None But the Brave." And Tommy Sands plays a Marine sergeant, and he says to Clint Walker's character, "Are you ready to shake some action?" That was maybe 1958. I remember seeing it as a kid, so maybe it was a subliminal thing. But I guess it was a military term in the '50s that they'd use in boot camp to say, "Get up off your (expletive)." It's funny, the way we were writing, we didn't think one song stood out more than any other. We wanted all the songs on the album to be killer. The Beatles were that way, the Stones, the Kinks. That song has been like gum on my shoe. I tried to get out of the industry in the '90s and made a good effort for about five years, and then around 1996, I get a letter from Paramount Studios about a movie they were going to make, and they wanted to use the song. I didn't recognize anybody in it. It was "Clueless," which became this big hit. So I got sucked back into the business. I tell you, it's like gum on a shoe.
Q: I'm impressed by your memory's degree of detail. It isn't always that way with the '60s guys.
A: It's funny, I used to brag about it to my mom, and she'd go, "Yeah yeah yeah." Then I told her I could remember the tile in the operating room where I was born – aqua green – and she turned white. … There are little triggers that open the memory gates. I'll open a poster book and see an old show poster, and that opens things up. Most people try to forget (laughs) what went down. Me, on the other hand, I don't want to forget the times I had with Jimi Hendrix or smoking pot with Ted Kennedy  &
Q: .. Sorry, what?
A: Yeah, the Groovies were the rock band for every Democratic Party event in 1968. The week before Bobby was killed, we played this old warehouse. Three sets. During one, halfway through the set, I see Ted Kennedy in front of me watching the band. He's gigantic. One of the biggest people I've ever known. His shoe size must've been a 27. Anyway, I go out to smoke a joint, and Herb Caen, the writer, comes out. He starts talking to me and I give him the joint and Teddy Kennedy comes out and starts talking to Herb, and Herb hands him the joint, and he went right through it. I should've kept the roach and put it in Lucite. But that's just the way it was. If you were in a band you had the opportunity to meet people.
Q: You mentioned Hendrix. Any good stories there?
A: There's a lot of stories with Jimi. I'd been thrown out of high school. When I first started smoking pot as a junior, I went from Cs and Ds to As and Bs. My mom was real pleased. She'd say, "Just keep smoking the pot. Just don't smoke it in the house." So it wasn't that. They just threw me out of school because I was too cool, with the long hair and all. Anyway, I was walking around Golden Gate Park, and there setting up, this was 1967, was Jimi Hendrix, Mitch Mitchell and Noel Redding and about five other hippies. Nobody else was there yet. So I go up and started talking to them. And because I got the red velvet coat and the Cuban heel boots, I was able to break the ice immediately. Back then, guys like us, even if you didn't know somebody, as soon as you saw them when they looked like that you started talking. It was a secret club. So I got them some hash that day. The next time I see Jimi is in Los Angeles at a bookstore. I'm looking at a box of "Tales From the Crypt," and I see this shadow that turns out to be Jimi. He said, "Wow, You're into 'Tales From the Crypt?'             " So I took him to a collector store down the street where they had mint copies. From that day on, the store treated me like royalty.
Q: That era chewed up a lot of people, but you seemed to get out OK.
A: Yeah, but I'm a real survivalist. Unfortunately, I got polio in 1954 when there was an outbreak. And I got it in the top of my spine. I was paralyzed and couldn't move my hands. It seemed pretty clear I was going to die, so one day the doctors came in with my mom and dad – I was in there with 48 crippled kids – and they said, "You're going home." Only I didn't die. I was home for three years with a nurse. There was a lot of physical therapy. But I'm a survivor. I've faced death and a lot of failure and disappointment. I look at the failure the way Edison did. What did it take him, 5,000 experiments to get to the light bulb? Each failure got him closer to discovering what substances worked. "Horse hair dipped in dog (expletive)? Maybe that's the one!" But with the acid, every once in a while you'd have a freak-out. Three hours in, you'd wish you'd never heard of the damned drug because things could get pretty gnarly. But I was never taken in handcuffs to the mental hospital. And my days with LSD are over. I'm too old to get that stoned. I still have the occasional joint. But I think one of the reasons I outlived all these guys is because I never really made it to the big time. It's the big money that kills rock stars. They have enough money to buy all the drugs they can think of. That never happened to us. And I also never wanted to see the look on my parents' faces like when I got polio. So no ODs, no jail. No going crazy. Don't get me wrong, the Flamin' Groovies were the stoned-est cats on the planet. But there's always a good reason to keep the wildness a little tame.
The Flamin' Groovies
With Muck and the Mires and Mikey and the Drags
When: 9 p.m. Saturday
Where: House of Blues
http://www.chron.com/entertainment/music/article/Flamin-Groovies-frontman-remembers-5441859.php
MEMPHIS
THE COMMERCIAL APPEAL  (Memphis daily)
Bob Mehr's Memphis Music Beat: Cult favorites Flamin' Groovies plotting comeback
Cult rockers the Flamin' Groovies play the Hi-Tone Café on Tuesday.
It's taken them almost 50 years, but the Flamin' Groovies are finally coming to Memphis.
"We've never, never played there, never played Tennessee," says Groovies singer/guitarist Cyril Jordan.
"You gotta remember: we come from the Haight-Ashbury scene in the '60s, and after having seen 'Easy Rider' back then, we weren't so sure about the South," he adds, laughing. "It would come up every once in a while — 'Hey, do you want to play the South?,' and it was like, 'No, no, I don't think so.' But it's really weird, 'cause that original version of the Groovies was very R&B and rockabilly, and it would have made total sense to play Memphis."
This Tuesday, the band finally makes its way to the Bluff City for a concert at the Hi-Tone Café, a development that has excited fans of the San Francisco cult-rock icons.
Formed in 1965 by Jordan, bassist George Alexander and singer Roy Loney, the original Groovies delivered three albums of killer Stones-style R&B and rock and roll, including classic albums like Teenage Head. Loney left the band in 1971 and was replaced by singer/guitarist Chris Wilson, as the group shifted to a power-pop sound on a series of albums for Sire, like 1976's Shake Some Action.
The band split up in 1980, and for much of the late '80s and '90s, Jordan turned away from music. "I took a hiatus for about 10 years, started working for Walt Disney doing Mickey Mouse comic book covers," he says. "Then I got into painting. Being a painter is a very private and lonely deal. When you're in a band, you're surrounded by friends and people, you're constantly traveling — it's a lively art. I figured I was out of the music biz forever, but it was like gum on my shoe; I couldn't get it off. Around 1995, I got a letter from Paramount — they wanted to use our song 'Shake Some Action' in this movie 'Clueless.' I didn't think much of it, but it turned out to be a big teenage hit, the new 'Beach Blanket Bingo' or whatever, and I got sucked back into music."
It wasn't until 2009, however, that Jordan and Loney reunited and started doing shows focusing on the Teenage Head version of the Flamin' Groovies. Their lineup was filled out by a group of younger musicians who were fans of the band. "It was really the fans that got us back together," says Jordan.
Eventually, Jordan reconnected with his erstwhile second partner, Chris Wilson. "Chris and I hadn't seen each other in 33 years," says Jordan. "He moved to England, so it was that distance that kept us apart. When I came to England to play and we saw each other, it was all hugs and kisses and tears immediately."
Soon there were offers to reunite the Shake Some Action version of the band. Since then, the Groovies have done three successful world tours — of Japan, Australia, and the U.K., where they opened for Bruce Springsteen — and now they're finally hitting U.S. venues.
The band is also working on a new album, a much-belated follow-up to 1979's Jumpin' in the Night. They've cut five tracks so far at a studio in Sausalito, Calif., and plan to finish the album later this year. One song, called "End of the World" was streamed by Rolling Stone magazine last fall and offers a tantalizing preview of what promises to be an epic comeback effort.
"We're making a record that's gonna take on R&B, rockabilly, pop — our own original take on those three realms of music," says Jordan, adding that the Groovies are happy to finally have their chance to play the spiritual home of rock and roll. "We're super excited about coming to Memphis. I gotta say hi to the ghost of Elvis, you know?"
The Flamin' Groovies play the Hi-Tone Café, 412-414 N. Cleveland, on Tuesday with Doug Tuttle and Tyler Keith. Doors open at 7:30 p.m. Tickets are $17. Go to hitonememphis.com.
http://www.gomemphis.com/news/2014/may/02/bob-mehrs-memphis-music-beat/?partner=RSS
ST. LOUIS
THE TELEGRAPH (Alton, IL daily)
Flamin' Groovies rekindled
Legendary rockers coming to St. Louis on May 8
By Steve Whitworth For The Telegraph
ST. LOUIS — More than 30 years after breaking up, the Flamin' Groovies are back in action and still shakin' it.
Although they had limited commercial success during their original career, the Groovies are one of those groups that have been accorded "legendary" and "cult" status by critics and their diehard fans. Now, after re-forming and touring last year in Australia, Japan, the United Kingdom and the United States, the band again is hitting the road, and their current tour will bring them to St. Louis for the first time in 45 years.
"We played in St. Louis in 1969," said Cyril Jordan, one of the band's founders, during a recent telephone interview with The Telegraph from his home in San Francisco. "That was the original band. Now, it's just me and (bassist) George (Alexander) left from the original band."
Jordan, who plays guitar and sings backing vocals, started the band in San Francisco in 1965 with frontman Roy Loney. They were joined by Alexander, guitarist Tim Lynch and drummer Danny Mihm on their first album, "Supersnazz," released in 1969. That lineup also was featured on 1970's "Flamingo" and the classic "Teenage Head," which came out in 1971.
"Teenage Head," as exemplified by the title song, was gritty, bluesy and brash. At the time, the Groovies were known for covering Rolling Stones songs in their live shows, so much so that Mick Jagger reportedly joked that the Californians "do the Rolling Stones better than the Stones do." The album came out the same year as the Stones' "Sticky Fingers," and some critics declared that "Teenage Head" was the better disc.
"Teenage Head" and the numerous bootleg versions of the the Groovies' live shows and rehearsals from the same era showcased the "garage band" sound that made the group one of the forerunners of punk rock, with many punkers later citing the album as an influence.
Loney left the band shortly after, but not before he and Jordan co-wrote "Slow Death," an anti-drug rocker still considered one of their best songs. Loney went on to front the Phantom Movers in the 1970s and '80s, and he and Jordan have continued to work together occasionally over the years.
With Loney gone, the Groovies brought in Chris Wilson as lead vocalist and rhythm guitarist. In 1976, this lineup released the other touchstone album of the band's career, "Shake Some Action," produced by British guitarist Dave Edmunds and recorded at his famed Rockfield studio in Wales. Jordan and Wilson co-wrote the title song, which became the band's biggest hit and still garners play on several satellite radio channels. With Edmunds' retro sensibilities, and featuring cover art that showed the band dressed in "mod" suits on a British street, the album included covers of classic songs by Chuck Berry and the Beatles, among others, as well as a scorching take on W.C. Handy's "St. Louis Blues."
Picked up in the United States by Sire Records, the company promoted "Shake Some Action" as a corollary to some of its early punk and New Wave releases by the Ramones, Talking Heads and others, exposing a new generation of fans to the Groovies. The Jordan-Wilson compositions on the album were pop gems, featuring tight harmonies and ringing six-string guitars.
Sire also released "Flamin' Groovies Now" in 1978 and "Jumpin' in the Night" in 1979, but the band broke up after its last live show in 1981.
A new start
Jordan acknowledges that the differences in the band's sound between the "Teenage Head" and "Shake Some Action" eras have stirred debate among Groovies' fans as to which lineup was better.
"We have fans in two camps, 'Teenage Head' versus 'Shake Some Action,'" he said. "Luckily, they're not at each other's throats."
The current tour features the "Shake Some Action" lineup of Jordan, Wilson and Alexander, assisted by drummer Victor Penalosa.
"We're doing our catalog for the first time," Jordan said. "Back in the old days, we had new albums out when we toured, so nobody got to hear us do all our old songs in one show."
The Groovies also are working on new material and have released one song, "End of the World," through Rolling Stone magazine's website. "Considering all the bands that have been influenced by the Groovies, this music is timeless," the magazine commented; its longtime critic, Dave Marsh, calls the new song "sonically, musically beyond even 'Shake Some Action.'"
Alexander, also interviewed by The Telegraph, said he was floored by the song the first time he heard it.
"As soon as we all got together, it was like we had never been apart," he said. "Cyril starts showing me some songs, and my jaw just drops. Every time I think we've reached a peak as far as his songwriting goes, it reaches another level. I'm like, 'Where did you come up with that?' I'm all hyper and jazzed up again."
Alexander said the song reminds him of a mash-up of the Byrds, Blue Oyster Cult's "Don't Fear the Reaper" and a guitar lick that does "a reverse of 'Shake Some Action.'"
Jordan said he has been using his Dan Armstrong guitar for the recent recording sessions. The late Armstrong gained fame building guitars that have been used by Keith Richards, Ron Wood, Lou Reed, Steve Miller, Aerosmith's Joe Perry and Dave Grohl of the Foo Fighters, among others.
"I can't get that Rockfield guitar sound with any other guitar," Jordan said.
He said he was excited by the energy of the sessions.
"I think we're more rocked out as old geezers than we were as kids," he said.
Jordan credits Australian rockers Hoodoo Gurus with instigating the Groovies' current comeback by inviting them to play at a Gurus-sponsored festival Down Under last year.
"We got a nice purse offered to us to go out there," he said. "It was enough money to kick-start the band."
That led to more tour dates in Japan and London, where the Groovies did some recording with former Procol Harum keyboardist Matthew Fisher.
Also last year, Jordan and Wilson figured prominently in the Rock and Roll Hall of Fame's annual Music Masters Series, which honored the Rolling Stones. The concert was held last October at PlayhouseSquare's State Theatre in Cleveland and featured numerous performers associated with the Stones over their career, including Nils Lofgren, Ian McLagan, Bobby Keys, Merry Clayton, Waddy Wachtel and Patterson Hood of the Drive-By Truckers. Jordan and Wilson drew rave reviews for their takes on the Stones' classics "Paint It Black," "Parachute Woman" and "Jumpin' Jack Flash."
Jordan said Loney told him that when he met longtime Stones' associate Marianne Faithful a few years ago, she confirmed the band's admiration for the Groovies.
"She grabbed Roy and said, 'You have no idea how much the boys loved you back then,'" Jordan related.
Jordan also recalled his impromptu meeting with the Stones in 1965, when he and some friends from his first band, The Chosen Few, managed to elude security and hook up with them during their stopover at the San Francisco airport.
"We ran up some stairs, opened a door, and there they were," he said. "I don't think Mick Jagger was too happy about it, but Brian Jones came over. I had this cool red velvet coat on, and we talked about clothes.
"I wonder if they ever realized that the kid they threw out of the VIP room in the San Francisco airport wound up in the Flamin' Groovies," Jordan said with a laugh.
The Flamin' Groovies will perform Thursday, May 8, at Plush, 3224 Locust St., in St. Louis. Doors open at 7 p.m., with Bad Dates opening the show at 8 p.m. Tickets cost $20 in advance or $23 at the door and are available online at www.brownpapertickets.com. The 18-and-over show is sponsored by KDHX-FM 88.1 Community Radio in St. Louis.
The band's tour opened April 26 in San Francisco. They also played April 28 in New Orleans, May 1 at the Austin Psych Festival in Texas and will play May 6 in Memphis before coming to St. Louis.
"Coming to St. Louis, we're jazzed about that gig," Jordan said. "I hear Chuck Berry still plays there."
http://www.thetelegraph.com/news/lifestyle-local_features-news/1294496/Flamin-Groovies-rekindled
 KDHX RADIO (St. Louis Community Radio)
The Flamin' Groovies "SO MUCH IN LOVE" from Goldstar Tapes (Skydog 1984) —Coming to Plush on May 8th. The band features: Cyril Jordan, Chris Wilson, George Alexander and Victor Penalosa.
http://kdhx.org/spinitron/playlist.php?station=kdhx&plid=15828 
CHICAGO
NWI TIMES (Chicagoland Daily)
Fans of iconic rockin' cult band The Flamin' Groovies should not miss the group's House of Blues (329 North Dearborn) gig on May 9th as it will be the first time in their storied career that the Cyril Jordan/Chris Wilson line-up of the Groovies have performed live in Chicago!
This show celebrates the recent reformation of the historic Cyril Jordan, Chris Wilson, George Alexander line-up that rocked the world from 1971 – 1980. Their recent single "End of the World" marks the first Jordan/Wilson-penned tune since 1979 and the lads are presently working on a full-length film documentary titled "The Incredible Flamin' Groovies." This tour features newcomer Victor Penalosa on drums. HOB info: (312) 923-2000 or houseofblues.com/Chicago.
http://www.nwitimes.com/entertainment/columnists/tom-lounges/americana-artists-return-to-the-attic-to-jam/article_cb20ee3f-43c3-5718-97fc-5ee4724d86f0.html
MILWAUKEE
THE THIRD COAST DAILY (Milwaukee online music magazine) – Feature interview with Chris to preview Milwaukee show (Fri. April 25th at 2pm PDT with Andy Turner)
Music: Finally, The Flamin' Groovies: Nearly 50 years after it began, the legendary band is back together and will finally perform in Milwaukee.
April 30th, 2014 | By Andy Turner
Nearly five decades after they first began, the Flamin' Groovies, who play next week Saturday, at Northern Lights Theater, are finally making it to Milwaukee.
The band's long, strange trip from San Francisco circa 1965 to Brew City is not one that can be explained by a GPS. It is one marked with typical and not-so-typical destinations and detours for rock 'n' roll musicians: lots of lineup changes, hopefulness, drugs, disgust, delight, numerous record labels, bitter breakups, and several no-doubt, oft-covered, true blue classics: "Teenage Head," "Slow Death," "You Tore Me Down" and "Shake Some Action."
The late music historian and Bomp Records honcho Greg Shaw described the Flamin' Groovies in down-and-out yet heroic terms for an article he wrote about the band – a decade into its existence – for the spring 1975 issue of his celebrated magazine Who Put the Bomp!
"The Flamin' Groovies have endured perhaps more hardships and disappointments than any of their fellow survivors, been screwed so many times by managers and record companies that it became a way of life, and been without a recording contract for so long that some of their best friends aren't even sure if they are still together. … When the Flamin' Groovies finally emerge, I can't think of any band in the world with greater potential to create real mania and show the world what a rock & roll band should be."
Shaw's article, "The Return of the The Flamin' Groovies: America's Coolest Teenage Band is More Alive Than Ever," ended in true believer style: "They're gonna make it this time."
A few years before Shaw, whose first release on Bomp was a 45 of the Groovies' "You Tore Me Down"/"Him or Me," pounded out his proclamation, the band had undergone what would be its biggest transformation in 1971– the departure of original lead singer Roy Loney and entrance of Chris Wilson. With Loney and the songs he wrote with guitarist Cyril Jordan, such as "Headin' for the Texas Border" and "High Flyin' Baby," the Flamin' Groovies had made their name – or perhaps sullied it in some quarters –  over three albums with wild-ass, R&B-based rock-n-roll that had bad intentions, loud guitars and heartwarming lines like "When ya' see me/better turn your tail and run, 'cause I'm angry and I'll mess you up for fun."
With Wilson on board, the band began to shift its focus to a more pop-oriented sound that took its cues from the Byrds, Beatles and others, but it would be five more years before the Flamin' Groovies would put out another full-length album. In 1976, the Dave Edmunds-produced Shake Some Action began a run of three albums on Sire Records. The new Groovies songwriting team of Wilson and Jordan would substantially add to the band's legacy, but once again "making it" wasn't in the cards, and by 1981, Wilson was out of the band.
By that point, Wilson said in a phone interview with me, he and Jordan "couldn't stand the sight of each other."
"We were totally fed up," he says. "I didn't want to see anybody for years. I didn't want to play music anymore. I was so pissed off and frustrated with the whole thing. I did give up for a couple of years.
"Ten years of living out of each other's suitcases and have no flipping success, you know, it was really hard."
Wilson moved to London and eventually joined another band (The Barracudas), while The Flamin' Groovies would continue on for another decade, performing on and off. They put out their last studio album in 1992 and disbanded shortly afterward.
The seeds of the current reunion go back to 2008 when Loney and Jordan teamed to do some live shows with members of The A-Bones and Yo La Tengo that took them to London. There they met up with Wilson, who had hoped to enlist them both for a solo album he was doing. Wilson explains their shared agreement to put the past behind them this way: "I went down to a show to see them, and we all just went, aw f*#k, here we are."
A-Bones drummer Miriam Linna, who runs Brooklyn-based Norton Records with husband and bandmate Billy Miller, is a Flamin' Groovies expert and hardcore fan. She published a Flamin' Groovies fanzine in the 1970s, and Norton has released several Flamin' Groovies live albums, singles and rarities compilations. She offered her assessment of the dual appeal of the long-running band.
"Throughout many lineup variations over the years, the only constant has been Cyril Jordan. Without Cyril, there could not be a Flamin' Groovies," Linna tells me. "That said, neither can there be a true Groovies without one of the two lead singers – original and never-to-be-trumped main man Roy Loney of "Teenage Head" and "Flamingo" fame, and Chris Wilson of "Shake Some Action" fame.
"For many fans, for many years, the twain never met – in fact it was impossible that the twain could meet," Linna goes on. "It was understood that Roy represented the original real rock 'n' roll-based band, and Chris represented the Shake Some Action era, which was unfortunately relegated to power pop status, a phrase that still gives me the willies. No one ever touched the hem of the Teenage Head garment, on the terms that the Loney-Jordan godhead established, and the same goes with the Wilson-fronted SSA lineup – they are simply unbeatable."
Last year, Wilson and Jordan, along with original bassist George Alexander and new drummer Victor Penalosa did shows as the Flamin' Groovies in Japan and Australia and a few dates around the United States. In November, Wilson and Jordan released the digital-only single "End of the World," which was the first song they had written together in 32 years.
Writing with Jordan was like "falling off a log" – no trouble at all, Wilson says: "We're constantly making each other laugh. Cyril's a couple of years older than me, but we grew up in that period in America in the late '50s and '60s where everything was so cool and so funny. We're actually mean, crotchety old bastards now. We always have had the same sense of humor and we finish each other's sentences. He was like my brother. His mum was like my mum; she took care of me for 10 years. I lived pretty much with Cyril and his family. We're old mates."
Wilson says the band just finished recording two more songs in San Francisco that he co-wrote with Jordan, including "Like a Hurricane," a song that they wrote for Merry Clayton, who was recently featured in the documentary 20 Feet From Stardom.
The Flamin' Groovies hope to put out a full-length album of new material, Wilson says, but the band might first put out a few more songs as digital downloads.
"I try not to get involved with all that," he says. "It's enough for me to actually play and sing. I hate the business end of it because I really don't understand it anymore – if I ever did."
A documentary about the band, The Incredible Flamin' Groovies Movie, is currently being filmed by William Tyler Smith and Kurt Feldhun. Information about it can be found at here.
"Get your tickets now," Wilson said. "It's going to be very funny. Very cinéma vérité."
Linna said it is great to have to the Flamin' Groovies back in all its versions. Alexander and Jordan joined Loney and past Groovies Mike Wilhelm and James Ferrell for Wilson's recent solo album, It's Flamin' Groovy!
"The fact that both tag teams have reunited to serve up the majesty of the band whose fan club I ran as a teenager, is unbelievable," she says. "The huge benefit of George Alexander coming to the fore on bass has resulted in the joyous, unchanged onstage guitar/bass bond that is transcendent. I'll always love the music of the Flamin' Groovies – always."
8 p.m. Saturday, May 10, Northern Lights Theater. Tickets can be purchased here.
http://thirdcoastdaily.com/2014/04/30/music-finally-the-flamin-groovies/
CONFIRMED PRESS FROM VARIOUS OTHER MEDIA MARKETS
RADIO SHOW: DINNER SPECIALS WITH MAY PANG feature (NYC Internet Radio Show hosted by Lennon's "Lost Weekend" girlfriend)
http://www.blogtalkradio.com/maypang/2014/04/14/dinner-specials-with-may-pang-and-cynthia-neilsonlive
THE PORTABLE INFINITE (online music blog)
The Flamin' Groovies kick-off 10-city spring 2014 U.S. Tour April 26th!
http://portable-infinite.blogspot.com/2014/04/the-flamin-groovies-kick-off-10-city.html
HELLHOUND MUSIC (online music blog)
The Flamin' Groovies announce U.S. Spring tour dates with Spain and France to follow
http://www.hellhoundmusic.com/the-flamin-groovies-announce-u-s-spring-tour-dates-with-spain-and-france-to-follow/
 AMERICAN STANDARD TIME (online music site curated by KEXP host Greg Vandy)
The Flamin' Groovies Are Back!
A new full-length feature doc is in the works! Watch the trailer and join the Kickstarter campaign and see this thing through.
From award-winning filmmakers William Tyler Smith and Kurt Feldhun comes a feature length rock  n  roll documentary about the Flamin  Groovies, a colorful and highly influential rock band that had some big hits in the 70 2s, but met with an untimely and difficult break up in the early 80 2s.
Although the Flamin  Groovies had all the makings for a successful career, life seemed to conspire against them and they never quite made it, although their songs,  Slow Death ,  Shake Some Action  and  Teenage Head , have been heard on motion picture soundtracks such as Clueless and numerous compilations.
df47702bf1092d9d3fa7a3ae1ba71259 large 300×223 The Flamin Groovies Are Back!They have been called the  Godfathers of Punk Rock  and many bands such as The Dictators have done Groovies  covers. Legend has it that the Groovies  album, Teenage Head (1971), was Mick Jagger and Keith Richard s favorite album at the time, and Jagger is purported to have said that the Groovies  did the R&B thing  better than the Rolling Stones did. They are often referred to as  the biggest band you ve never heard of.
Despite being highly regarded and respected in the music industry, and having diehard fans all over the world, most people have never even heard their music
Now 30 years later, they are embarking on a comeback tour and this time they are determined to get the notoriety that seemed to have eluded them.
The Flamin  Groovies story goes all the way back to 1965 when the band began in their hometown of San Francisco, California. Their first self-released 10-inch album called Sneakers sold well and caught the attention of Columbia Records, which signed them and released their first real album, Supersnazz, on the Epic label.
Bill Graham hated our name. He thought we were gay or something. He said,  you gotta change your name.  That s like telling Van Gogh that color don t work.
9be6092158ff604e73b13184a49d79d2 large 281×300 The Flamin Groovies Are Back!The band had its first brush with success in 1971 with the song and album entitled Teenage Head, which is listed in the 2006 book, 1001 Albums You Must Hear Before You Die. In 1972, Chris Wilson joined the band as lead singer and they released the song  Slow Death . The gritty sound of this recording was infectious and the band was invited to play television shows around the world.
The Groovies continued to tour hard and record an impressive number of albums during the 1970 2s. In 1976, they released their biggest hit to date,  Shake Some Action . The song hit 142 on Billboard s top 200 and years later was featured in the film Clueless.
In July of 1976, the Ramones opened for the Groovies in London at the Roundhouse. This show is considered a galvanizing event for the UK punk scene. In 1981, after over a decade of hard work and dedication the band experienced a difficult and painful break up.
We were all, you know, basically just too stoned to continue. We needed to take a break. Everybody had cocaine-itis.  Cyril Jordan  It seemed like life was thwarting us at every turn and after ten years of living out of each others suitcases we just couldn t take it anymore and we cracked.  Chris Wilson
The band went their separate ways and rarely spoke over the next 30 years. George worked for the United States Postal Service for 25 years, Cyril often held 3 jobs at once, and Chris jumped from one construction job to the other. The clock was ticking, the years were passing when Cyril, Chris and George finally decided that it was time to let bygones be bygones and to continue exactly where they had left off that day in 1981 when they broke up.
We were just so happy when we first saw each other. We just grabbed each other and gave each other a big hug and a kiss.  Chris Wilson.  I made a promise with Cyril &that we would see this out together to the end. Now that we re back together again, it s almost as if we get a second chance to fulfill that promise.  George Alexander
New drummer Victor Penalosa faithfully recreates the style heard on the classic recordings, while at the same time adding his own flavor. The foursome has gone into the studio to record brand new material as well as finish up some long lost recordings. They have begun playing shows again to enthusiastic fans both old and new. Fans have been delighted with what is being called  a dream set list,  including original songs the band has never performed before onstage.
This time around, it happened mostly because of the fans.  Cyril Jordan  I thought one day we might get the kudos and attention that we all had craved. I hope that s what s happening now.  Chris Wilson I hadn t played the bass for twenty-five years. I had no reason to play.  George Alexander
Time and space don t affect us for some reason when we re together. It s like the day after we broke up in 1980.  Cyril Jordan
 http://www.americanstandardtime.com/2014/04/10/the-flaming-groovies-are-back/ 
MOVEMENT MAGAZINE (online music site)
THE FLAMIN' GROOVIES ANNOUNCE SPRING U.S. TOUR DATES W/ TOURS OF SPAIN & FRANCE TO FOLLOW!
http://movementnews.blogspot.com/2014/04/the-flamin-groovies-announce-spring-us.html
 I-94 BAR (online Australian music site)
Groovies tackle the road
http://www.i94bar.com/news/groovies-tackle-the-road
NEW NOISE MAGAZINE (online music site)
Shake Some Action! – An Interview with Chris Wilson of The Flamin' Groovies
By Jim Kaz
While The Flamin' Groovies rarely get the air time that the likes of The Stooges, MC5 and the New York Dolls receive, the band was nevertheless a pivotal piece of the pre-punk puzzle. Formed back in the mid '60s in San Francisco—predating the aforementioned proto-punks—the band played gritty, street-wise rock 'n' roll, while the mainstream was singing hazy homages to peace and love.
Originally led by guitarists/vocalists Roy Loney and Cyril Jordan, the band released a few albums over here to a loyal but cult following, receiving wider acclaim in Europe. Loney would eventually exit to be replaced by vocalist/guitarist Chris Wilson. During this next chapter, the band would help pioneer a new strain of rough-edged, but melodic music that would come to be referred to as power pop, as exemplified in its timeless anthem, "Shake Some Action."
After a seemingly endless hiatus, the Wilson/Jordan lineup is back together, along with veteran Groovie George Alexander on bass. I sat down with Chris Wilson to get his take on all the action, as of late.
Kaz: What are you up to these days?
CW: Right now? As little as possible… I ain't the busy type most days. But more generally there's The Groovies to think about and my new album to promote.
Kaz: What was the motivation for reforming The Groovies?
CW: I'd recorded some songs and I thought "let's get George and Cyril involved." Modern recording techniques—the whole digital revolution—have changed things. People can fly in parts from all over the world now. And you know what? It worked. It proved the magic was still there. So we talked some more and the reunion grew from that.
Kaz: Was Roy Loney asked or considered to be part of the reunion?
CW: Roy 's an old friend. He's on the new album, but there was never going to be a version of the Groovies with both of us. I mean, he's played with Cyril in recent years, which is fine. I played live with him, too. But you can't have a band with two front men.
Kaz: How does the new material compare or contrast with the classic stuff?
CW: That's not for me to say. We'll let the fans judge, although we're happy with it. We think the new material rocks. If we didn't, we'd not be recording it. You know, the Groovies were all about the quality of the product. We always wanted the best sound and the best songs. Let's hope we still have it!
Kaz: The Groovies are often credited as forefathers to both punk and power pop. Do you feel this is accurate? How has the band impacted those scenes?
CW: Well, punk ain't my thing. We gigged with The Ramones in 1976. Nice kids but limited players. We had them sitting in our dressing room looking on confused as we played all these fancy chords. As for who we influenced, I don't know. I'd like to think we rattled a few cages and shook the odd tree, but from inside a band it's often hard to figure out the greater impact.
Kaz: Do you feel the band has received the credit it deserves?
CW: No. And that's a fact. We worked hard on creating a sound—in the studio and live—at a time when there simply wasn't an attention to detail. We were against the grain in that respect. Pioneers? No. But at a time when live music was gaining momentum, we were that rare thing: a band that wanted to sound as good on stage as we did in the studio.
Kaz: What were/are the band's general influences.
CW: We were influenced by The Byrds, The Beatles, The Stones, The Kinks and a whole bunch of old blues men. Add a pinch of soul, R&B, folk… oh, the list goes on. The Groovies were eclectic and we never got the credit for it. We soaked up stuff from all over.
Kaz: Why did the Wilson/Jordan lineup disband?
CW: It didn't. I left and they carried on for a while without me. Things had come to a head. It got ugly. Money, drugs, madness—you name it, we messed with it. But the music was always good. We might have had problems offstage, but when we plugged in, those issues were forgotten. Bands aren't healthy places to exist, let me tell you that. They can turn friends into enemies.
Kaz: What is your favorite Groovies song, album and why?
I have a few songs I cherish—"Next One Crying," "Yes I Am," "I Can't Hide," they're all great tunes. But "Shake Some Action" has paid more bills for me than any other. Follow the money, that's what I say. It keeps your belly full and your glass topped up. Amen.
Kaz: "Shake Some Action" is a masterpiece. Did it come naturally, or take a while to construct?
CW: Well, Cyril wrote the music and we shared the words. Songs have a way of developing all to themselves; you can't dissect 'em. If you do, the magic gets lost. There's always an element of mystery, the dark stuff of the imagination involved and you don't want to look too close at that or it'll vanish.
Kaz: What does 2014 have in store for the reunited Flamin' Groovies and your solo work?
Chris Wilson – Its Flamin Groovy
CW: Great stuff, I hope! You know, the Groovies have always been outside the general trajectory—we're our own people, for better or for worse, and that's been a feature of our career. The next 12 months will be what they are; we have to hope the gods will see us as contenders, and not play-things!
Kaz: Any bands from the past that you'd like to play with or see reunite?
CW: I'd love to have played with some of the great blues and folk players of the past— Chicago meets the Scottish lowlands, via Ireland 's best bars. Now that's a musical blend I'd pay to enjoy. That's really the roots of so much I play.
But if I had three wishes I'd probably want to play with The Beatles circa 1966, The Stones a year or so later, and maybe Gene Clark (Byrds), or Beefheart, Dylan, Dick Gaughan, Davey Graham, Muddy Waters or Zeppelin.
You should never close musical doors, you never know what you'll miss. Open your ears and soak it all up. Who knows, sometimes something good might rub off.
Check out Chris Wilson's new solo album It's Flamin' Groovy on Twenty Stone Blatt Records.
The Flamin' Groovies Documentary In The Works Via Kickstarter!
Details: http://ow.ly/vwwef
The Flamin' Groovies US Tour Dates:
April 26 – Great American Music Hall, San Francisco, CA – Tickets: http://ow.ly/vvky9
April 28 – One Eyed Jacks, New Orleans, LA – Tickets: http://ow.ly/vvl7e
May 1 – Austin Psych Fest @ Red 7, Austin, TX – www.austinpsychfest.com
May 3 – House Of Blues, Houston, TX – Tickets: http://ow.ly/vvleg
May 4 – Kessler Theater, Dallas, TX – Tickets: http://ow.ly/vvlzr
May 6 – Hi Tone, Memphis, TN – Tickets: http://ow.ly/vvmic
May 8 – Plush, St Louis, MO – Tickets: http://ow.ly/vcsc6
May 9 – House Of Blues, Chicago IL – Tickets: http://ow.ly/vvmcr
May 10 – Potawatomi Bingo, Milwaukee, WI – Tickets: http://ow.ly/vbxfx
May 11 – Turf Club, St. Paul, MN – Tickets: http://ow.ly/vvn2p
The Flamin' Groovies Spain Tour Dates:
29 May – Sala El Sol, Madrid
30 May – Explosivo Club, Zaragoza
31 May – Kafe Antzokia, Bilbao
1 June – Sala Acapulco, Gijón
4 June – Sala [2] de Apolo, Barcelona
5 June – Loco Club, Valencia
6 June – Sala El Tren, Granada
7 June – Sala Stereo, Alicante
The Flamin' Groovies France Tour Dates:
10 June – Club Cargo, Caen
12 June – La Trabendo, Paris
13 June – Parc Expo, Nancy
14 June – John Lennon, Limoges
15 June – Moloco, Besancon
16 June – Toulouse
17 June – Secrete Place, Montpellier
(Italy and UK tour dates to be announced soon)
www.facebook.com/flamin-groovies  |  twitter.com/flamingroovies
http://newnoisemagazine.com/shake-action-interview-chris-wilson-flamin-groovies