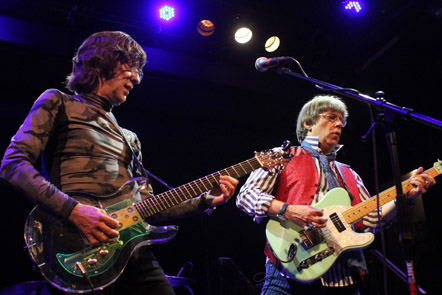 Here's some of the recent media coverage for Flamin' Groovies' three shows over Labor Day weekend in San Diego, Los Angeles & Phoenix…
SAN DIEGO CITY BEAT (SD weekly)
IF I WERE U: Flamin' Groovies, Lemuria and more San Diego concerts we're stoked about this week
BY JEFF TERICH
PLAN A: Flamin' Groovies, The Pandoras, The Loons, DJs Pat and Lety Beers @ The Casbah. The Flamin' Groovies became cult power-pop legends in the 1970s, thanks to some pitch-perfect guitar jams like "Shake Some Action." Don your best mod gear and soak in the jangle.
http://sdcitybeat.com/article-17754-Flamin-Groovies-Lemuria-and-more-San-Diego-concerts.html
SAN DIEGO READER (SD weekly)
Awesomefest, TeePee revue, Flamin' freakin' Groovies and the best of the rest in San Diego clubs this weekend
By Barnaby Monk
Friday 2
Though Flamin' Groovies came together as teens in late-'60s San Francisco, it wasn't to play the psychedelic music of the day but something more rooted in American blues and R&B and polished by British contemporaries like the Beatles, Stones, and Kinks. The Groovies were/are progenitors of power-pop and punk rock. On and off for nearly 50 years, the Groovies have since 2013 been on the road revisiting — and introducing a new school of fans to — the material from their early catalog, especially the one-two punch of Teenage Head (1971) and Shake Some Action (1976). As far as we're concerned, those records tell the Groovies' story best. Give 'em a listen and we'll see you on Friday night at Casbah, where L.A. ladies the Pandoras and our own Loons fill the retro bill….
http://www.sandiegoreader.com/news/2016/aug/31/club-crawler-awesomefest-teepee-revue-flamin/
LISTEN SD (San Diego A&E site)
Friday, September 2 The Flamin' Groovies, The Pandoras, The Loons – The Casbah
Presented by Ugly Things Magazine and Burger Records!
The bluesy rock band the Flamin' Groovies got their start in the 60s. What started as a reunion tour in 2013 became a full blown return of the legendary band.
http://listensd.com/listensds-weekly-show-picks-august-29-september-4/
L.A. WEEKLY
Flamin' Groovies this Sat. 9/3 @ Bootleg Theater
By Falling James
Flamin' Groovies' coolly driving new Burger Records single, "Crazy Macy," is the latest release in a 50-year career of reviving the spirit of early, straight-ahead rock & roll. The San Francisco band were a power-pop force before the genre even had a name, and they were prescient enough to invite the then-unknown Ramones along on landmark tours of England and California in the mid-'70s. While the current lineup doesn't include founding guitarist Roy Loney, it does feature longtime members Cyril Jordan, George Alexander and Chris Wilson. Although the late spitfire Paula Pierce was the heart and soul of The Pandoras, this new reunion of surviving members nonetheless works because replacement singer Kim Shattuck (The Muffs) has a similarly feral vocal attack. San Diego's Loons also are retro-minded yet energetic garage-rock true believers.
http://www.laweekly.com/event/flamin-groovies-the-pandoras-the-loons-6958431
GRIMY GOODS (L.A. music site)
September 3 — Flamin' Groovies at the Bootleg this Sat. Sep 3rd!
'60s/70's power pop legends Flamin' Groovies are well known for their rock n' roll cult classic Shake Some Action and now that action is back in full force! 2016 marks the band's 50th anniversary and they're celebrating in a big way, including a forthcoming new album featuring the recently released singles "Crazy Macy" and "Let Me Rock" via Burger Records. FG are also putting the final touches on a documentary but why wait for that to drop, witness these musical legends live and in the flesh! The Pandoras and The Loons support.
http://www.grimygoods.com/2016/08/31/best-concerts-los-angeles-shows-concertseptember-2016/2/
VENTURA COUNTY STAR (daily)
Locey's Picks – Flamin' Groovies, the Pandoras this Sat. at the Bootleg Theatre in Los Angeles
http://www.vcstar.com/story/entertainment/music/2016/08/31/loceys-picks/89610542/
PHOENIX NEW TIMES (weekly)
The Flamin' Groovies Were A Rock Band That Came A Decade Too Late
The Flamin' Groovies would prefer to take the oft-bestowed label as one of the "greatest rock 'n' roll bands you've never heard of" and kick it to the curb.
And yet, 50 years since their humble San Francisco beginnings, this sincere, yet dubious distinction given to them may be be the kind of infamy that rewards them with an equally unlikely rock 'n' roll rebirth to once again "bust out at full speed."
The group has shared the stage with David Bowie, the Ramones, the Yardbirds, the Kinks, Iggy Pop, MC5, the Velvet Underground, and many more. Mick Jagger, Keith Richards, and Paul McCartney are fans.
How does such a band fly under the radar that long with those connections? Better yet, how and why have they persevered without record sales, fat recording contracts, and mass pop appeal?
"If I had known all this shit that I found out about trying to do this trip when I was 14, I probably wouldn't have done this," says band founder and leader Cyril Jordan, who just turned 68 and works 12-hour shifts at San Francisco's Orpheum Theatre. "It's a fucking nightmare. It's too late for me to stop doing it. I'm too good at it. I don't want to brag, but I got Mick Jagger drooling 40 years ago."
(Yes, Mick Jagger allegedly said that the Flamin' Groovies had done a better modern blues than the Stones, when comparing the Stones' 1971 Sticky Fingers to the Flamin' Groovies' Teenage Head albums.)
The story of this band got a video treatment by filmmakers William "Billy" Tyler Smith and Kurt Feldhun. Their documentary, The Incredible Flamin' Groovies is tracing their comeback.
The doc, which is tentatively slated to hit the film-festival circuit and hopefully cable TV next spring, unfolds via interviews and concert footage from Smith, an award-winning filmmaker, who with the editing expertise of Feldhun recently completed a documentary about Doors' keyboard player and producer Ray Manzarek.
"I met them and got a good vibe," Smith recalls when he first set up some test shots in Brooklyn with the band. "It's really important you don't make a doc if the people are uncomfortable in front of the camera. If you got people who don't open up, it's difficult. Their personalities are so different that it works."
Feldhun, an award-winning director, producer, editor, and composer who has worked with Frank Zappa, Herbie Hancock, Stevie Ray Vaughan, and Bad Brains, agrees.
When Feldhun and Smith did some test shots at a local Hoboken New Jersey, show at the fabled Maxwell's, the two filmmakers knew they were onto something new and original.
"As soon as I saw Cyril's interview and how outspoken he was — nothing hidden, it's all out there, and it's a great story," admits Feldhun. "It's lifelong rock-and-rollers. The whole story was like truth is stranger than fiction, and you can't make this stuff up."
The band sprouted up during the mid-'60s, energized by the Beatles' swan-song concert at Candlestick Park in 1966. This was in the face the psychedelic sounds of Jefferson Airplane and the Grateful Dead. Undaunted, young guitarist/songwriters Cyril Jordan and Roy Loney hit the ground rocking, playing with bass/harmonica player George Alexander, guitarist Tim Lynch, and drummer Danny Mihm.
Their unique throwback style of '50s rhythm and blues and boogie-woogie swagger snagged them a major record deal on Epic for Supersnazz in 1969. This followed their Sneakers EP in 1968.
But it wasn't until the 1971 release of Teenage Head that the band showed some real swagger. Memorable numbers "High-Flyin' Baby" and the title track "Teenage Head" got them as much notice in the U.K. as it did in the U.S.
Teenage Head was down-and-dirty unapologetic rock, in contrast to the more soulful Stones' release. Unfortunately, Sticky Fingers went triple platinum and Teenage Head did not.
While working with British rocker/producer David Edmunds at the famous Wales-area Rockfield Studio, the band found its greatest success with the 1976 album Shake Some Action. The album reached number 142 on the Billboard Hot 200 chart.
Follow-up albums Now in 1978 and Jumpin' in the Night would garner even more international fans, yet the band's slow disintegration began. Sire Records' Seymour Stein began pouring money into younger punk bands like The Ramones, whom the Groovies had taken on multiple tours. The writing was on the wall financially, and Wilson split.
"After 10 years of hitting our heads against the wall, and coming out with what we thought were very commercial songs, we were just very frustrated and couldn't see any end to it," Wilson recalls.
Jordan and Alexander forged ahead. Several other band members filed in and out. A more punk version of "Shake Some Action" made it onto an MTV rotation by 1992, yet with no supporting label, no money, and a broken band, the group disbanded.
Wilson moved to London and began a longtime stint with surf band the Barracudas. Jordan hung up his guitar, and Alexander put away his bass and went to work for the post office.
"It was incredibly devastating," shares Jordan, who turned to his affinity for creating Mickey Mouse comic illustrations for Disney. "I couldn't listen to the Beatles' records anymore. It was too painful. I couldn't listen to the Stones. I couldn't listen to anyone. Something that I thought was going to be forever was this beautiful fuckin' music. All of a sudden, it just died."
A series of events would lead them back. The first boost came when a cover of "Shake Some Action" was performed by Cracker for the 1995 movie Clueless. Royalties from this song would help fund the band's eventual revival.
In 2004, Jordan led a formation of the Groovies to Spain for the Azkena Rock Festival with the likes of the New York Dolls, Violent Femmes, and Urge Overkill. Jordan and Loney reunited in 2008 and were playing with the veteran rockabilly band the A-Bones. In 2012, at a London A-Bones show, he and Wilson would bury the hatchet.
"There is something very, very strange and indefinable about how easy it was," Jordan says of reuniting. "By the second day of rehearsal it was like 1981, the day after we broke up. Thirty-two years [later], time and space didn't mean shit."
"We just know what each other's thinking musically," notes Wilson of what makes them click as co-writers and bandmates. "When we are together, we correct each other's mistakes and give each other inspiration. We feed off of each other."
Through a series of similar meetups, the band reunited and re-formed. Not only has the band since played to packed houses across the U.S., but they've gotten similarly positive receptions in Japan, Spain, Australia, England, France, Sweden, and Belgium. They have also released two singles, "End of the World" in 2014, and "Crazy Macy" this past summer.
The Groovies will head to Annapolis, Maryland, to lay down some of the dozen newer tracks, for their first full-length album together since 1979's Jumpin' in the Night.
"It's mind-boggling really. At our ages," admits Wilson, who moved to Portland recently after three decades in London. "Victor is the youngest guy at 42, 43. I am 63, Cyril is 68, and George is 70. So we ain't spring chickens. But we are hardened by seeing all these other bands. The Stones are all in their 60s and 70s."
For Jordan, the future holds newfound opportunity for the band. His wish is not for fame and fortune though, even now.
"If we could write something and record something that these guys [the Stones and the Beatles] that we love would think is fucking incredible, then we have succeeded in what we had wanted to do in the beginning. Give them something back what they gave us."
The Flamin' Groovies come to Phoenix's Rhythm Room this Sunday, September 4, for their first-ever Arizona show.
http://www.phoenixnewtimes.com/music/the-flamin-groovies-were-a-rock-band-that-came-a-decade-too-late-8610277
PHOENIX NEW TIMES (weekly)
The Flamin' Groovies Sun. Sep. 4th at Rhythm Room in Phoenix
The Flamin' Groovies are one of the few bands to establish actual classics across several incarnations and generations. Their Teenage Head album is Stones-y rock & roll that should've been huge; their variously re-recorded "Slow Death" is an unkillable proto-punk monster; and then in 1976, they regrouped again around founding guitarist Cyril Jordan and singer-guitarist Chris Wilson and put out the ne plus ultra power-pop song, "Shake Some Action," quite possibly the very definition of the form. In 2011, Jordan and co-founder Roy Loney did their first West Coast shows since 1984, delivering what amounted to a very-best-of set. These days, however, Jordan, Wilson and a highly capable crew will be performing a variety of hits and favorites from the bands ample discography. Don't think of it as a reunion — it's more like a revelation. By Chris Ziegler
http://www.phoenixnewtimes.com/event/the-flamin-groovies-8552200
THE ARIZONA REPUBLIC (Phoenix daily)
The Flamin' Groovies With The Rebel Set Sun 9/4 @ The Rhythm Room
The Flamin' Groovies got their start in '60s-era San Francisco under their original name, the Chosen Few. They went through some lineup changes over the years, but continued recording and touring through the 1980's before finally splitting up in the early '90s. The group reformed in 2013; original founding member and bassist George Alexander and early members Chris Wilson and Cyril Jordan being joined by new drummer Victor Penalosa, an excellent musician in his own right.
http://azcentral.eventsabout.com/venue.aspx?venue_id=7195
SILVER PLATTER (Phoenix AE site)
Flamin' Groovies & The Rebel Set this Sun. Sep. 4th. at the Rhythm Room in Phoenix.
Yeah, I can't believe it either. The Flamin' Groovies are coming to the Rhythm Room! The story of The Flamin' Groovies begins back in 1965 when the band began as The Chosen Few in their hometown of San Francisco, California. The band was founded by Cyril Jordan and Roy Loney, both on guitar and vocals. Their first release was the 1968 EP Sneakers, followed by their first full-length album in 1969 by the name of Supersnazz. The Flamin' Groovies style of music influenced punk rock but may have had an even more profound influence on the power pop genre. This truly became evident on their third album Teenage Head, a disc that was released in 1971 and is listed in the 2006 book "1001 Albums You Must Hear Before You Die". Roy Loney left the band after that album was released and the band soldiered on, bringing the power pop more to the forefront. They put out a total of eight albums and five EPs before calling it quits in 1992.
There were two brief reunions in 2004 and 2008, but the big one came five years later in 2013 when the line-up of Cyril Jordan, Chris Wilson on guitar and vocals (the member that originally replaced Roy Loney) and George Alexander on bass, harmonica and vocals played for the first time together since 1981. The formula worked and this line-up with the addition of Victor Penalosa on drums has played together ever since. What is even more amazing is to celebrate their FIFTIETH anniversary The Flamin' Groovies released a 7-inch vinyl single entitled "Crazy Macy" on Record Store Day, April 16, 2016. Yes, that is new material from the band! This is one of those rare chances to see a true legend folks!
To get the evening rolling The Rebel Set from Phoenix will be onstage delivering a rip, roaring set of high octane garage rock. The band meshes together early sixties punk, surf, and psych to create their sound. Check out their 2014 album How To Make A Monster! for now and standy by for a new EP later this year! 21+ show
http://www.silverplatter.info/shows/49006