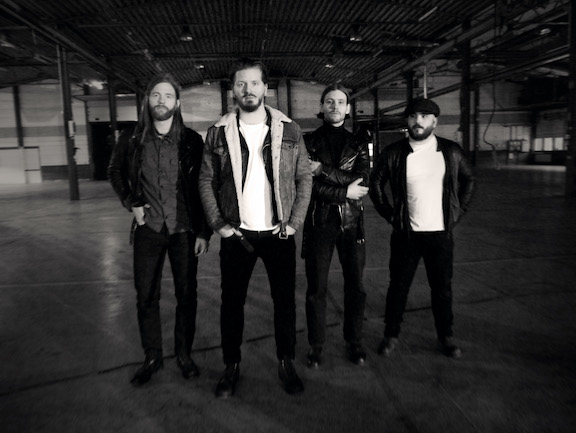 PREMIERE: Black River Delta, Shakin' in the "California Sun"
Blues from Bollnäs (Sweden)
Music News Premieres | April 15th, 2021
Black River Delta's gritty blues-rock sound draws from classic blues legends like Robert Johnson, the raw style of R. L. Burnside and modern artists as The Black Keys, Gary Clark Jr. and Black Rebel Motorcycle Club, and they do it all from Bollnäs, Sweden.
Few American bands can so successfully combine age-old blues with modern rock—one musician who has, Joe Bonamassa, called their Vol. II one of the best albums of 2018. Now, Black River Delta is coming at us again with Shakin' , and Elmore has a taste before the album drops June 4.
Frontman Erik Jacobs told Elmore, "'California Sun' is a track that has been with us for quite some time. We started writing it a few years ago and it has been through a few stages before it was finished. We recorded drums and guitars in Malmö, Sweden, and then continued with bass in Los Angeles. Mid-recording we took a break and went on a road trip. Even though we'd always seen this track as a "car song" we hadn't written any lyrics for it. So we were actually driving down Highway 1, probably going too fast and listening to rock songs way too loud on the radio. And that experience was the last piece of the puzzle, that was what 'California Sun' was all about."
"The idea for the music video was easy, we would just go back to the US and drive down Highway 1 again, but this time with a camera. Turns out, that idea is not as easy as it sounds when there's a pandemic going on. So we had no idea. But then we got to talking with Johan Bodell, a director from our hometown. He was in the same situation as we were, he was supposed to be in the US working, but his project had to be put on ice. So he said "let's just go out and shoot the video here, it will show your longing for California instead." Winter in Sweden is about as far from California sun you can come, so it's a nice contrast."
Black River Delta band is Erik Jacobs (vocals, guitars), Josef Boding (bass), Pontus Ohlsson (guitars, harmonica) and Måns Lindblom (drums).
http://www.elmoremagazine.com/2021/04/music-news/black-river-delta-shakin-in-the-california-sun