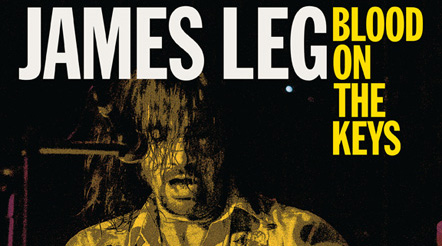 CLICK HERE TO LISTEN TO JAMES LEG'S NEW SONG "HUMAN LAWN DART" VIA ELMORE MAGAZINE!
James Leg Unleashes Reckless, Rock 'N Roll Fury on "Human Lawn Dart"
In the Black Diamond Heavies, the Immortal Lee County Killers, the Cut In The Hill Gang, he was John Wesley Myers. Now, you can lose the formality and call him- simply- James Leg, a moniker for a sneering, whiskey fueled, son-of-a-preacher, punk rocker of a long gone order. Barely off the heels of his 2015 sophomore release, Below The Belt— for which Elmore dubbed Leg "Part Howlin' Wolf, part Iggy Pop… the new standard-bearer for the rebels"—Leg is getting ready to release his third solo album, Blood On The Keys, September 30th via Alive Naturalsound Records. Like Below the Belt, he took to Masonic Sounds- located in a Masonic Lodge- in Dayton, KY, then sent the album to SodaCuts in East LA, where it was mixed by Jason Soda, who's worked with GospelbeacH, Everest and Jakob Dylan.
Today, Elmore is premiering "Human Lawn Dart," a track from the upcoming release. "When I was younger I used to fly a hang glider off Lookout Mountain in North Georgia fairly often," Leg says of the track's inspiration. "They got a club/society down there called Mongo Aviation Human Lawn Darts… initiation if you crash and live. I'm a member." The cut starts out in a wash of fuzzy, distorted guitars and heavy percussion, steeped in the reckless, devil-may-care attitude that you can imagine fueled Leg to throw himself off a cliff as a kid. Soon Leg's strained howl chimes in, chewing on the barely discernible words with viscous energy. Somehow the muffled vocals and carefully restrained vision don't keep the song from rocking with a head-banging, searing fury; rather, the track radiates an almost-unhinged tension, as if it's always one lick away from flying fully off the rails.
Follow Leg on Facebook, check out his southern tour dates below and give "Human Lawn Dart" a spin.
10/15 – Clarksdale, Mississippi – Deep Blues Festival – Shackup Inn
10/16 – Birmingham, Alabama – TBC
10/17 – Chattanooga, Tennessee – JJ's – with Mark Holder & MPH and Dirty Deep