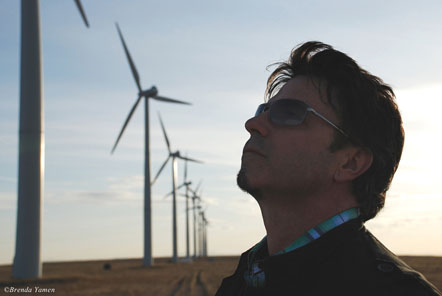 ATLANTA EXAMINER (Atlanta online A&E site) – Positive album review with "Another Road" video.
Johnny Hickman releases sophomore album 'Tilting'
by Chris Martin
Known primarily as the co-founder of the band Cracker, Johnny Hickman is more than the modern day 'Oates' to David Lowery's 'Hall'. In addition to being one of the most underrated guitar players he is also a damn fine wordsmith. His musical output extends far beyond the collaborations with Lowery. His talents have been lent to various side projects, musical scores and solo albums. In 2005 he released his debut solo album Palmhenge, a guitar driven record full of catchy lyrics making it one of the better releases of the year. Since it did not fall in line with the over produced, computer manipulated bubblegum schlock radio stations are fond of shoving down people's ear holes it flew under the radar. Thankfully he has decided to build on his solo career and offer up Tilting; a sophomore effort that showcases his songwriting and guitar playing talents.
With extensive touring and working on future Cracker material it is astonishing that he was able to find time to put together a new record of tunes. His latest collection of songs continues where Palmhenge left off with 12 more tracks pulling from rock, roots, Americana and a tinge of country. The album is full of songs touching on people, breakups and morals and even though they sometimes come across as sarcastic and bitter Hickman keeps the lyrics catchy and contrasts them with up-beat music preventing Tilting from being a dark and brooding album. A perfect example of this is "Destiny Misspent" which deals with people who haven't always made the smartest decisions thus keeping them from living up to their potential. The jangly guitars and southern California vibe keep the tune from being depressing. Hickman's blistering guitars are front and center on "Takin' Me Back" about a dude who has been dumped by his lady and has no clue that she wants nothing to do with him anymore. In his world she will be taking him back, but in hers that is never going to happen. It is a nice twist on the age old break-up song. A political side surfaces on Tilting as Hickman touches on the troubles facing the world today. Utilizing sarcastic lyrics he delivers a biting commentary on the old U.S. of A. with the song "Not Enough". With "Measure Of A Man" his lyrical abilities shine as he tackles greed and how money can remove all morals and ethics from people's decisions. The last track on the album "Another Road" is dominated by blistering guitars and is the lone link to Cracker, it would fit nicely on any of their later releases. I will say this though, if you are looking for a Cracker album this is not it.
Johnny Hickman – Another Road
Video: Johnny Hickman – Another Road
On Tilting Johnny Hickman once again steps into the spotlight and delivers an album that highlights his reputation as a bad ass guitar player and a damn fine songwriter. He meanders in and out of multiple genres and then pulls it all together so none of the songs sound out of place. While some lead guitar players can work wonders within a collaborative environment few have been able to step out on their own and produce good music, Hickman is one of those few.
http://www.examiner.com/review/johnny-hickman-releases-sophomore-album-tilting
ROCK GUITAR DAILY (online music site) – Feature interview with photos and related links.
Tales From the Cracker Box – Hanging with Johnny Hickman
I had a chance to do some catching up with Johnny Hickman of Cracker after the band's performance as part of the "Last Summer on Earth" tour. After giving the rest of the bill (Barenaked Ladies, Blues Traveler, and Big Head Todd & The Monsters) a tough act to follow with a set full of classic Cracker hits, we snuck Johnny off to the cozy confines of a local wings and beer joint for a couple hours of civilized conviviality and laughs (laughs mostly courtesy of the hilarious Joe Kroger – a pal of ours who maybe knows more about rock and roll than any of us).
I still remember picking up the first Cracker record back in 1992 at Tower Records on Sunset Boulevard in Hollywood. What sold me was one name in the liner notes – Jim Keltner. If Jim Keltner was playing on a band's debut record, it had to be a helluva good band, and a helluva good record. In fact, it's a great record. When I told Johnny Hickman last night that it was one of the best debut records I had ever heard, he smiled a big smile. When he told me the story of how it came to pass that The Jim Keltner had played on the record, I smiled.
"That was our producer, Don Smith's doing," Hickman said. "We were recording just up the road from where Little Village was making their album. Don said that Jim might be willing to play on a few songs if he dug them."
That's why I had bought the Cracker record – I knew that if Keltner's name was on it, it couldn't suck. Actually, that's Hickman and Cracker co-founder David Lowery's mantra – "The only real rule in music is 'don't suck.'" Keltner's name is like the Rock and Roll Seal of Approval, if he's on it, it generally doesn't suck.
"Don took the demos and let Jim have a listen. He came back saying that Jim would play on the record, but only on the songs he chose. He chose three – and it worked out perfectly, because he picked one of my tunes, one of David's, and one that we co-wrote. Mr. Wrong, Happy Birthday to Me, and This Is Cracker Soul." Hickman continues, "Cracker Soul was first, and it was just me and Jim playing that long intro before the bass comes in. I kind of just took a deep breath, and he counted us in. We started playing it together – just over and over trying to find the right groove.
"All of a sudden, I just felt it come together (he brings his hands together in a swoop towards the heavens), and right then, Keltner just looks towards the control room and makes a circular motion with one hand, as in 'role tape.' We nailed it in one take. We recorded the entire thing together, and then we just added everyone else's parts around what Keltner and I had recorded."
If you have the first Cracker record, this would be a good time to throw it on, and listen to this of piece rock and roll come Bakersfield via Motown. Davey Faragher's bass walks in like John Wayne wearing Jamerson's bass, and it's off to the races. Cracker Soul? You're damned right – this song perfectly encapsulates the essence of the sound that led the band to selling tons of records and selling out tons of shows over the years. It defines Cracker soul.
"You know," Hickman says when ex-Cracker bassist Davey Faragher is brought up, "Dave is just such a huge talent. He arranged all the background vocals, and plays bass so well. He kind of upped our game, he was the local boy from Redlands 'made good,' – you know he played on The Pointer Sisters's I'm So Excited back in the early '80s."
This Is Cracker Soul is also a grand example of the musical marriage of punk/pop/country/soul created when Lowery and Hickman finally joined forces after years of circling around one another in local bands since they were kids.
"When we got together, I think David and I realized that there would be some give and take, a little pushing and shoving between us, creative tension – just because we both feel strongly about our own ideas. But over the years it's worked out better than we ever would have guessed (at this point Johnny intertwines his fingers to make one large fist, and that maybe makes the point better than words).
"When we were both just in local bands, every so often, I'd walk up to David, and say, 'Hey, did you write that?' or he'd walk up to me and ask the same thing, and after an acknowledgement, the other guy would kind of walk away with steam coming out of his ears, knowing he had to go write something just as cool."
It's nice to sit and listen to Hickman speak with such reverence and respect for his bandmate of over twenty years. He waxes enthusiastically about Lowery's amazing ability to combine his love for everything from Bakersfield country to Captain Beefheart to give birth to such perfectly unique tunes such as Kerosene Hat, or the tale of the band's incredible, but unfortunately unheard cover of Led Zeppelin's When The Levee Breaks. If you look for Internet references of Cracker covering this tune, you'll find that every source you locate says that Cracker recorded and submitted the tune, Good Times, Bad Times, after their take on the aforementioned 'Levee' was deemed, 'too weird.' Turns out the Internet isn't always right. Here's the real story.
Johnny Hickman, "We recorded Good Times, Bad Times because there was a legal issue with When The Levee Breaks – Zeppelin was in a lawsuit with the publishing company who owned the rights to the Memphis Minnie classic (the song was originally written by Memphis Minnie and Kansas Joe McCoy in 1927 after the Great Mississippi Flood killed hundreds of African-American levee workers – often referred to as 'Katrina One'), so they couldn't give us permission to use When The Levee Breaks. Of course, they only told us we couldn't use it after we had already recorded it. It's a shame we couldn't put it out, it was such a great version – there are loads of dark and mysterious harmonica all over it, just layers of overdubs – it really sounds amazing!"
Maybe someday, when there's a Cracker box set, this gem will see the light of day. As it is, if you're pining for new product from the band, it appears that they are considering a new record for an early 2013 release. In the meantime, both Lowery and Hickman have released excellent solo albums since the band's last release, Sunrise in the Land of Milk and Honey, in 2009. Albums which both are filled with great writing, singing, playing, and a few songs that would have fit very well on a Cracker album.
"The Palace Guards (Lowery's 2011 solo release – http://rockguitardaily.blogspot.com/2011/02/david-lowery-palace-guards-5-stars.html) was such a great record," Hickman agrees when I mention it, "But boy, there are a couple of tunes on there that I would have loved to sink my teeth into! Two of them in particular, I Sold The Arabs The Moon is such a great tune, but especially Baby, All Those Girls Meant Nothing To Me. Those would have made such great songs for the band, but that could be true of about any song David would write – it is a really cool record. I suppose there's a few like that on my solo records too – numbers where the other guy hears a song, cringes, shakes his head, and wishes that one could have been saved for the band."
Speaking of solo albums, Hickman has just released Tilting, his second solo release http://rockguitardaily.blogspot.com/2012/06/johnny-hickman-tilting-buy-it-dont.html, and his first as a label owner. I asked if there was any chance for some solo shows later in the year to support, and how he liked being a record mogul.
"We've been kicking around the possibility of doing some shows. It would be great to be able to do it with a band because the tunes lend themselves to a full band treatment. I've been talking about it with Jason (Larson, the record's producer), and one of the questions is what role Jason would play in a band – he plays every instrument. We'll know more later in the summer. I've had my hands full getting ready for this tour and getting my record out there. It's a lot of work, but everything is going really well!"
We also spoke about the currant Cracker tour – I was surprised to not be seeing bassist Sal Maida up on stage, but thrilled to see his last minute replacement Bryan Howard doing a fantastic job. I asked Johnny how much rehearsal time they had with Bryan.
Johnny said, "Bryan's doing great, I'm glad you noticed. No, we didn't really get a chance to do full rehearsals at all with him. He's pretty familiar with the material though, and he's a fine musician – We're all sorry that Sal couldn't do the tour, but yeah, Bryan's a lot of fun to play with up there."
And who knew of Cracker's connection with gore rockers Gwar?
Hickman explains, "We were neighbors. They lived right beside us when we lived in Richmond. There's a part of town called Oregon Hill, and it was filled with musicians – us, Gwar, a funk band on the corner, it was crazy, but it all kind of fit together.
"Later on, some of the crazier characters became pretty inspirational, especially around the time of Kerosene Hat, when we lived in the desert and there'd be all sorts of pretty weird characters everywhere you'd look. One day David just started singing, 'Here comes old lava lamp, here comes this, or that…here comes old Kerosene Hat' – bingo. We called them desertbillys!"
We covered a lot of ground in those few hours over our drinks, onion rings, and cole slaw, but the funniest part of the evening came when our friend Joe had Johnny sign a Merle Haggard record. Now, you may wonder why on Earth would he have Johnny sign a Haggard album – well, here's the story.
A few days before the show, Joe and I were out for a leisurely lunch and stroll through Dayton's Oregon District – I had wanted to introduce Joe to some interesting characters in the district, such as Greg Bonnett – a rather large and imposing figure of a man (maybe 6 foot 7 or so), who happens to not just be one of the world's great guys but also runs the best used book store East of the Mississippi, Bonnett's Books (since 1939!). We were also on the hunt for some Cracker on vinyl – Joe is a memorabilia buff, and he thought a signed album cover would be a nice addition to his enormous collection. Turns out that people keep their Cracker records. After searching through the bins at Omega Records and The Record Gallery we were empty handed. As close as we came to striking gold was when we looked for a solo Hickman slab – no Hickman, but alas, we came across Merle Haggard's 1976 release, My Love Affair with Trains (title song written by Dolly Parton – make your own jokes). Well, given that Haggard had similarly rakish good looks, and Bakersfield roots – we had found our cover.
Hickman laughed, and played right along, "Is it OK if I sign it, Hag?"
We howled, and the deed was done – Joe had his prizes for the day. He had a signed album cover, a back stage pass, an autographed Cracker concert poster (by Johnny and David Lowery), and as he put it so well, "Killer show at Fraze tonight. Even better hanging out with one of my favorite guitarists/songwriters afterwards. Tonight was certainly a highlight of this life."
Telling Tales Out of School!
A splendid time was had by all. I even got to tell Johnny about a great new record by local boys Buffalo Killers, who share with Hickman the fine talents of Pavement PR's Tony Bonyata – a guy who both bands and myself agree does a fantastic job for his clients.
Johnny on Bonyata, "It's great to have someone as enthusiastic and passionate about the music as Tony on our side. He has such a rich history of knowledge and experience that it's an honor to work with him."
If you get a chance to see Cracker on this tour, check 'em out – they're on fire. Buy Johnny and David's excellent solo CDs, and keep your eyes open for a slew of new blogs from Johnny that he said were maybe heading our way – he's a great storyteller, songwriter, guitar player, and all around good fella.
Thanks to Johnny Hickman, Cracker, Tony Bonyata and Pavement PR, Joe Kroger.
http://rockguitardaily.blogspot.com/2012/07/tales-from-cracker-box-hanging-with.html
THE RED AND THE BLACK (Athens, GA college weekly) – Feature interview with photo and related link.
Q&A with Cracker collaborator about solo career
by ADAM CARLSON
Q&A Johnny Hickman
Seven years after his first solo album, Johnny Hickman released a second one last week. "Tilting" explores his continued journey of creating music on his own. Courtesy of Brenda Yamen
Johnny Hickman is solo again.
Seven years after his last solo album, the Cracker collaborator steps out with "Tilting," released last week.
Hickman recently spoke about the years-long gap, the process of writing with a group or alone and what it's been like, re-introducing himself as a solo performer.
Some highlights from the conversation appear below.
On "Tilting"
Well, with the new album "Tilting," it was recorded over the past year, in between Cracker tours and so forth and I feel pretty good since my last solo record … "Palmhenge," which came out in 2005.
This was probably the most personal record, just directly — a good part of it might as well be pages out of my diary.
I just didn't hold back on anything, I'm sort of at that point in life; I call it my "midlife crisis record" but it's not a crisis really, it's more reflective and a little pissed off, being in the middle of life and the halfway point and at both times, sort of celebrating that and fighting it at the same time.
On its sound, vs. Cracker
This record has a little bit of everything I do: it's got a little bit of that country tune, which I'm kind of known for in Cracker, but it's also very kind of pop, very rock.
On writing
When it started, I wanted more lyrics than I did music, so I didn't really have a set plan for how it should sound. Obviously I'm a guitar player in Cracker, so they're gonna want some guitar, and that's fine, so I knew I'd put a lot of rock guitar on it.
But there's another side of me that grew up listening to soul music and that's become a very big part of me, too, so I wanted acoustic guitars on the album.
I'm a big fan of Bob Dylan and John Prine and people like that.
They don't have like an instrument — they're singer-songwriter and I love that and that's a big part of me, too.
I actually had a lot of lyrics first this time, which is actually kind of backwards … Whereas this time, actually, I really had a lot of stories, I had enough lyrics for the songs from the last couple of years. I just really had a lot to say.
On what he's learned from collaboration
Well, David Lowery is one of the best songwriters of his generation, in my opinion.
He's fantastic … And I've learned a lot from him over the years and the way he operates is, he creates characters in his songs and he lets the characters develop their own personalities and speak if they want to talk and a lot of my favorite songwriters do that as well — Randy Newman, Bob Dylan — I think David's sort of in that group, later generation, but he's not afraid to be a very complex individual or a very confused individual in a song or a very pissed-off individual or a very sharp individual or a very stupid individual.
We do that with Cracker songs a lot.
http://www.redandblack.com/variety/q-a-with-cracker-collaborator-about-solo-career/article_0c0f3b0e-cbb0-11e1-9cf8-001a4bcf6878.html
INDIE ROCK CAFE (online music site) – Tilting listed as "Best New Music Releases, Week of July 3" with "Measure of a Man" mp3.
http://www.indierockcafe.com/2012/07/best-new-music-releases-week-of-july-3-sunglasses-easter-island-teenage-bottlerocket/

CULTURE BRATS (music blog & Internet radio station) – Brief positive album review with album art and "Another Road" video.
CD Review: Johnny Hickman, "Tilting"
Posted by Chris on Tuesday, July 10, 2012
Tilting marks the second album from Johnny Hickman, Cracker's co-founder and lead guitarist. Seven-word review: if you dig Cracker, you'll dig Tilting.
I've always been a huge fan of Cracker; I've seen them live more often than other band. Some of my favorite tracks are when Hickman wrestles the mic away from David Lowery (most notably, "Wedding Day" from 1998's Gentleman's Blues). Hickman's Cracker tunes always had a humorous, cynical edge to them. The same can be said for Tilting.
Favorite tracks: "Measure Of A Man," "Destiny Misspent," the cynical "Not Enough," "Dream Along With Me," "Another Road," and my favorite track on the album, "Sick Cynthia Thing."
http://www.culturebrats.com/2012/07/cd-review-johnny-hickman-tilting.html
MUSIC FOG  (online music site) – "Another Road" video featured with artist photo and positive post.
Johnny Hickman "Another Road"
Cracker founding guitarist Johnny Hickman put his sophomore solo album, Tilting, out on Tuesday, and I promise you, watching the video for  Another  Road will indeed make you tilt. Of course, Johnny will be back in the Cracker saddle for a new album to be recorded with David Lowery et al. next year. There will be some solo dates for Johnny this summer, though they will be sandwiched in between the dates for the Barenaked Ladies' "Last Summer on Earth" tour, featuring Cracker, Blues Traveler and Big Head Todd & The Monsters. Now that sounds like fun!˛ˇ
Before we get on with it, I just wanted to take a moment to shine a light on the Colorado and Utah forest fires. Over 10,000 people have been driven from their homes, so help if  you can. The Red Cross is accepting donations. Here is "Another Road," a songwriting collaboration between Johnny Hickman and his longtime friend Chris LeRoy. It was filmed in Northern Colorado by Tomas Herrera. The video features Johnny with Jason Larson, who co-produced the new album. It is summertime, and the great American pastime of driving on the open road awaits! Ready? Here goes &
-Jessie Scott
http://musicfog.com/home/2012/7/7/johnny-hickman-another-road.html?utm_source=feedblitz&utm_medium=FeedBlitzEmail&utm_content=515031&utm_campaign=Web
ADOBE & TEARDROPS  (online music blog) – Positive review with album art and related links..
Johnny Hickman — Tilting
Hey! Listen! It's not too late to win your very own digital download of The Sparklers' new album. And since nobody has entered the contest so far, if you comment you'll have a 100% chance of winning!
But on to today's review: Johnny Hickman's masterful Tilting.
As we found with Jonathan Segel, this seems to be a good year for people who work with David Lowery and our named Jonathan. The opening song, "Measure of a Man" is clearly the song of a confident songwriter. Over the course of its four minutes and thirty seconds, what seems like a simple anthem unfolds into something much more expansive. After all, you can't judge the measure of a man based on first impressions.
The rest of the songs here live up to the sweeping nature of the opening track: politics, romance, life on the road, character sketches, all spanning the many subgenres of Americana. Johnny Hickman knows what he's doing, and you should buy this album so you can enjoy it.
http://adobeandteardrops.blogspot.com/2012/07/johnny-hickman-tilting.html
COLUMBIA DAILY TRIBUNE  (Columbia, MO daily) – Positive review with photo, Johnny poll, and related links.
Veteran guitar slinger Johnny Hickman lets his songwriting speak volumes on his second solo set, "Tilting" (Campstove Records). There's no doubt Hickman, the co-founder of alt-rock heroes Cracker, executes some impressive riffs here, but each and every part comes in service of the whole set, one that is marked by mature, tuneful songs. Hard-driving heartland rock, barroom jazz, Beatle-esque pop and bluesy overtones are all threaded into a folk-rock texture that is subdued enough to let Hickman's appealing, gently weathered vocals and thoughtful lyrics, peppered with a sort of lived-in wit and wisdom, ring through.
http://www.columbiatribune.com/news/2012/jul/05/untitled-g_spinningtracks070512/
REPORTER-HERALD  (Loveland, CO daily)
Cracker guitarist Johnny Hickman will introduce his solo CD 'Tilting' with June 24 show
By Rhema Zlaten
With the wise sass of a midlife crisis, Loveland-based musician Johnny Hickman wrote his heart out for his second solo album, "Tilting," releasing July 3.
When he wasn't touring with Cracker, his band of 20 years, he snuck into Loveland's Backbone Studio to lay down a compilation of eclectic tracks over the last two years.
From politics to dreams and broken relationships, Hickman dug into nearly every corner of life and then wove those themes into an Americana-soul-Beatles-pop instrumentation.
"With the political climate lately and the unrest and people on one side or the other, the discontent of the country was the inspiration for the album," Hickman said.
The album title "Tilting" references literary hero Don Quixote's perceived fight with the evil giant windmills taking over his countryside.
"I can identity with Don Quixote because we get so much information in the media that you start to doubt all of it after awhile," Hickman said. "All of it was starting to wear on me. You can't help but feel what is going on."
Political rage is not the only thread of the album.
"The songs on the album are about everything, but for the most part it is a very personal album," Hickman said. "I am going through my middle years now. I am at the center of life and all it that entails. There is a midlife crisis theme going on in the album. A lot of it is light and some of it is deeper. I have passed the middle point of life and now I am wondering where I go next. It is a lot different than writing a song when I was 25. There is a lot more to draw from … getting married and having kids, having people I love die. It is a very honest."
Producer and musician Jason Larson helped shape the sound of the album. Their creative mish-mash of ideas drove the feel of each song.
"I helped musically write some parts and I arranged here and there," Larson said. "I also produced the vocals, basically just making it the best it can be. I also mixed it and mastered it from the ground floor up."
As far as what audiences will take away from the new album, Larson considers himself a musical purist.
"I think there is a little something for everyone on this record," Larson said. "There are a couple of political songs, but the whole record is not like that. It is eclectic and there is some rocking stuff and some mellow stuff. I think that is a good quest. You do what you do and then let everyone else decide what they will think of it. When it is done, you just want to let it go."
To launch the new project, Hickman and Larson will play a live show at Avogadro's Number in Fort Collins at 7-10 p.m. Sunday, June 24. Larson's band The Piggies will open, followed by Larson accompanying Hickman for a few songs and then the bands combining to bring the new album songs to life. "Tilting" will be available for purchase at the show.
Hickman will also be touring with "The Last Summer on Earth" tour for the 2012 summer season, featuring the Barenaked Ladies, Blues Traveler, Denver-based Big Head Todd and the Monsters and, of course, Cracker.
GO & DO
Johnny Hickman CD Launch
When: 7-10 p.m. Sunday, June 24.
Where: Avogadro's Number, 605 S. Mason, Fort Collins.
Tickets: $10.
Info: Visit avogadros.com.
http://www.reporterherald.com/loveland-music/ci_20894758/cracker-guitarist-johnny-hickman-will-introduce-his-solo
COLORODOAN  (Fort Collins daily) – Feature interview to preview local show.
Top picks: Johnny Hickman
Sunday, June 24
Cracker guitarist Johnny Hickman's long-awaited second solo album, "Tilting," is finally out — almost (official release date is July 3). Attend the CD pre-release party Sunday at Avogadro's Number to hear what you've been missing. Hickman will be joined by special guests John Magnie, The Piggies and members of Mama Lenny and the Remedy.
Johnny Hickman CD pre-release party, 7 p.m. Sunday, Avogadro's Number, 605 S. Mason St., Fort Collins. Tickets are $10. Information: (970) 493-5555 or www.avogadros.com
http://www.coloradoan.com/article/20120621/ENTERTAINMENT/306210007/1040/ENTERTAINMENT
MARQUEE MAGAZINE (Fort Collins, CO monthly) – Positive album review with album art.
Johnny Hickman – Tilting
Campstove Records
3.5 out of 5 stars
Johnny Hickman and his fellow Cracker co-frontman David Lowery have had one simple rule in place since they started playing music together — don't suck.
In the two decades since Cracker's self-titled debut release, the group has earned multiple gold records and toured worldwide.
Hickman, who in recent years has made Fort Collins his home, will release his second solo album on July 3, but will host a CD release party in late June, before he again hits the road with Cracker for a massive tour.
Tilting certainly has some Cracker overtones to it — Hickman's brand on that band is too hard to escape. But much of this album shows Hickman stretching his musical boundaries by exploring Dust Bowl-era jazz ("Papa Johnny's Arms") and more modern rock flavors ("Takin' Me Back" and "Another Road"). In a press release about the album, Hickman said that he didn't plan on writing material that was this personal, but admitted that the album was quite autobiographical, and "honest as hell."
Hickman also credits producer Jason Larson of Backbone Studios with significantly shaping the album. He said that the two took turns behind the board, shifting back and forth between musician and producer, and that while it was an unorthodox way to make an album, the experience was a blast.  — BFJ
http://marqueemag.com/2012/06/01/johnny-hickman/
ROCK GUITAR DAILY (online music site) – Positive album review with album art, photos and related links.
Johnny Hickman – Tilting – Buy It, Don't Steal It!
"I love writing songs in all capacities….throwing Lowery riffs that he builds a song around or writes words to my melodies, writing entire Cracker or solo songs on my own, all good. It's a little frustrating sometimes because understandably, people first regard me as just the lead guitarist when in truth I co-wrote the bulk of the Cracker canon with David Lowery, including every radio hit. Keith Richard, Mike Campbell, Joe Perry….we all get pigeonholed that way. Goes with the guitar-slinger territory." Johnny Hickman on being not 'just' a lead guitarist.
Tilting is Johnny Hickman's second solo sojourn, a trip that sees the veteran songsmith/guitarist/singer weaving in and out of a wide variety of styles without ever forgetting where his roots lie. Recorded in Colorado with producer/engineer/multi-instrumentalist Jason Larson, the record is most definitely a modern affair – largely funded by friends, family, and fans via a very successful Kickstarter campaign, only to be instantly pirated by wretched download sites who somehow managed to get their hands on a promo copy. It is the best of times, it is the worst of times, it appears.
If you find yourself thinking that this disc harkens back to the genre jumping employed so successfully by the mid-period Beatles, you're not mistaken. Mind you, there's more than enough Cracker soul to keep his core constituency smiling (such as the album's excellent opening track, Measure of a Man), but there's also a smoky, sophisticated trip to French bistro music on the 'keep the home fires burning' Papa Johnny's Arms, which features a beautiful jazzy chord progression, a lovely Django-esque guitar solo, and some clever and warm wordplay.
Dream Along With Me is a piano based mid-tempo burst of '70s melodicism that evokes fond memories of Eric Carmen, The Raspberries, and even Paul's Wings – not what one might expect, but a delightful surprise, especially the angelic background vocals, and a guitar solo that surely has the mystic George smiling from above. Then there's a slab of pop entitled Sick Cynthia Thing that sits comfortably somewhere between Elvis Costello, Guided By Voices, and The Sweet. We're talking seriously eclectic stuff here, but it works in a way that only a seriously skilled writer could pull off. Someone who's listened to as many great records as he's made.
"I sometimes feel like the impassioned madman with his lance trying to slay the windmill monsters," Johnny reveals. "I think a lot of people do in these troubled times. The idea of battling these mighty, unbeatable foes both real and imagined is disturbing yet darkly amusing to me."
He continues, "The songs on Tilting are definitely more personal, more autobiographical than on either Palmhenge or Cracker records. I didn't set out to do that but it's just where I am in life I suppose. I didn't steer cautiously around any of my feelings or experiences, good or bad. It's as honest as hell, I can tell you that. Lyrically, there's a little mid-life crisis catharsis going on here, not that that's a bad thing. That and just being pissed off and reveling in it. I also love collaborating, which I do with David as well as my long time friend Chris LeRoy. Two of the twelve songs on Tilting were written by or with Chris, though the majority of these songs are directly from my head and heart."
Not Enough is a pissed off picture of what this country is going through, but even as he's taking those who see no problem in the way our nation is behaving to task, Hickman makes it sound like we'll be just fine. His witty lyrics never pander to the those who would give up without a fight, or to those who would call for in the streets revolution. No, there's a sense of staying the course and being a man, taking it as it comes and making it all work out. Maybe even more than the tasty melodicisms and the cooler than cool arrangements, what I like about this record is that like The Who, The Kinks, and The Beatles, this guy is not gonna quit, and he's never going to whine. Stick with him, watch what he does, follow hid lead, and you'll be fine, too.
Hickman's voice is exceptionally strong throughout the album, whether it's standing nakedly by itself on the barroom lament, Drunkard's Epiphany, or shouting over the power pop/punk of Takin' Me Back. Of the great '90s rock and roll sergeant-at-arms (Mike Campbell, Peter Buck, and Doug Gillard come to mind), Hickman is the first to stand tall and produce a solo album strong enough to stand alongside his day job's finest. Any song on this disc would sit proudly smack dab in the middle of a Cracker album, the same thing that I said about David Lowery's outstanding 2011 solo outing, The Palace Guards.
World weariness occasionally appears, as it will when the times sees one losing friends to the psychic wars, and the ravages of an industry that left town. Whittled Down is a tale of the rigors of the road, but I'm also hearing the somber souls of Vic Chesnutt and Mark Linkous looking down on Lonesome Johnny from some celestial tavern. This is a new form of the working class hero – he's the guy left behind to pick up the pieces and keep on moving. Hickman honors his friends living and dead, his bandmates, and his family with his deep vein of dignity and integrity. His is the job of the living and the leaders – the survivors. And he's doing a damned fine job.
I had the pleasure of hanging out and talking with author Joe Klein (Primary Colors) and legendary guitarist Ry Cooder the other night – we talked of music, politics, and the state of the nation. Ry seemed a little pissed, and somewhat concerned that I had already heard the whole of his new record, which is still months from its release date (I assured him I had heard it through legitimate means). Klein listened intently as the working class of Dayton. Ohio told him their take on America. As I listen to this record that Johnny Hickman has just made, read the impassioned words of Hickman's partner in Cracker David Lowery as he attempts to steer the music industry and its customers into sensible waters, and recall the conversations with Klein and Cooder, my level of anxiety and angst about this old world finds itself easing down a bit. It's artists like these who remind us of not just who they are, but who we are – and in a damned fine, entertaining fashion. It tenders and engenders hope, and it gives strength.
Another Road brings the album to a finish, and it does so in the finest of fashions. Its staccato, tremolo'd guitar intro reminds me that rock is the voice of reason – one of power, redemption, and salvation. It reminds me of The Who at the height of their powers, when Townshend's anger unleashed itself in the only way that makes sense – with loud rock and roll guitars, and a song that makes one wish to move forward, and upward.
Tilting is a damned fine record. There are many other great songs and moments on this platter that I haven't mentioned, but I will allow you to discover them for yourselves. Hickman has set the bar high and hurdled above and beyond it. Now, you can do me a favor. Buy this album – don't steal it. Pay the artist, for without the artist, nobody else gets paid, in fact, nobody else in the music business has a job without the artist. And go out and see Cracker this summer as they tour America with Barenaked Ladies, Blues Traveller, and Big Head Todd and The Monsters, as part of The Last Summer On Earth 2012 Tour.
Finally, I'll leave you with Hickman's words of wisdom:
"Personally, all my favorite records and bands have been those that don't flatline into one tiny sub-genre (Beatles, Kinks, Radiohead, Petty, Neil Young…). When I write, I just do it and don't worry about it. As David [Lowery] and I always say, the only real rule in music is 'don't suck.'"
Tilting release date – July 3, 2012
http://johnnyhickman.com
http://www.crackersoul.com/fr_home.cfm
http://rockguitardaily.blogspot.com/2012/06/johnny-hickman-tilting-buy-it-dont.html
THE ROCKY MOUNTAIN COLLEGIAN (college paper) – Fort Collins show preview with Tilting art and Low video
Local artist to release solo album
By John Sheesley
Johnny Hickman, a co-founder of the band Cracker and a Loveland, Colorado resident, will be releasing a solo album on July 3. The album, entitled "Tilting" will be his first since Cracker released their debut album 20 years ago. There will be a special album release show at Avogadro's Number in Fort Collins on June 24 at 7 p.m. costing $10. A free downloadof the first song from the album, Measure of a Man, is available on Hickman's website.
http://marqueemag.com/2012/06/01/johnny-hickman/
DAILY BULLETIN (Inland ValleyI daily) – Mention of album release included in Cracker feature/show preview (with Johnny interview)
http://www.dailybulletin.com/ci_20808244/cracker-comes-home-play-redlands-brew-bash
THE SUN (San Bernardino and Inland Valley, CA daily) – Mention of album release included in Cracker feature/show preview (with Johnny interview)
http://www.sbsun.com/redlands/ci_20799080/hangar-24s-anniversary-brings-band-cracker-back-redlands
HEART OF ROCK & ROLL (Spain-based music blog) –  Positive review in Spanish with album art and related link.
LOOSE TRANSLATION:
JOHNNY HICKMAN / TILTING (2012)
One of my favorite axes. An all-class, finesse, elegance, touch and passion. See on stage is the master receive accelerated classes "Learn to hour and a half so you have to do to be a guitar player first." His work alongside his friend David Lowery in Cracker is well known. Quality above all. He edited his first feature in 2005, Palmhenge, an album-oriented rock roots which received excellent reviews. In the latter seems more extensive covering sounds ranging from classic rock to pop songs in the style of his beloved Beatles or Kinks. Available from July 3. More info and some listener on its website.
http://corazonderockroll.blogspot.com/2012/06/johnny-hickman-tilting-2012.html
JAMBANDS (online music site) – News on album release featured along with Campout East news.
http://www.jambands.com/news/2012/05/02/cracker-will-campout-east-johnny-hickman-to-release-solo-album
DAILY BULLETIN (Inland Valley, CA daily) – Brief Redlands show preview with mention of Johnny's new record.
Cracker performs hometown gig at Hangar 24 party
Meanwhile, rock band Cracker will perform at 4:30 p.m. June 9 at Hangar 24 Craft Brewery in Redlands.
Band co-founders David Lowery and Johnny Hickman grew up in Redlands.
The group is known for early 1990s hits like "Low" and "Teen Angst (What the World Needs Now)."
Their most recent album was 2009's "Sunrise in the Land of Milk and Honey." Additionally, Hickman will have a second solo album titled "Tilting" coming out on July 3.
The performance is part of Hangar 24's 4th Anniversary Party. The brewery is at 1710 Sessums Drive, Redlands.
For more information, call 909-389-1400.
http://www.dailybulletin.com/ci_20664342/rock-bells-sets-its-hip-hop-lineup
KRFC RADIO / ROUTES & BRANCHES (Fort Collins, CO American Radio) – "Measure of a Man" aired on June 9th, May 1st and May 5th.
http://routesandbranches.blogspot.com/
REAL PUNK RADIO / "RED RED WINE ON A SUNDAY" (Internet radio) – "Measure of a Man" aired on their "Red Red Wine On A Sunday" show on Sun. May 6th.
http://realpunkradio.com/red-red-wine-on-a-sunday-137-skipping-school/
FARONHEIT (Chicago-based music blog) – "Measure of a Man" featured on their "Pick Your Poison" weekly download feature on April 30th.
DOOR COUNTY ADVOCATE (Door County, WI daily) – Mention of album release included in  featured in Cracker Door County feature/show preview.
http://www.doorcountyadvocate.com/article/20120502/ADV05/205020646/Still-alt-after-all-these-years?odyssey=nav|head
HELLHOUND MUSIC (online music site) – News posting with album art, Johnny photo, "Measure of a Man" download and related link.
http://hhmzine.blogspot.com/2012/05/cracker-co-founder-johnny-hickman-to.html
SKOPE MAGAZINE (online music site) – News posting with "Measure of a Man" download link.
http://skopemag.com/2012/04/30/johnny-hickman-to-release-long-awaited-sophomore-solo-album
WHEN YOU MOTOR AWAY (online music blog) – News posting with album art, Johnny photo, "Measure of a Man" download and related link.
http://whenyoumotoraway.blogspot.com/2012/04/new-track-free-download-from-johnny.html
CW'S PLACE (online music site) – "Measure of a Man" audio stream and related link.
http://cwsplace.wordpress.com/2012/04/27/new-track-from-cracker-co-founder-johnny-hickman-measure-of-a-man/
INNOCENT WORDS (online music site) – News posting from press announcement with album art, "Measure of a Man" download and related link.
http://www.innocentwords.com/tabId/807/itemId/3924/Cracker-CoFounder-Johnny-Hickman-To-Release-Sopho.aspx
LARGEHEARTED BOY (popular online music blog) -"Measure of a Man" included on their "Daily Downloads" feature:
http://www.largeheartedboy.com/blog/archive/2012/04/daily_downloads_2999.html
T.O. SNOBS MUSIC (Toronto music site) – News posting with album art, "Measure of a Man" download and related links.
http://www.snobsmusic.net/2012/04/crackers-johnny-hickman-to-release-solo.html#more
ANTIMUSIC (online music site) – News posting from press announcement with  "Measure of a Man" download and related link.
http://www.antimusic.com/news/12/April/27Crackers_Johnny_Hickman_Sets_Solo_Release.shtml
MUSIC INDUSTRY NEWS NETWORK (online music industry site) – News posting from press announcement with album art, "Measure of a Man" download and related links.
http://www.mi2n.com/press.php3?press_nb=153540
CULTURE BRATS (music blog & Internet radio station) –  "Measure of a Man" featured as their Song of the Day on 04/27.
http://www.culturebrats.com