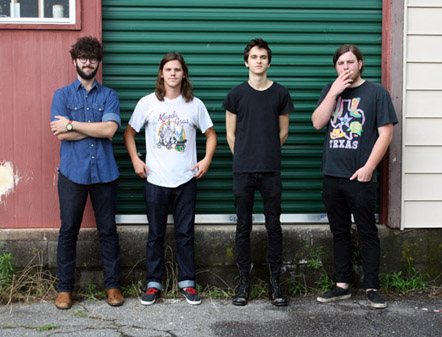 MAGNET MAGAZINE
(national music magazine) "Taste" feature song in their "MP3 AT 3Pm" feature.
Residing in Hotlanta, indie artist Tedo Stone churns out straight-laced and raw Strokes-esque rock tracks. Try out Mr. Stone's latest single "Taste" to see if you're picking up what he is putting down. The song is off  his debut studio release, Good Go Bad, out now via This Is American Music. Download "Taste" below. – See more at: http://www.magnetmagazine.com/2013/07/26/mp3-at-3pm-tedo-stone/#sthash.ncTP35DI.dpuf
PASTE MAGAZINE
"Big As The Ocean" premiere with positive post (props to BabyRobot)
Song Premiere: Tedo Stone – "Big As The Ocean"
By Burgess Brown
Tedo Stone's listed influences range from John Prine to David Bowie, and surely his unlisted influences are even more varied. One would think juggling such diverse inspirations might create a disjointed and inconsistent sound, but that's not the case with Stone.
His music infuses alt-country and rock with elements of psychedelic, electronic and indie rock. Any given song may be based around a fuzzed out guitar line, a swelling synth, or a mellow acoustic guitar, but Stone's echoey vocals and catchy melodies always tie everything together.
Stone and his band released a well-received EP last year and followed up with the release of his first full length, Good Go Bad, earlier this month. Check out Tedo Stone's catchy single "Big As The Ocean" from Good Go Bad in the player below.
http://www.pastemagazine.com/blogs/av/2013/07/song-premiere-tedo-stone—big-as-the-ocean.html
KCRW RADIO
(Los Angeles public radio) – "Big As The Ocean" aired on Jason Kramer's show July 17th
http://newmedia.kcrw.com/tracklists/search.php?search_type=0&date_from=07%2F17%2F2013&host=&date_to=&artist=&channel=Simulcast&label=
LAST FM
(online music site) – Title track stream and positive post.
Stream Tedo Stone's "Good Go Bad"
By Peter
Here at Last.fm HQ, we listen to a lot of music. Occasionally something catches our ear and stands out as something special. In Discovery of the Week, our staff bring you their personal picks and recommendations from their hours and hours of sifting through new music. This week, Peter Grumbine brings you Tedo Stone.
Tedo Stone is releasing his debut full length album Good Go Bad with This Is American Music Tuesday, July 9. We've got the exclusive preview of the title track for you below.
Good Go Bad is a striking statement of purpose and a staggering blend of complexities so artfully arranged that your first takeaway is simply, "wow." Few debut albums arrive with this kind of maturity, sense of self, and timelessness.  Tedo Stone isn't knocking on the door– he's been living your house all along and you just noticed. But not in a creepy way.
In a sense, the record is somewhat of a musical Rorschach test. You hear what you like in it. Two people could hear completely different things that are all there, and somehow Tedo and crew manage to balance all these elements so adroitly that every track is extremely accessible, yet they all continue to reveal new surprises on each listen. It's a rare art.
If I had to mangle a bunch of terms to describe it, I'd probably go with Cosmic Glam Rock 'n' Soul, but that doesn't do the album justice, so let's just say it's really f*cking good.
Take a listen to the track "Good Go Bad" below.
In a single song, Tedo Stone spans three decades of R&B influences, without even really making an R&B song. It's an indie rock groover, but it's so much more. Listen to it again. The horns couldn't be more perfectly placed.
To get a little more of an idea of what's going on in the album, stream the first single, "Taste" below.
The quality of production on Good Go Bad is no fluke, yet it all happened by chance. Stone was recording the album in the middle of the night on the cheap with an intern engineer at Glow-In-The-Dark Studios in Atlanta. As the guys were running through a song, GRAMMY-winning and multi-platinum producer Matt Goldman overheard them. Goldman couldn't resist, immediately joined in, and took over production on the album. It was the kind of opportunity every musician dreams of, but never really expects to actually happen.
Here on Last.fm, anticipation for the release is clearly growing, as you can see on Stone's listening trend. Once the album is released, this chart will be a completely different picture.
You can keep up with Tedo Stone on his webpage, Facebook, and Twitter, and you can get Good Go Bad from This is American Music.
http://originals.last.fm/discovery-of-the-week/tedo-stone-debuts-good-go-bad/
CREATIVE LOAFING ATLANTA
(ATL weekly) Positive feature with band photo and"Taste" mp3 (via Baby Robot)
Tedo Stone get 'High' with 'Good Go Bad'
Posted by Christopher Hassiotis
ATL rock guy Tedo Stone and his backing band the Cosmic Supermoon set out on Midwestern tour last week (Ohio, Illinois, Indiana, and a recording session with Daytrotter) to commemorate the release of Stone's debut full-length Good Go Bad.
Stone has been playing around town for a few years, and started recording Good Go Bad two years ago. His soul-inspired vocals and fuzzy guitar rock are retro in a kinda sunny '70s vibe, but retro in a kinda early '00s vibe as well. Most of the tracks from Good Go Bad can be triangulated looking back at tunes recorded a decade ago, stuff like that of the Strokes (garagey, anthemic, and mid-tempo), Ted Leo (clearly enunciated vocals, strong rock underpinning), and Taylor Hollingsworth (guitar-focused and singer-songwritery).
Like those bands, Stone picks an emotional range and sticks with it for a song, though the mellow piano and organ on "Time" move things from a delicate waltz to a more rousing rocker. A tuneful songwriter, Stone never overloads his songs with too many effects, though he does heavily favor some vocal filters. Horns on the album opener "As Big as the Ocean" or the solid organ lines on "High" add punch. And "Circles," a vocals-and-ukelele tune, was recorded on Stone's cell phone – it's charmingly minimal and lightweight.
Stone handles vocals and guitar duties with the Cosmic Supermoon, backed by Atlanta guitarist Clay Houle (Brain) and an Athens-based rhythm section, bassist Frank Keith IV (Frank and the Stranglers, the District Attorneys), drummer Grafton Tanner (Space Ghost). Good Go Bad is out now via This is American Music.
Give a listen to "High" from Good Go Bad.
http://clatl.com/cribnotes/archives/2013/08/02/tedo-stone-get-high-with-good-go-bad
FLAGPOLE
(Athens weekly) – Brief show preview.
Caledonia Lounge
TEDO STONE Rootsy Atlanta-based Americana band with a touch of psychedelic fuzziness Aug. 12th
http://flagpole.com/events/live-music
SYFFAL
(online music blog) – "Taste" mp3 and positive postive
STOP SLEEPING on Tedo Stone
Bro, don't even ask me who Tedo Stone is because I have no clue. I don't know if that is the name of the band or if it is a dude in the band. And I don't know if you pronounce it Tito or tay-do. I don't know if they are new or if I'm pulling a Brando and discovering them 10 years too late. I don't know. BUT I'm going to find out because this song is the frosting on a cherry flavored taint.
http://www.syffal.com/are-friends-quiet-on-the-set
BEAT SURRENDER
(online music blog) Positive post with album art and Taste & GGB streams.
Tedo STONE "Good Go Bad"
By Simon
Southern-indie retro-rock, with addictive melodies and a heavy helping of fuzzy guitar the debut release by Atlanta / Athens, GA based Tedo Stone is a soundtrack for the summer, it's out now and you can get hold of your digital copy at T.I.A.M. for a measly $5.
http://www.beat-surrender.com/2013/07/23/tedo-stone-good-go-bad/?amp;utm_medium=rss&utm_campaign=tedo-stone-good-go-bad
RELIX MAGAZINE
(national music magazine) Back Again premiere with positive post and band photo.
Premiere: Tedo Stone "Back Again" (props to BabyRobot)
Tedo Stone recorded debut EP, Happy with longtime Widespread Panic collaborator John Keane. Stone has now completed his first full-length, which is set for release tomorrow via This Is American Music. Today we're premiering "Back Again" from Good Go Bad, which Stone recorded with producer Matt Goldman. Stone and his group, which includes Frank Keith IV (bass), Grafton Tanner (drums) and Clay Houle (guitar) will support the album with a series of shows. The current intinerary appears below the stream of "Back Again."
http://www.relix.com/news/2013/07/08/premiere-tedo-stone-back-again#.UdsXulMWkrw
BLURT
(national music magazine) Good Go Bad premiere with positive post (props to BabyRobot)
MP3 Premiere: Tedo Stone's "Good Go Bad"
By Blurt Staff
After recording his debut EP, Happy, with John Keane (R.E.M., Uncle Tupelo, Cowboy Junkies), Tedo Stone is releasing his first LP, Good Go Bad/Tedo played his first Daytrotter session this week, and PopMatters recently premiered the song "Taste" (http://bit.ly/11ZGRQu), praising Tedo's "70s-esque, swaggering, peach fuzzy guitar rock" while noting a strong T. Rex and Strokes influence. We're pleased to offer a premiere as well, for the title track:
Stone explains, "This song was one of the last we recorded for the album. I came into the studio with the idea for the chorus, and ended up writing and recording the music for the whole song without any idea of what the verse melody or lyrics would be. Usually when I write a song, I build the music around the melody, so this was a strange process for me. The song was originally supposed to be about my fear of death, but as I wrote the lyrics it took on a different meaning. It's really about uncertainty and risk. Uncertainty is the scariest thing in the world, but also the most exciting."
http://blurtonline.com/news/mp3-premiere-tedo-stones-good-go-bad/
PHANT EYE
(online music site) Feature interview with band photo
Interview – Tedo Stone
He uses the word "happenstance" a lot, but it's no coincidence that musician and ramblin' man Tedo Stone has proven himself a more than worthy addition to the Americana scene. Weaned on a balanced diet of Wilco and Motown, this native Southerner curates his distinct bluesy psychedelia from his sonic adventures around the States.
On the debut album, Good Go Bad (This Is American Music), he oxymoronically keeps things light. But Stone says it's "happenstance" that such a cheery release comes on the heels of the deceiving Happy EP.
"Everyone jokes around— they say that all the songs on the Happy EP are real sad. I guess that they kind of are," he supposes, chuckling a bit. He continues: "And the new one is called Good Go Bad, but (these songs are) a lot more upbeat in my opinion. So there's a little bit of irony there."
Happy, pieced together in 2011 with producing giant John Keane (R.E.M., Cowboy Junkies), relied on a more straightforward country-rock sound. But with Good Go Bad, Stone infused, well, stoner elements that wouldn't seem out of place on a Wavves or MGMT record. Dig "High" for example: Omnipresent, feverishly echoing backing vocals accompany his mellow tenor, as warm synths skitter like crabs across the refrains.
The beachy-keen imagery might stem from Stone's stint of living in Hawaii with a few buddies. "I was in between being in school out in Mississippi (he got a degree in business marketing) and thinking about coming back to Atlanta and pursuing the music. Being out there really was like more an awakening. I was removed. I had a group of friends that was living out there, and I stayed on their couch pretty much for about two months. It was out there that I realized, OK, I just finished up school; I could go get a desk job, or I could wait tables and play music."
Born on island time was the stripped-down GGB track "Circles," featuring little more than a yearning ukulele and the artist's soul-baring vocals, recorded on his cellphone. "I'm a dog at heart… I am circles starting to unwind," he sings. You can almost see Stone staring out into the Pacific, wondering where the tide will take him next.
His inner compass pointed back to Atlanta, where he lends a hand at his older brother's medical tech company to fund his band's weekend performances. He's amassed a hefty network of local musician pals (bassist Frank Keith IV, drummer Grafton Tanner and guitarist Clay Houle are his current brothers in arms), as well as some friends in high places.
Enter Matt Goldman of Glow in the Dark studios, who met Stone and crew years ago when they came to his facilities to record with his intern. After Goldman had wrapped his regular work, his ears led him to Stone's grooving piano-thick march "War."
"I guess the drummer we had brought wasn't up to par. So he stepped in, played drums on the song," Stone recalls. "He ended up engineering and producing the whole thing."
That version of "War" appears on Good Go Bad, which was ultimately fully produced by Goldman. It took awhile for Stone and this coveted hardcore studio whiz (Underoath, the Devil Wears Prada) to meet again, but when they did, the results were a sumptuous blend of dreamy rock and country-fried blues over 10 tracks.
Tedo Stone is road-testing these numbers this summer throughout the Midwest and South— a jaunt this wanderlustful lad is greatly anticipating.
"Piling up in a van with your buddies and seeing the countryside is something that I've always enjoyed doing. Even not our own music— just going with friends and stuff. Obviously, there's a lot more business, a lot more things to get done on the road, but I kind of like the idea of being detached or not being in one spot. That's just where I am right now in my life."
http://blog.phanteye.com/?p=864
FIRDAPOSTEN.NO
(Norwegian music blog) Positive review in Norwegian
Tedo STONE "Good Go Bad"
One can safely say that the expectations from last year's EP, "Happy", are fulfilled when Stone finally debuts with a full length album. As the EP we talk about the soul. This time maybe not so much country soul. Nor perhaps more towards rock soul. As Stones at times was so great exponent of the beginning and middle of the 70th century. And small fine technical heimehøyrande on the wrong side of the fence in the 80 century. But here they worked particularly well. With a vocalist who reminds of all things Marc Bolan. But having said that, Tedo Stone has a voice that fits their own legs and is extremely original. The man is also what I would call a gudebenåda songwriter.
With him on this great album has its permanent bassist, Billy Lyons, and the Grammy-winning producer Matt Goldman on drums. Stone stands for pretty much everything else of instrumentation.
"Big As The Ocean," which opens the album, Lenar at most the 70 century. Halfway uptempo with lots of guitars and superb organ. And a great sense of his soul. More detests and calmer on "Good Go Bad". But the increasing pressure gradually and section situated among which eventually shows up is on this.
And I'll use the word unfortunately in this message so it here. Unfortunately this is the only song on the album with section situated among. The lifts the song incredibly well. "Taste" makes me forget it. Here the user rather than keyboard / synthesizer in a way that makes me forget the 80s. The actual song is a bit more bounce, however. During the first five seconds of "Who" makes me think of "Sexual Healing". And here they go all the way with a drum machine and synthesizer. But as an addition to Stone's great lydbilete.
"Back Again" is almost on the border of the sheet. But eventually feiande great. Soul Vals. He takes it, to say the least, way down on the "Circles". A nice little show played on the ukulele. And spelled out on an iPhone on Hawaii. Naked to say the least. "High" is Stone back soul groove. Again with a lot of great organ and guitar play well. "Time" is the album's ballad. With piano as leading instrument. And simply just marvelous. The piano follows us into the "War". Here he sounds almost like Supertramp. But with lasting value. "Downtown" which concludes the album has lasting value, especially when he heave out in the chorus for the second time. And perhaps the album's heaviest and most rocking song. All the best. As enough once shows that the worst trick from the 80s can work well. Here in drum sound. Properly canned. But a great song makes me forget all complaint.
For objection here are few, if not non-existing. Nok a great album from the American South.
http://ow.ly/n9xIS
POPA'S TUNES
(online music blog) – Positive review with GGB & BATO audio streams
Tedo Stone – Good Gone Bad
This is American Music is fast becoming an American institution, well deserved press coverage lately the label features some of the finest up and coming bands you've yet to hear of unless of course you're paying attention. Tedo Stone being one of them, following up on the excellent, well-received EP last year the follow up is his first full length, 'Good Go Bad', released earlier this month. The story that accompanies the making of the album reads like an epic discovered in a soda shop tale. Frequent readers know I like bands rich in influences yet original enough those influences are like wisps of a passing dream, Tedo Stone is like that, hypnagogic vocals and catchy melodies familiar yet elusive.
"I think this album has a lot more personality and depth than anything I've done before," Stone says of Good Go Bad. "For me, recording has a lot to do with documenting my time here on Earth. I don't keep a diary or anything like that. But building a catalog and being able to look back and see where I've been in life and as a songwriter, that's important to me."
http://popatunes.blogspot.com/2013/07/tedo-stone-good-gone-bad.html
ACCESS DUBUQUE
(Dubuque online A&E site) – Brief show mention
The Lift, 180 Main St, Dubuque
TEDO STONE, 9 p.m. – midnight.
w/ Union Specific. [Discovery of the Week] Tedo Stone's new album "Good Go Bad is a striking statement of purpose and a staggering blend of complexities so artfully…
http://www.accessdubuque.com/events/results.cfm?date=2013-7-20
THE BLUE INDIAN
(online music blog) –  Positive post with band photo and Downtown mp3 (via Baby Robot).
Exclusive Stream: Tedo Stone – "Downtown"
Take a few minutes to familiarize yourself with Tedo Stone, the Atlanta-based musician behind Good Go Bad, an Americana-pop charmer due out on This Is American Music on Tuesday, July 9th. Tedo and company are currently in the middle of a US tour in support of the album with dates continuing on into mid-August and beyond. Though it's last minute, we wanted to give you a sneak peak of "Downtown", one of the star tracks on an already thoroughly rocking album.
Enjoy "Downtown", and make sure to pick up a copy of the new record and see the band as they continue their Summer 2013 tour.
http://www.theblueindian.com/features/exclusive-stream-tedo-stone-downtown/
CAPTAIN'S DEAD
(online music blog) – Positive post witjh band photo and Taste mp3.
so, georgia's tedo stone has a new record out, his debut – i believe and its called good go bad, and let me tell ya, its pretty fantastic. granted, i have not listened to the entire thing, at this point, im on track 5, "back again," but if it keeps up the way it is, no reason why not to say this is one of the best records of 2013. it reminds me an more rocked out version of destroyer's streethawk: a seduction which was it almost more bowie, than bowie is. strangely enough, i actually stopped liking said band after this record. anyway, definitely check this young man out, i can almost guarantee it you'll dig it, unless you hate music of course.
buy it here and check his site cause he's touring like a sob
http://captainsdead.com/what-i-am-listening-to-right-now-tedo-stones-good-go-bad.html?utm_source=feedburner&utm_medium=feed&utm_campaign=Feed%3A+captainsdead+%28captains+dead+feed%29
AMERICANA ROCK MIX
(online music podcast show) – "Good Go Bad" & "Back Again" aired on Episode 193. http://americanarockmix.com/2013/07/11/episode-193-that-time-of-year/
CINCY GROOVE
(Cincinnati online music blog) –  Photo gallery from Fountain Square show
http://www.cincygroove.com/?p=19620
ISTHMUS
(Madison weekly) –  Show preview (from press announcement with press quotes)
Trapper Schoepp & the Shades, Tedo Stone, Frankie Lee this Sat at UW Memorial Union-Terrace,800 Langdon St. Madison!
http://www.thedailypage.com/theguide/details.php?event=305099
CAUGHT IN THE CAROUSEL
(online music site) – Positive review with album art, three audio streams and video
Good Go Bad: Tedo Stone's Promising Debut
Tedo Stone
Good Go Bad
This Is American Music
The beat with which Tedo Stone's debut LP Good Go Bad opens – on a song called "Big as the Ocean" – immediately recalls Charlie Watts. Indeed, Stone's drummer, Grafton Tanner, plays with the same laid-back confidence that brought classic Stones' songs and albums like "Honkey Tonk Women" and Exile on Main St. to life. But when Stone's voice enters, the tune takes on more of a glam feel. The fuzzy guitars – in combination with the vocals and drums – make the song sound like Bolan fronting Faces.
But Stone doesn't want Good Go Bad to be an exercise in idol worship, even though it occasionally sounds that way. He's far more eclectic than that in the way he combines his influences. The title track is a mid-tempo pop song, with solid melodies in the verses and the choruses, and the horns have a beefy vibe that recalls Chicago.
On "Taste," Stone distorts his lead vocals, and the song benefits from a keyboard riff that brings Good Go Bad from the 70s' feel of the first two tracks to the 80s – but not completely. The new wave keyboards combine with Stone's and fellow guitarist Clay Houle's licks (they sound like Keith and Ronnie more than Keith and Mick Taylor) to generate a somewhat original sound. But the song retains the mellow groove of the first two cuts.
Stone bases "Who" on an 80s-sounding synth pattern and a folky acoustic guitar. Here his vocal sounds like Devendra Banhart. The vocal and electric guitar melodies, as well as the synth washes that enter, are truly beautiful. And because the tune is slower than the pervious three tracks, it breathes new life into the record and a much-needed change of pace.
"Back Again" returns to the glam rock elements of "Big as the Ocean." It sounds like one of those slow 50s' parodies that Bowie plays on Ziggy Stardust and Aladdin Sane. But Stone plays it straight – and it's good to see him abandoning the influence of The Rolling Stones. I can imagine kids dancing to this track in some futuristic time when sock hops come back into style.
"Circles" begins with a delicately played acoustic and whole lot of echo on Stone's voice. The song sounds like homemade folk – and definitely is a change of pace from the rest of the record. It's the most intimate sounding song in the set. It's also the most introspective. "Circles" makes you realize that Stone can take his music in any direction he wants and excel. He could just as easily fit on a bill with Banhart, Andrew Bird, and Joanna Newsom as he could with T. Rex and The Stones.
But Good Go Bad never sits still for long – it's that eclectic, functioning both as a Stone-created Spotify playlist and an old-time jukebox. On "High," Tanner and bassist Frank Keith IV lay down a terrific groove, over which Stone sings a catchy melody and the guitars shine. It's the first true pop song on the record – and it's wonderful.
"Time" returns Stone to the balladry of "Back Again," has a terrific vocal melody, and shares that song's 50s' vibe. But – again – the lyrics are more earnest than what Bowie and his contemporaries did with similar sounds during the glam period. But the best part of the song is when Stone and Houle step on their pedals and add some powerful, organ-backed blasts of guitar. "Time" is a great song.
"War" – the penultimate song on the record – clocks in at 5:10, which is a significantly longer running time than the rest of the songs on Good Go Bad. At its heart, the tune is a piano ballad that has a sort of Elton John vibe at the beginning – but the song becomes ominous as the guitars and drums escalate its intensity. The distorted guitars, in particular, transform this song, which could have settled into standard piano balladry, into something more special.
Stone closes the album with a track called "Downtown," which begins with his voice and an electric guitar. The song builds as Tanner's solid beat enters (you can imagine fans at a gig clapping to this one). But then Tanner changes the rhythmic pattern, and synths and glam-era guitars enter. Stone's vocal melody makes the song anthemic, as does the guitar solo – the best on the record (even though it sounds a tad like Oasis).
Ultimately, a record like Good Go Bad is a double-edged sword. It's cool to see an artist amalgamating his influences into such a cool, eclectic brew – and it's terrific to see an artist who's willing to experiment with various influences. But the downside is that it's obvious that Stone – despite the high quality of his songs – hasn't discovered his voice yet. The easiness with which one picks out his influences makes this obvious.
All in all, Good Go Bad is a solid debut effort that's packed with great tunes. Let's just hope that it promises a future when the influences become less transparent and Stone's own musical voice comes to the fore a bit more.—Paul Gleason
http://caughtinthecarousel.com/good-go-bad-tedo-stones-promising-debut/
WHEN YOU MOTOR AWAY
(online music site) – Positive review with album art, three audio streams and video
REVIEW: Tedo Stone – Good Go Bad
Not yet familiar with Tedo Stone?  I can't fault you.  A month ago I had never heard of Mr. Stone either.  But when I received Good Go Bad from the lovely folks at Atlanta's This is American Music, I paid attention.  And while the national music press hasn't been rushing out with reviews, I think they are missing the boat here.  After listening, I happily resigned myself to rearranging my publication schedule to make room for it.  There is genuine talent here, and this would be a good time to catch the Tedo wave.
So what is compelling about Good Go Bad?  On major positive is the vocals.  Tedo is blessed with a soulful, high-timbre croon that is captivating and warm.  The band, Stone — Clay Houle, Frank Keith IV, and Grafton Tanner — can buzz, riff and chunk like a mix of '70s rock and classic southern rock, but they dial it down adeptly for slow tempo numbers, relying on restrained arrangements and Stone's voice.  In fact, despite some writers emphasizing the '70s rock influence, to my ears the entirety of Good Go Bad has more of a soulful storytelling vibe than a hard hitting rock album (although I'm left with no doubt that this band can shake the walls of a live venue).  Overall, there is a plenitude of diversity on display, and this group is consistently impressive at any volume or speed.
The album begins with "Big As The Ocean", featuring a percussion introduction and then layering in the vocals and guitars.  It is an assured beginning, and displays the band's talent to rock.  The proceedings dial back for the title track, which wears its southern influence on its sleeve —
The third track, "Taste" showcases much of what is so great about this album.  It has the swagger of T. Rex, melodic guitar riffs and some psychedelic swirl–
The next few songs showcase the restrained soulful storytelling.  I think the best of them is "Back Again", which is presented here in a video of a live acoustic performance.
One of my favorite tracks is "High", which relies on excellent vocal supported by an intriguing drum beat and an organ —
The album ends well, with three strong tracks — "Time", "War" and "Downtown"
Good Go Bad is out today on This Is American Music.
http://whenyoumotoraway.blogspot.com/2013/07/review-tedo-stone-good-go-bad.html
FLAGPOLE
(Athens weekly) – Brief show preview.
Caledonia Lounge
9:30 p.m. $5 (21+), $7 (18-20). www.caledonialounge.com
TEDO STONE Rootsy Atlanta-based Americana band with a touch of psychedelic fuzziness Fri. July 26th
FARONHEIT
(Chicago-based online music blog) – "Back Again" and " Good Go Bad" mp3s  featured in their 7/8/13 Pick Your Poison.
http://faronheit.com/2013/07/pick-your-poison-monday-7-8-13/
ADOBE & TEARDROPS  
(online music blog) – Positive post with album art, and related links.
Tedo Stone — Good Go Bad
I know that you're supposed to judge art on its own merit, but sometimes an artist's backstory makes for good reading. And it makes their work that much better. Tedo Stone's debut album, Good Go Bad, is one of those works.
According to the press materials, Stone's whispy voice and obvious adulation of '70s rock captured the ears of famed producer Matt Goldman at a late-night recording session. The rest, as they say, is history.
But that's not what's compelling about Tedo Stone's story (though I'm glad it happened.) To raise money for the record, Stone worked at his brother's medical supply company, delivering oxygen tanks to elderly people coming home from the hospital. The side job led to the nuanced perspectives on youth and mortality presented on Good Go Bad.
This is a hell of a debut album. The songs sound great, sure. But unlike most '70s glam rock, Stone's music is smart and will make you think about Things. And that's a great place to start.
http://adobeandteardrops.blogspot.com/2013/07/tedo-stone-good-go-bad_9.html
HELLHOUND MUSIC  
(online music site) – News post (from press release), with album art, tour dates and related links.
TEDO STONE'S "GOOD GO BAD" ALBUM OUT TOMORROW THROUGH THIS IS AMERICAN MUSIC
http://www.hellhoundmusic.com/tedo-stones-good-go-bad-album-out-tomorrow-through-this-is-american-music/
BROADWAY WORLD  
(online music site) – News post (from press release), with band photo, tour dates and related links.
Tedo Stone's Debut LP 'Good Go Bad' Out Today
http://music.broadwayworld.com/article/Ted-Stones-Debut-LP-Good-Go-Bad-Out-Today-20130708
MIDWEST RECORD
(online music site) Positive album review
THIS IS AMERICAN
TEDO STONE/Good Go Bad:  This sound wild.  It's like Al Kooper meets Gurf Morlix and they found a new Lucinda Dylan to give it all voice (I could have said Bob Williams, but would you have really gotten it?).  Tasty rocked up nu Americana that goes the distance and stands it's ground., this is a fun diversion that takes what it does seriously without taking itself too seriously.  Not all dive bar bands have to sound so dire to make their point.  Hurray for these guys taking the high road.
http://midwestrecord.com/MWRBlog.html
LATEST DISGRACE
(online music blog)
Eight ATL Records to Listen for in July
By Moe Castro
Tedo Stone – Good Go Bad
Release Date: July 9
Label: This is American Music
Retro rocker Tedo Stone is prepping the release of his debut full length, Good Go Bad, due out July 9 via This is American Music. It will be available on CD and through most digital retailers.
http://latestdisgrace.com/2013/eight-atl-records-to-listen-for-in-july
FEARLESS RADIO
(Chicago internet radio) – Live in-studio session Sat. June 28th at 1pm cst.
TEDO STONE
06.29.13 – 1:00 p.m. cdt
Tedo Stone's music never ceases to fuse throw-back sounds (primarily of the 1960's) with a keen sense of contemporary resonance.
In fact, his seemingly effortless eclecticism perhaps stands out most, as he places psychedelic rock, soul, blues, country, and even sometimes electronic music all under one roof.
http://www.fearlessradio.com/en/podcasts/tedo-stone-062913.html
DO 608
Saturday Night on the Terrace: Trapper Schoepp and the Shades w/ Frankie Lee and Tedo Stone
Tedo Stone, a soulful americana singer from Atlanta, GA, will open the show with his special brand of "carpe-diem passion."
You won't want to miss this one.
Saturday, July 13th,  9:30 PM, FREE
http://do608.com/
http://wudmusic.com/2013/07/11/saturday-night-on-the-terrace-trapper-schoepp-and-the-shades-w-frankie-lee-and-tedo-stone/
THE BLUE INDIAN
(online music site) – Positive post with band photo and Taste mp3
Tedo Stone – US TOUR & New Album
Posted by Sean Pritchard
If Tedo Stone gets any free time these next few months, he'll be a lucky man. He and his band just embarked on a tour that has them zig-zagging across the Southeast and the Midwest, including a recording session with Daytrotter and a show at Cincinnati's now-famed Fountain Square. Along with that, Tedo's debut studio album, Good Go Bad, is set to be released via This Is American Music on July 9th. And more tour dates follow that.
I caught the band's recent set at Green Room during AthFest. In ways, it reminded me of the very first time I saw him play close to two years ago at The Hummingbird in Macon. His music has the same raw pulse now as it did then, only the members of the band read each other better.
"Taste", the single from Good Go Bad, is part bedroom-blues and part-garage-angst, melodic and charming without losing its edge. I can only imagine how good the rest of the album will be given Tedo's previous work and the band he's working with now.
Tedo Stone 2013 US Tour Dates
6/28 – Firehouse Pizza (Normal, IL)
6/29 – Chicago house party
7/1 – Daytrotter session (Rock Island, IL)
7/9 – American Roots Series @ Fountain Square (Cincinnati, OH)
7/10 – Rumba Cafe (Columbus, OH)
7/12 – Firehouse Pizza (Normal, IL)
7/13 – UW Madison Terrace (Madison, WI)
7/23 – PK's (Carbondale, IL)
7/25 – Cosmic Charlie's (Lexington, KY)
[more dates to be announced soon]
http://www.theblueindian.com/features/tedo-stone-us-tour-new-album/
SUPAJAM
(UK online music site) – Positive post with band photo and Taste mp3
Meet Tedo Stone
Tedo Stone and his backing band play the southern American version of Britain's indie pop: hazy, layered, lightly psychedelic, perfect for anywhere and anything hot. A full album is on the way called 'Good So Bad', in early July and there's going to be a US tour, but here and now you can hear 'Taste', which err, gives you a taste. Sorry, couldn't resist.
http://www.supajam.com/news/story/Meet-Tedo-Stone
RUST MAGAZINE
(online music site) – Video interview featured.
http://www.youtube.com/watch?v=I1-5X1Ma8DU
FARONHEIT (online Chicago music blog) – "Taste" mp3 featured in their 6/26/13 Pick Your Poison .
http://faronheit.com/2013/06/pick-your-poison-wednesday-6-26-13/
HELLHOUND MUSIC
(online music site) – News post (from press release), with band photo, tour dates and related links.
TEDO STONE TO RELEASE DEBUT LP "GOOD GO BAD" JULY 9TH! FREE "TASTE" MP3 SINGLE – See more at: http://www.hellhoundmusic.com/?s=tedo+stone#sthash.BNibFhpA.dpuf
http://www.hellhoundmusic.com/?s=tedo+stone
SKOPE MAGAZINE
(online music site) – News post (from press release), with band photo, tour dates and related links.
TEDO STONE TO RELEASE DEBUT STUDIO ALBUM + "TASTE"
http://www.skopemag.com/2013/06/20/tedo-stone-to-release-debut-studio-album-taste
TOP-40 CHARTS
(online music site) – News post (from press release), with band photo, tour dates and related links.
Tedo Stone To Release Debut Studio Album "Good Go Bad" July 9th Through This Is American Music
http://top40-charts.com/news/Rock/Tedo-Stone-To-Release-Debut-Studio-Album-Good-Go-Bad-July-9th-Through-This-Is-American-Music/91157.html
BROADWAY WORLD  
(online music site) – News post (from press release), with band photo, tour dates and related links.
Tedo Stone's Debut LP 'Good Go Bad' Out, 7/9
http://music.broadwayworld.com/article/Ted-Stones-Debut-LP-Good-Go-Bad-Out-79-20130619-page2
MUSIC INDUSTRY NEWS  
(online music site and weekly music industry newsletter) – News post with album art, tour dates and related links.
Tedo Stone to release debut Studio album "Good Go Bad" 7/9 through This Is American Music! http://mi2n.com/press.php3?press_nb=165264