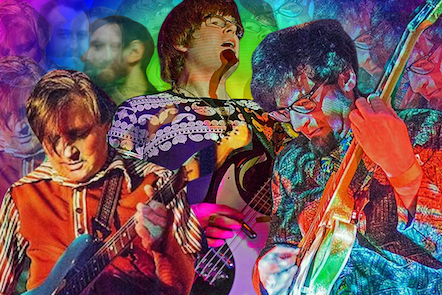 Click here to check out The Prefab Messiahs' new "Warmsinkingfeeling" video via EarBuddy!
VIDEO PREMIERE:
Out now is the new album, Psychsploitation Today, by The Prefab Messiahs. You might be thinking they're a new band, cranking out garage rock jams like some of your favorite artists: Ty Segall, King Tuff, Thee Oh Sees. But The Prefab Messiahs have been rocking out since the '80s. Aside from the 1983 cassette Flex Your Mind, though, no recorded material was available from them until 1998's Devolver CD-R – an anthology of their recordings from the early '80s. Several songs on the album were produced by their friend and outsider psychedelic singer-songwriter Bobb Trimble.
Burger Records released the official remastered version of Devolver nearly three decades later, followed by a well-received eight-song maxi-EP of new material entitled Keep Your Stupid Dreams Alive (2015). Psychsploitation Today continues the band's recent surge of new music. Today, we're sharing the premiere of the official video for the song, "Warmsinkingfeeling", which you can watch above.
Primary Prefab Provocateur Xerox Feinberg on the video:
"WARMSINKINGFEELING" is a post-reality cold sweat throbbing in your veins like a persistent Fever Dream, bleating itself hoarse with '80s saxophone, Bowie hand claps, assorted psychedelic ephemera, and a cut-rate Lizard King weighing down your mind, almost all the time. In the video, a renegade, one-eyed, animated Biker Rabbit goes nowhere fast and gets there. The song's got a beat so you might as well dance — or die trying. The Prefab Messiahs will follow you the whole way down.
http://www.earbuddy.net/70953/premiere-the-prefab-messiahs-warmsinkingfeeling-video.html/videos