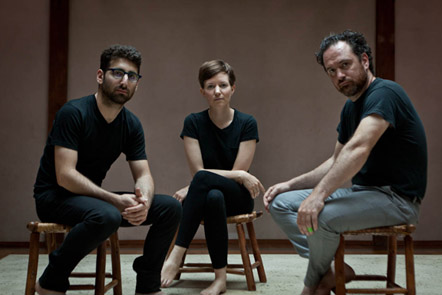 NPR'S WORLD CAFÉ Heavy Rotation: 10 Songs Public Radio Can't Stop Playing
Dyan – 'Days Upon Days' from Looking For Knives
Dyan (pronounced "Diane") came together when Cincinnati percussionist Dan Dorff met up with Alexis Marsh and Sam Jones, who write film scores together under the name Alexis and Sam. You can hear the influence of their backgrounds in instrumental music in this song, "Days Upon Days." We might be tempted to describe Dyan's music as "synth-pop," although that term conjures up the idea that the music is simply really sugary and upbeat. There's some of that on the band's new album, Looking For Knives, but Dyan mostly has a subtler sound. This track is a great example: "Days Upon Days" creeps up on you, demanding that you take a few listens to appreciate its full joyfulness (and, OK, its synth-pop catchiness).
—Liz Felix, WNKU
http://www.npr.org/sections/world-cafe/2016/12/04/504124413/heavy-rotation-10-songs-public-radio-cant-stop-playing