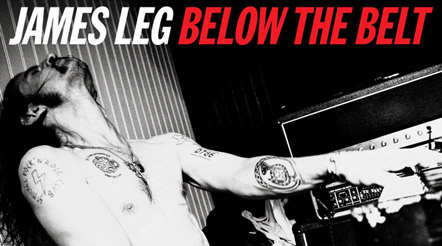 CLICK HERE TO LISTEN TO THE PREMIERE OF JAMES LEG'S NEW COVER OF SISTER ROSETTA THARPE'S "UP ABOVE MY HEAD" VIA DIFFUSER.FM!
Dirty. Gritty. Awesome. There may be no words that better describe the rock and roll chaos that is James Leg. Needless to say, we've quickly become big fans, so we're beyond excited to team up with Leg to premiere the brand-new track from his upcoming sophomore solo effort, Below the Belt, today (July 13) — take "Up Above My Head" for a spin in the audio player below.
The new LP was recorded at Johnny Walker's studio, Masonic Sounds, in Dayton, Ky., and mixed by Jim Diamond at Ghetto Recorders in Detroit. The result is a hard-hitting record that is soaked in garage rock and raw blues; "Up Above My Head" captures those sentiments perfectly.
"'Up Above My Head,' a song written by Sister Rosetta Tharpe, was recorded respectfully and true to its roots in a big auditorium with sinners and saints alike lending voices and rhythm," Leg tells us about the new song. "If it makes noise when it moves, we put a mic on it … the sound of perpetual motion and sanctified fervor."
Below the Belt marks leg's second solo album, following his 2011 debut, Solitary Pleasure. The new disc lands on Sept. 4 via Alive Naturalsound Records and is packed with 10 songs that will leave you breathless … and begging for more.
http://diffuser.fm/james-leg-up-above-my-head-song-premiere/