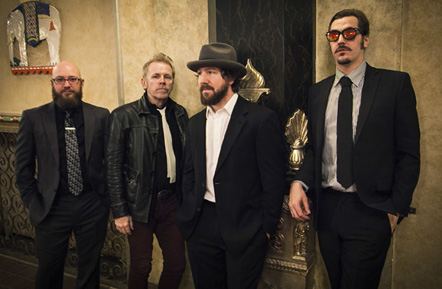 CLICK HERE TO LISTEN TO THE PREMIERE OF THE DELTA ROUTINE'S NEW TRACK "ON A SATURDAY NIGHT" VIA DIFFUSER.FM!
The Delta Routine, 'On a Saturday Night' – Exclusive Premiere
By Chuck Armstrong
Over the years, the Delta Routine have perfected the art of fusing together several different styles of rock and roll — like blues, punk and garage — with their own unique Milwaukee-influenced blend of Americana and alt country.
As the band continues to grow and evolve, their hard work will culminate with the unveiling of their fourth full-length album, 'You and Your Lion.' Ahead of its February release, Diffuser is ecstatic to partner with the quartet to debut the brand-new track, 'On a Saturday Night.' Check it out in the audio player below.
There are no hidden messages in this tune; the lyrics, the riffs, the grooves — they effortlessly work together to form a near-perfect rock ballad. "It's a song about when the party is getting a little out of control, but no one seems to know it yet," frontman Nick Amadeus succinctly tells us.
'On a Saturday Night' is part of the Delta Routine's upcoming LP, 'You and Your Lion,' set for release on Feb. 17, 2015. The guys have a handful of shows scheduled in the Midwest in February to celebrate the new record; stay up-to-date with everything happening in their world at the Delta Routine's official website here.
http://diffuser.fm/the-delta-routine-on-a-saturday-night-exclusive-premiere/