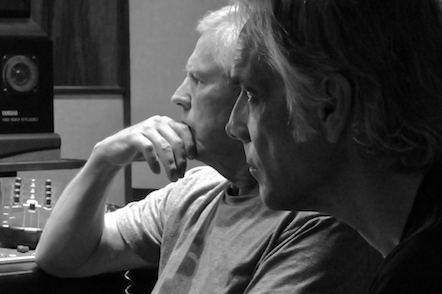 CLICK HERE TO LISTEN TO JAMES WILLIAMSON & DENIZ TEK'S NEW "ACOUSTIC KO" EP IN ITS ENTIRETY VIA DANGEROUS MINDS!
'ACOUSTIC KO': STOOGES CLASSICS STRIPPED DOWN BY JAMES WILLIAMSON AND RADIO BIRDMAN'S DENIZ TEK
Though he achieved his greatest notoriety as the founder of Australia's punk progenitors Radio Birdman, Deniz Tek is a Detroit kid—no surprise, as guttural guitar ferocity like his has the Rust Belt written all over it. Radio Birdman were shot through with Detroit influences, specifically via the Stooges—their name came from a misheard Iggy lyric, and their rehearsal space/clubhouse was dubbed the Funhouse.
In later post-Birdman years, Tek would play in bands with ex-Stooges, like New Race with Stooges guitarist Ron Asheton, and the short-lived (exactly two gigs) and underdocumented Dodge Main, whose live lineup featured the MC5's Wayne Kramer, Stooges' Scott Asheton, Sonic's Rendezvous Band's Scott Morgan, and The UP!'s Gary Rasmussen, with Jimmy Zero of the Dead Boys.
Now Tek is releasing a four-song E.P. with later Stooges guitarist James Williamson, titled Acoustic K.O. a play on the title of Iggy and the Stooges' live album Metallic K.O.. It features four Williamson compositions—"Penetration" and "I Need Somebody" from Raw Power, and "Night Theme" and "No Sense of Crime" from the 1977 Pop/Williamson album Kill City. The acoustic transformations are startling and quite effective. Per Williamson:
The songs of Acoustic K.O. are pearls from my youth, which are almost equally familiar to Deniz Tek from his. In fact the same could be said for the others on this record, to varying degrees. The process of recording them acoustically enhanced their luster with new clarity from re-interpretation. We love how it turned out.
He ain't wrong—"I Need Somebody" seems a natural for an acoustic treatment, and the new version with Tek maintains the original's menacing stomp. A more substantial transformation occurs on "Penetration," but the E.P.'s real stunners are "No Sense of Crime," on which Tek duets with Annie Hardy of Giant Drag, and "Night Theme"; the original on Kill City it's a noisy-ish guitar theme-and-reprise suite that straddles the LP's two sides, but here it's a lush instrumental featuring a full orchestra. It's DM's pleasure today to premiere the stream of the entire release. Enjoy.
http://dangerousminds.net/comments/acoustic_ko_stooges_classics_stripped_down_by_james_williamson_and_radio_bi