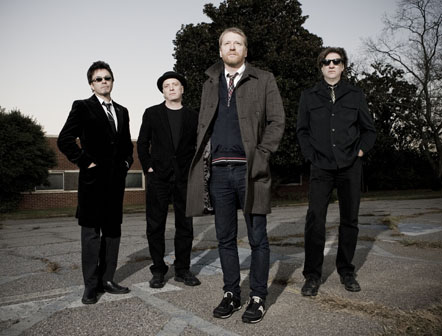 Building on the success of CRACKER's first annual CAMPOUT EAST music festival last summer (the East Coast's answer to their popular CAMPOUT fest held in the Joshua Tree region of California for the last seven years), the foursome – featuring co-founders David Lowery & Johnny Hickman, along with Sal Maida and Frank Funaro – will be pitching tent on June 1st & 2nd in Buena Vista, VA for their 2nd annual CAMPOUT EAST fest.
This all-ages fest offers fans two days of great music & camping. Cracker will be headlining both nights with other music acts such as Southern Culture On The Skids, the Dexter Romweber Duo, Carl Anderson, Radiolucent, 7Horse, Joe Fletcher & The Wrong Reasons and others filling out this year's two-day bill.
Cracker has been described as a lot of things over the years: alt-rock, Americana, insurgent-country, and have even had the terms punk and classic-rock thrown at them. But more than anything Cracker are survivors. Cofounders David Lowery and Johnny Hickman have been at it for 20 years now – amassing nine studio albums (their most recent, 2009's critically acclaimed Sunrise In The Land Of Milk And Honey), multiple gold records, thousands of live performances, hit songs that are still in current radio rotation around the globe, and a worldwide fan base – that despite the major sea-changes within the music industry – continues to grow each year. Along with longtime drummer Frank Funaro (since 1998's Gentleman's Blues) and bassist Sal Maida (since 2006's Greenland), this uniquely American band has no intentions of slowing down. Look for new Cracker material to surface sometime next year.
Devils Backbone Presents CAMPOUT EAST at Glen Maury Park, Buena Vista, VA
All Ages / Families Welcome / Under 12 free

LINEUP:
Friday, June 1 (Doors: 5:00 PM)
Cracker, Dex Romweber Duo, 7Horse and Radiolucent
GA Friday Pass $25 / Under 12 free
Saturday, June 2
Cracker, Southern Culture on the Skids, Joe Fletcher & The Wrong Reasons, and Carl Anderson (more bands to be announced)
GA Saturday Pass $25 / Under 12 free
GA Weekend Pass $50
Weekend Camping for Friday and Saturday night: $50.00 – Amenities include water and electric. Each individual campsite can hold up to six people.
For additional questions contact: info@campouteast.com
To purchase tickets go to: http://www.ticketfly.com/purchase/event/96037?utm_medium=bks
CLICK HERE FOR ALL OF CRACKER'S 2012 TOUR DATES
FOR MORE INFO ON CAMPOUT EAST 2012:
http://www.campouteast.com/
FOR MORE INFO ON CRACKER:
http://crackersoul.com
FOR MEDIA & INTERVIEW REQUESTS CONTACT:
Tony Bonyata
Pavement PR
p: 262.903.7775
e: bonyata@wi.rr.com