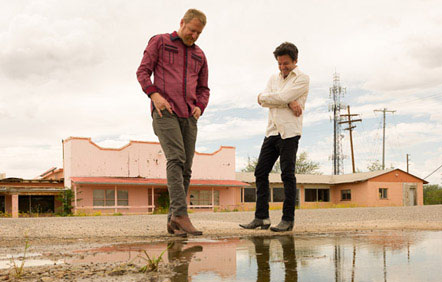 WINTER TOUR IN SUPPORT OF "BERKELEY TO BAKERSFIELD" KICKS-OFF NOV. 28TH IN TAMPA!
This December Cracker will be releasing their tenth studio effort, entitled Berkeley To Bakersfield, a double-album that finds this uniquely American band traversing two different sides of the California landscape – the northern Bay area and further down-state in Bakersfield.
Despite being less than a five-hour drive from city to city, musically, these two regions couldn't be further apart from one another. In the late '70s and '80s a harder-edged style of rock music emerged from the Bay area, while Bakersfield is renowned for its own iconic twangy country music popularized, most famously, by Buck Owens and Merle Haggard in the '60s and '70s. Yet despite these differences, they are both elements that Cracker's two cofounders, David Lowery and Johnny Hickman, have embraced to some degree on nearly every one of their studio albums over the last two decades. On Berkeley To Bakersfield, however, instead of integrating these two genres together within one disc, they've neatly compartmentalized them onto their own respective regionally-titled LPs.
As Lowery explains, "On the Berkeley disc the band is the original Cracker lineup – Davey Faragher, Michael Urbano, Johnny and myself. This is the first time this lineup has recorded together in almost 20 years. We began recording this album at East Bay Recorders in Berkeley, CA. For this reason we chose to stylistically focus this disc on the music we most associate with the East Bay: Punk and Garage with some funky undertones. To further match our sense of place we often took an overtly political tone in the lyrics."
"This Bakersfield disc represents the 'California country' side of the band. Throughout the band's 24-year history we've dabbled in Country and Americana but this time we wanted to pay homage to the particular strain of Country and Country-Rock music that emerges from the inland valleys of California."
Cracker has been described as a lot of things over the years: alt-rock, Americana, insurgent-country, and have even had the terms punk and classic-rock thrown at them. But more than anything Cracker are survivors. Cofounders Lowery and Hickman have been at it for almost a quarter of a century – amassing ten studio albums, multiple gold records, thousands of live performances, hit songs that are still in current radio rotation around the globe ("Low," "Euro-Trash Girl," "Get Off This" and "Turn On, Tune In, Drop Out With Me" to name just a few), and a worldwide fan base – that despite the major sea-changes within the music industry – continues to grow each year.
Cracker's Berkeley To Bakersfield will be released December 9, 2014 via 429 Records and will be available on CD and digital formats.
Disk 1 Berkeley Tracklisting:
1. Torches and Pitchforks
(Faragher/Hickman/Lowery/Urbano)
2. March of the Billionaires
(Faragher/Hickman/Lowery/Urbano)
3. Beautiful
(Faragher/Hickman/Lowery/Urbano)
4. El Comandante
(Faragher/Hickman/Lowery/Urbano)
5. El Cerrito
(Faragher/Hickman/Lowery/Urbano)
6. Reaction
(Faragher/Hickman/Lowery/Urbano)
7. You Got Yourself Into This
(Faragher/Hickman/Lowery/Urbano)
8. Life In The Big City
(Faragher/Hickman/Lowery/Urbano)
9. Waited My Whole Life
(Carusoe/Lisher/Lowery)
Disk 1 Berkeley band line-up:
Davey Faragher: Bass and Backing Vox
Johnny Hickman: Guitars and Backing Vox
David Lowery: Guitars and Vocals
Michael Urbano: Drums and Percussion
With
Thayer Sarrano: Keys and backing vocals
Marc Gilley : Saxophones
Mark Golde: Additional keys
Disk 2 Bakersfield Tracklisting:
1. California Country Boy
(Lowery/Summar)
2. Almond Grove
(Lowery)
3. King Of Bakersfield
(Lowery)
4. Tonight I Cross The Border
(Lowery)
5. Get On Down The Road
(Lowery)
6. I'm Sorry Baby
(Faragher/Hickman/Lowery)
7. The San Bernardino Boy
(Hickman/LeRoy)
8. When You Come Down
(Lowery)
9. Where Have Those Days Gone
(Lowery)
Disk 2 Bakersfield band line-up:
Davey Faragher: Backing Vocals
John Hickman: Guitars and Vocals
Bryan Howard: Bass Guitar
David Lowery: Guitars, Banjos and Vocals
Sal Maida: Bass Guitar
Luke Moeller: Fiddle
Thayer Sarrano: Keyboards, Guitar and Vocals
Matt "Pistol" Stoessel: Pedal Steel
Jeremy Wheatley: Drums
Recorded by: Drew Vandenberg with additional engineering by John Morand, David Lowery, Bond Bergland, David Barbe and Mark Golde. Mixed By Drew Vandenberg.
Recorded at: East Bay Recorders in Berkeley, CA, Chase Park Transduction in Athens, GA, Rock Garden Studio in Appleton, WI, and We're Clothes Studios in Richmond, VA.
Cracker's David Lowery & Johnny Hickman (photo: Bradford Jones)
CRACKER 2014/15 WINTER TOUR DATES:
Nov. 28 Skipper's Smokehouse – Tampa FL
Nov. 29 The Earl – Atlanta GA
Nov. 30 The Earl – Atlanta GA (Sunday Matinee)
Dec. 3 Magic Bag – Ferndale MI
Dec. 5 Old Town School Of Folk – Chicago IL
Dec. 6 Duck Room – St Louis MO
Dec. 27 The Independent – San Francisco CA (w/ Camper Van Beethoven)
Dec. 28 The Independent – San Francisco CA (w/ Camper Van Beethoven)
Dec. 29 Lobero Theatre – Santa Barbara CA (w/ Camper Van Beethoven)
Dec. 30 Belly Up Tavern – Solana Beach CA (w/ Camper Van Beethoven)
Dec. 31 New Years Eve Party @ Soiled Dove – Denver CO (w/ Camper Van Beethoven)
Jan. 14 9:30 Club – Washington DC (w/ Camper Van Beethoven)
Jan. 17 World Cafe Live – Philadelphia PA (w/ Camper Van Beethoven)
Jan. 18 B.B. King Blues Club – NYC (w/ Camper Van Beethoven)
FOR MORE INFO ON CRACKER:
http://www.crackersoul.com
https://www.facebook.com/CrackerSoul
FOR MORE INFO ON 429 RECORDS:
http://www.429records.com
FOR INTERVIEW & MEDIA REQUESTS:
Tony Bonyata / Pavement PR
p: 262.903.7775