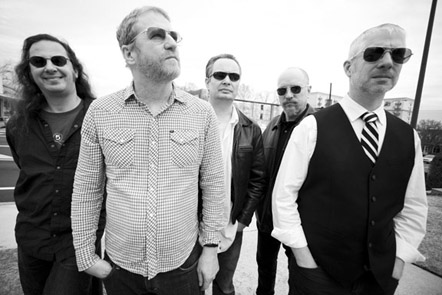 Cracker and Camper Van Beethoven will be rolling into the Joshua Tree region of California next month to co-host their 8th annual CAMPOUT "The OCHO" music festival.
 
CAMPOUT 8 will take place September 13th, 14th and 15th at Pappy & Harriet's Pioneertown Palace in the High Desert of Southern California. The locale of this fest ties in perfectly with Cracker's own history as their signature album Kerosene Hat was recorded here back in 1993 in the now-closed movie soundstage next to the Palace.
 
Previous CAMPOUT's have hosted a broad range of indie, alternative, blues and country acts and this year's bill features the talents of Chris Shiflett & the Dead Peasants (of Foo Fighters), Gram Rabbit, Calamity, The Dangers, Lightning Starts Fire, The Piggies and Niantic. Along with full band performances from both Cracker and Camper Van Beethoven (the latter previewing new music from their forthcoming studio album), there will also be a number of performances from various members of both bands, including Jonathan Segel (performing material from his recent All Attractions double album), Victor Krummenacher, a special David Lowery/Johnny Hickman semi-acoustic Cracker duo set, as well as Johnny Hickman (performing material from his recent Tilting LP).
Bandmembers from both Cracker & CVB are currently available for interviews.
CRACKER / CAMPER VAN BEETHOVEN'S CAMPOUT 8 – The OCHO
September 13-15 2011
Pappy & Harriet's Palace
53688 Pioneertown Rd.
Pioneertown, CA
This Festival is All Ages (12 and under free)
3-DAY PASS $60
1-DAY PASS $25
THURSDAY, SEPTEMBER 13TH
INDOOR:
Cracker duo (David Lowery & Johnny Hickman)
The Dangers
FRIDAY, SEPTEMBER 14TH
OUTDOOR:
Camper Van Beethoven
Gram Rabbit
Johnny Hickman (full-band)
Lightning Starts Fire
Niantic
SATURDAY, SEPTEMBER 15TH
OUTDOOR:
Cracker
Chris Shiflett & The Dead Peasants (Foo Fighters' lead guitarist)
Calamity
Jonathan Segel
Victor Krummenacher
The Piggies
To purchase tickets and for more info on CAMPOUT 8 go to:
or call Pappy and Harriet's at 760.365.5956 to purchase tickets the day of show.
CLICK THE TWO LINKS BELOW FOR ADDITIONAL CRACKER & CAMPER VAN BEETHOVEN TOUR DATES
CRACKER: http://crackersoul.com/fr_tourdates.cfm
CVB: http://www.campervanbeethoven.com/fr_home.cfm
FOR MORE INFO ON CRACKER:
crackersoul.com
FOR MORE INFO ON CAMPER VAN BEETHOVEN:
campervanbeethoven.com
FOR MORE INFO ON CAMPOUT 8 – The OCHO:
http://www.crackersoul.com/fr_home.cfm
FOR MEDIA & INTERVIEW REQUESTS:
Tony Bonyata
Pavement PR
e: bonyata@wi.rr.com
pavementpr.com