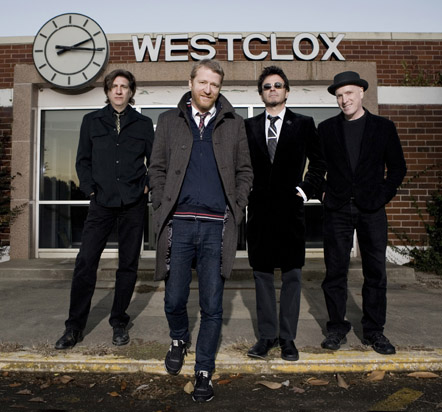 BOOMERANG (Larramie, WY daily) – Feature story with Johnny Hickman interview to preview Riverside, WY show.
Cracker plays Riverside
By PETER BAUMANN
If genre-spanning band Cracker were an alcohol, they sure as hell wouldn't be wine.
"Wines mature. If bands do too much, that usually means they are getting stale," guitarist Johnny Hickman said. "David and I are both firm believers in the idea that rock songwriters and the bands they are in can constantly evolve and move forward as artists without 'maturing' necessarily."
Cracker — featuring founding members Hickman and David Lowery on vocals and guitars, Frank Funaro on drums and Sal Maida on bass — has been playing rock, alt-country and punk over a music career that has spanned three decades. They will play at 7:30 p.m. Aug. 12 at the Bear Trap, 120 Riverside, in Riverside to support their newest album, "Sunrise in the Land of Milk and Honey," featuring mostly frenetic songs with an angered, apocalyptic outlook.
While they've always played with energy and fervor, Hickman said their newest album brings some of the band's punk influences into new territory.
"Every one of our records has a few sharp curves into new territory. Although not on all of the new songs, this record just naturally and spontaneously swerved into our punk roots a bit more than usual," Hickman said. "These sounds, beats and guitar riffs just lend themselves to a certain urgency, I guess. It wasn't planned, really. It's just the way we were feeling at the moment, and we went with it."
Formed in Redlands, Calif., many of Cracker's songs have always been about the less sung-about parts and residents of the Golden State — the morose and depressed, the barely getting-by, the desert town denizen. "Sunrise" is no different.
Although the lyrics were written by Lowery, Hickman said "Hey Bret (You Know What Time it is)" is another song and story with a strong central character who has little in common with the money and glamour of Los Angeles, but most likely resides in the likes of Bakersfield or Victorville.
"To me, 'Bret' is yet another strong character (Lowery) developed and let speak. He's definitely working class and has a strong sense of who he is and where he came from, even if he's 'trying to make a living playing on my SG Gibson, tending bar and sometimes selling herb'" Hickman said, quoting the song. "It's one of (Lowery's) characters that I can really see in my mind's eye when I'm playing it live."
Live performances played an integral role in the recording of "Sunrise." While most songs Cracker has produced were worked in the studio before being played in front of an audience, the tracks on Sunrise came to fruition in concert venues around the country and world.
Hickman said how a song plays live is obviously important, but creating new songs and playing them live before recording them helps keep the music grounded and fun for both audience and musicians.
"If a song can't be played easily live, it's probably gone too far on the record. To use The Beatles as a reference, we don't make 'Sgt. Pepper,' we tend to make more 'White Album' music. More raw," Hickman said. "The stage is a good place to work the bugs out. There's no choice."
While Riverside is almost certainly the smallest town Cracker will play during their summer and fall tour, Hickman said the size of a town never matters to the band. Instead, what makes a good venue is a positive, welcoming crowd. If that's the reaction Cracker gets Aug. 12, chances are they'll be back to Wyoming.
"We have a sense of adventure and don't judge towns by their size. We gauge the likelihood of any future appearances by the reaction we get," Hickman said. "We have favorite large and small cities for good reason. We're looking forward to seeing what Riverside is all about."
For ticket information, call the Bear Trap at (307) 327-5277.
http://www.laramieboomerang.com/articles/2010/08/11/news/doc4c5a4946aed8b260853228.txt
LARAMIE LOWDOWN (Larramie, WY A&E site) –Riverside, WY show preview.
Cracker – Live in Riverside
Year number two for a Cracker appearance at the Bear Trap Cafe and Bar in Riverside Wyoming.
Saw the show last year and it was awesome, great opening band and a BBQ buffet.
Well worth the trip over the mountain, and you could get close enough to David Lowery to touch him, how often can you say that?
Looks like not just Cracker this year, but the members of Camper Van Beethoven will also be playing for this show.
Opening act is The Piggies out of Fort Collins, check out their music at http://www.myspace.com/thepiggies.
Show starts at 7:30pm
BBQ dinner included starts at 6pm when the gates open
all ages show but need to have ID for cocktails
full bar outside for the show too.
C'mon people get to Riverside and see this show.  They want to make it an annual event and also possibly grow it into a weekend gig so get over there and show them the love.
307 327-5277 for tickets or info, or stop in to the Bear Trap on your way by.
http://www.laramielowdown.com/index.php?view=details&id=391%3Acracker-live-in-riverside&pop=1&tmpl=component&option=com_eventlist
COLORADO SPRINGS INDEPENDENT (Colorado Springs, CO daily) – Feature with Johnny Hickman interview to preview local show.
Cracker barrels onward
The indie-rock godfathers celebrate two decades of droll devotion
by Chris Parker
Cracker
Sunday, Sept. 2, 8 p.m.
Silver Tongue Devil Saloon, 10530 Ute Pass Ave., Green Mountain Falls
Tickets: $20/adv, $25/door, all ages; thesilvertonguedevil.com, 684-2555.
Cracker has cultivated a steadfast cult following over the course of its 20-year existence. Fans of the band's punchy indie-rock sound are known as Crumbs, the kind of tribal appellation more typical of jam bands — which Cracker most definitely is not.
Whether you're a diehard fan, or have just heard the band's hits, there are good reasons to gravitate toward Cracker's fusion of alt-country with punk-rock underpinnings: Songwriters David Lowery and Johnny Hickman fashion hooks so effortlessly ingratiating that we may one day discover they've been in cahoots with Fagin and the Artful Dodger. Whether the indelible wah-guitar riff of "Get Off This," the surf-inflected lead of "Teen Angst (What the World Needs Now)," or the ringing call-return drone at the foundation of "Low," they make undeniably catchy music.
And that's not even their strongest point. They're also damn fine lyricists with a sly, often ironic sense of humor reminiscent of Warren Zevon.
"Zevon's one of my favorite songwriters," says Hickman, brightening at the mention. "We also like Randy Newman and Captain Beefheart. Guys that have a skewed perspective on reality and a slightly twisted sense of humor."
Although Hickman and Lowery were teenage friends in Redlands, Calif., they spent the next decade making music in other bands. But after Lowery's critically lauded Camper Van Beethoven called it quits, the two musicians happened to find themselves without bands at the same time. They committed to partnership and vowed not to succumb to the standard bullshit that broke up Camper Van Beethoven.
"We made a decision to stay the course," Hickman says of Cracker, which released its self-titled debut back in 1992. "You bury the hatchet and move on. You realize that you make great music together and the odds of that happening — finding someone you can write songs and make music with year after year — is a rare thing. So we value it."
The bandleaders have given each other room to do other projects, and each released a solid solo album in the past year. But nothing's prevented a steady stream of strong Cracker albums. It's the kind of catalog and longevity that attracts fans of all ages.
"Those are one of the things that keep you going, the next generation of fans. It's fantastic and we've been very fortunate that way," he says. "A big part of the reason we've retained our stability as a band is that we never did get so big that our ego got in the way of the nuts-and-bolts business of going out and saying hello to people after shows."
If you want, you might talk to Hickman about Colorado. When not on tour, the former California resident's happy to call Loveland home.
"Every time we'd come through, in the back of my mind I'd tucked away the thought of retiring here someday. Then I met my now wife and I made her a deal if she moved to California for a couple years, I'd move to Colorado with her," he says. "I've been here about 11 years now. I don't think I'll ever move again, I absolutely love Colorado."
— scene@csindy.com
http://www.csindy.com/coloradosprings/cracker-barrels-onward/Content?oid=2550848
VENTURA COUNTRY STAR (Ventura, CA daily) – Feature interview with Camper Van Beethoven's Greg Lisher to preview CVB's local show with band photo and related links.
Indie-rock stalwarts Camper Van Beethoven will play Zoey's Sept. 10
Rested and recharged, the members of Camper Van Beethoven head to Zoey's on Monday
By Bill Locey
Nearly as nutty as the notion of camping with Ludwig himself, Camper Van Beethoven, NorCal's finest goofball rockers of vast experience, will be at Zoey's in Ventura on Monday night. This is the band, you might recall, that gave us "Take the Skinheads Bowling" and "The Day Lassie Went to the Moon" off their 1985 debut album, "Telephone Free Landslide Victory."
While the old cliché "whatever doesn't kill you, makes you stronger" might be a bit extreme, the band did survive several bouts of the dreaded creative differences and now they're back with a new album on the horizon. In any case, the band is well rested — their last album, "New Roman Times," is from 2004. The breakups and resulting downtime were not spent at home moping about Days of Camper Passed. All the members have side projects or were in other bands, perhaps most famously, frontman David Lowery, who started Cracker in the early '90s.
The band did play Ventura back in the '80s at a place called Mogz, which became a place called Nicholby's, but this time around, it's artist-friendly Zoey's, where people come to listen. Guitar player Greg Lisher discussed the latest during a recent phoner.
Hey, Greg. How's the Camper Van Beethoven biz? What's the latest?
Well, we just finished a new record.
How many is that now? A few, I would assume.
You know, I don't even know what the number is … I think it's seven.
Wow — that's a career, man.
Yeah, and then there's a couple of EPs in there.
Think you might stick with it a while longer?
Yeah, so far, so good. The record is recorded, mixed and mastered and I heard Jan. 22 is when it's coming out.
So in rock 'n' roll time, that's really fast then?
Yeah, I guess so.
I know you guys started out down here in SoCal a long time ago. Are you all up in NorCal these days?
We're all over the place. I live in Santa Cruz. Victor, the bass player, lives in San Francisco, and Jonathan, the violin player, just moved to Sweden.
Whoa — hard to get hooked up for practice.
Yeah, but we don't really get together and practice — we get together and play. David, our drummer, lives in Brooklyn, N.Y., and our singer splits his time between Richmond (Va.,) and Athens, Ga., where he teaches at the University of Georgia. He teaches … a music economics class.
Wow, spread out for sure. I saw you guys in Ventura in the '80s at a place no longer there called Mogz; I still have the flier. So, '80s Camper and 2012 Camper — what happened? Anything important change besides you guys got a little bit older?
Well, the new version is identical to the original version minus the drummer. Basically, the band started in 1983 — in Southern California in Redlands and Riverside, the Inland Empire — and a lot of those guys came up to school at UCSC (UC Santa Cruz), which is where I met them.
How 'bout those Banana Slugs?
Right, exactly. I didn't go to UCSC, but I was the only person that lived in Santa Cruz. I officially joined in '85 and we went five years and broke up in 1990. After 1990, David (Lowery) started Cracker, then in (1999) we started playing shows (again). We recorded our last album, "New Roman Times," in 2004, and now we're back with a new record.
So evidently you're well rested, plus you've survived the dreaded creative differences many times?
Yeah, exactly.
This is supposed to be fun, right? And you guys have all these funny songs — "Let's Take the Skinheads Bowling" and the one about Joe Stalin's Cadillac.
Absolutely.
Who knocks you out as a guitar player?
I listen to so many different styles of music, I don't really have a favorite person, but as a kid it was all the basics — David Gilmour, Jimmy Page, Jeff Beck and the list goes on.
What's the strangest Camper gig you've ever played — probably been a few of those?
I've had so many of those I don't even know where to begin. Let's see, I did a USO tour with Cracker — I subbed for their guitar player who didn't want to go. We went to Kuwait and Iraq for two weeks.
Oh wow, what was Iraq like? When were you there?
In 2009.
By then everyone wanted to come home?
Yeah, exactly, so that was pretty much the most adventuresome/weird tour that I've done, but it wasn't a Camper gig, it was Cracker. … Cracker went over really well there.
Can you discuss the transcendental power of music?
After their Monday night gig at Zoey's in Ventura, Camper Van Beethoven head to San Luis Obispo and Fresno for more shows. Then they head to Pioneertown to perform at their annual Campout festival.
After their Monday night gig at Zoey's in Ventura, Camper Van Beethoven head to San Luis Obispo and Fresno for more shows. Then they head to Pioneertown to perform at their annual Campout festival.
It's kind of hard to describe, but if you're a musician onstage and you're performing, those great moments usually involve the music or your involvement in the music or your involvement in making the music. … Also, it's always interesting to see what the audience responses (are).
How often does a guitar player like yourself have to practice to keep up his chops?
I play a lot because I have a home studio and record and write and do all that stuff on my own, but as far as the Camper stuff, basically we get together to start playing some shows. We make a set list, then I go over all the songs before we go out on stage to … refresh my brain as far as what we're doing. By the time you're done a few shows, it all just kind of comes back. I don't sit around practicing Camper Van Beethoven songs at my house in my spare time.
When the history of rock 'n' roll is written, where do you suppose Camper Van Beethoven will fit in? What's your particular hard-earned niche?
You know, that's a great question, but I have no idea. Once upon a time we were considered the granddaddies of independent music.
That's right — for sure.
Yeah, I guess when we started, the whole thing was just taking off. That might sound a little lame, but I'm not really sure where we fit in the realm of all the different bands. I think we're fairly unique. We have our own sound and everybody's able to get together, and we're democratically able to do what we do. That sound … really shines through on this new record, you know?
What's the next step?
We have three shows preceding our Campout festival we do every year down by Joshua Tree in Pioneertown. So the three shows in order are Ventura, San Luis Obispo and up by Fresno, then we drive to our festival and we're down there for three days.
Sounds like an awesome place and a great excuse to drink to excess.
It's really cool — I think this is our eighth year, and absolutely a lot of partying. So that's where we're at right now and then it's all about getting the artwork ready for the record, and when that comes out in January, it's touring time and we'll be touring the world over.
All right, man, look forward to seeing you wonderful guys at Zoey's.
The band will play at 8 p.m. Monday at Zoey's, 185 E. Santa Clara St., Ventura. Admission is $20. Call 652-1137 or visit zoeyscafe.com. For more information about the annual "Campout 8" music festival featuring Camper Van Beethoven, Cracker and other acts, Thursday through Sept. 15 at Pappy & Harriet's Pioneertown Palace in Pioneertown, Yucca Valley, visit campervanbeethoven.com.
http://www.vcstar.com/news/2012/sep/05/indie-rock-stalwarts-camper-van-beethoven-will/
VC REPORTER (Ventura, CA daily) – Brief "Picks of the Week" preview with CVB photo
http://www.vcreporter.com/cms/story/detail/picks_of_the_week/10156/
VENTURA ROCKS (Ventura music blog) – Feature interview with Camper Van Beethoven's David Lowery to previe local CVB show with band photo and related links.
Interview – Camper Van Beethoven
Interview with David Lowery
8/27/12
Camper Van Beethoven (CVB) will be releasing their forthcoming studio album, La Costa Perdida on January 22, 2013.  This will mark the first studio album they've recorded together since 2004′s New Roman Times!
Ventura will be the first of three shows in preparation for PioneerTown Palace, the band's 8th annual end of summer camp out near Joshua Tree.
Ventura Rocks:  We caught both Cracker and Camper Van Beethoven last summer for Indie West Fest at the Fairgrounds.  It was extremely cool being able to see both bands on the same bill.  And now Camper is returning for an intimate show at Zoey's.
David Lowery:  Yea, We really enjoyed that.  There's a long history between Camper and Cracker stopping there in Ventura playing the Ventura Theater and even before in some weird places in some small bar off of downtown in the 80′s with Camper.  So a lot of history with the area.
Ventura Rocks:  You have a new album coming out.  Can you let Camper fans know what to expect along with trying to explain the vibe that is Camper Van Beethoven to those who are not familiar with the band?
David Lowery:    Well Camper Van Beethoven originally came out of the punk rock alternative scene.  We have a lot of sort of exotic sort of folky / hillbilly, old gypsy music sort of element to what we've always done.  I don't know how that all really came about.  We just kind of mixed those things together…the punk and early alternative sort of folky things.  And we've had an enduring following since the mid 80′s all over the world.
This album we have coming out, it's pretty much laid right up the middle of what Camper does.   It's a lot like our other records, but there is a sort of California scene to the whole record.  We're not sure how that came out, it's not a "California Girls" sort of record, but maybe a "Northern California Girls."
Ventura Rocks:  What can we expect at Zoey's?
David Lowery:  We'll be playing a half a dozen songs off the new album a dozen or so off all the other albums.  It will be a good mixed bag.  We haven't played in a few months.  We have our festival that happens that weekend out at Pioneertown out by Joshua Tree
Ventura Rocks:  Yea, it sounds amazing.  How many people do you get up there?
David Lowery:  It's not a really big place.  It only really holds about 700 people in the immediate area, so we sell 700 tickets, sometimes more people show up.
We've been doing it for eight years now. It's a lot of fun.   But we were thinking we needed to do some warm up shows before this.  Cracker has been playing all summer but Camper Van Beethoven hasn't been playing.  And so we wanted to do some warm up shows and we've had a long history of playing in Ventura so we thought we'd would play there.  Plus I don't know if people know this, but the crew that works for us are all actually from "The Nard" or Ventura.
Ventura Rocks:  (laughs) That's right!  The Nard.  So how much social media does Camper use?
David Lowery:  We use all that stuff.  You know it's not like Camper Van Beethoven is all over the Television or the Radio, so this is the way they find out about us.
http://venturarocks.com/blog/interview-camper-van-beethoven/
Camper Van Beethoven will be playing at Zoey's on Monday, September 10, 2012.  Visit Zoey's official website for more information and to GET YOUR TICKETS NOW.
http://venturarocks.com/blog/interview-camper-van-beethoven/
NOOZHAWK (Santa Barbara online A&E site) – Feature interview with Camper Van Beethoven's Victor to preview CVB's local Ventura show.
No Apologies from Camper Van Beethoven for '(Don't You Go to) Goleta'
By Jeff Moehlis, Noozhawk Contributing Writer
Eclectic alternative rock band will perform new songs and classics from their back catalog.
The eclectic alternative rock band Camper Van Beethoven released their first album, Telephone Free Landslide Victory, in 1985, which includes such classic songs as "The Day That Lassie Went to the Moon," "Where the Hell is Bill?," the Black Flag cover "Wasted" and "Take the Skinheads Bowling." They released four more acclaimed albums before burning out — the independently released II & III, the self-titled Camper Van Beethoven, and the major-label albums Our Beloved Revolutionary Sweetheart and Key Lime Pie.
The band re-formed at the end of the 1990s and has released several more albums, with a new one coming out in January 2013.
Camper Van Beethoven will be performing at Zoey's Cafe in Ventura at 8 p.m. next Monday, Sept. 10.
The following is from a phone interview with founding member and bass player Victor Krummenacher. Click here for the full interview.
Jeff Moehlis: I work at UC Santa Barbara, and I live in Goleta. With that in mind, do you want to apologize for the Camper Van Beethoven song "(Don't You Go to) Goleta"? [Lyrics include: "Baby don't you go, don't you go to Goleta."]
Victor Krummenacher: Do I want to apologize?
JM: Yeah!
VK: Actually, I did not write the lyrics to that song, so I can't really apologize for it. Maybe that's a chicken**** answer, I'm not really sure.
No, actually, I don't really care to apologize for that. You know, I went to [UC] Santa Cruz, so I'll maintain a rivalry. I think rivalry is healthy.
JM: Fair enough. Any chance that'll be on the setlist in Ventura?
VK: No, it's really been a long time since we played that. I think we're in a different phase these days. I don't know, I think we're just a little more serious than we were then. Not entirely. It's hard for us to be completely serious. But I think we're a little more serious.
JM: So, what can we look forward to at the show in Ventura?
VK: Well, we just finished our first record [to be called La Costa Perdida] in eight years, so you can look forward to some new songs. And you can look forward to us being a little loose, because I don't think we've actually played since February, so we'll be kind of getting our sea legs back on. I mean, I've been playing with Cracker off and on this summer, but we haven't done any Camper dates in a while. It'll be real rock 'n' roll. We're not afraid to fall down in front of people. I don't think we've ever been afraid of doing that.
JM: And how would you compare that record to the other albums you guys have done?
VK: This is an interesting record. First of all, it's just really maturely played, which may sound boring, but it's not actually. We play a lot more confidently and a little more reserved, a little more stately in how it's played and how it's articulated. It just kind of rolls off the fingers in a more adult fashion. But what we do musically is still unlike anybody else. There's a natural chemistry between us that I don't think resembles any other bands I can think of. It's just a weird group of people and such a weird group of influences.
And then above and beyond that, I think it touches on the strengths of the last three records of the first run, which is to say the record called Camper Van Beethoven and then the two Virgin records. Like the lead track, I think, in some ways is really reminiscent of many things we were doing in Our Beloved Revolutionary Sweetheart, but there are other things on there that are really reminiscent of Key Lime Pie, and then again there are other things that are reminiscent of the tape collage work we did back in 1986.
JM: Going way back, I'm quite fond of the first album you guys did, Telephone Free Landslide Victory.  o you have any reflections on that particular album?
VK: Rarely do I listen to my own stuff, but when I do listen to it — you know, I guess they say "lightning in a bottle" is the way to describe certain things that just kind of happen that are unexpected and spontaneous and very real. I think that record is a really good example of something that nobody anticipated being anything other than what it was. We were just making a record for a friend. We did it in four days — two days of recording and two days of mixing. It's 17 songs or something. It's basically about everything we were playing at the time. We just threw it in there, and had no clue that it would become this culty kind of thing that people like R.E.M. would be interested in, and basically it secured us a place.
You know, Camper was a joke band. Camper was the band that played at parties. We all had serious bands that we were trying to play with at the time. I think we were serious about making the record, we thought we were a pretty cool, interesting, weird garage band. But I don't think we thought it would be what it was. Which is good — there were no expectations going into it. I think that's when the best stuff is made, when you just don't have an expectation. Expectation is really kind of the enemy of rock 'n' roll. Once you get too thinky about things it's just not good.
JM: Could you comment on why Camper Van Beethoven broke up at the end of the '80s, and what brought you guys back together?
VK: You know, we broke up because we couldn't get along, and we got back together because we could get along.
http://www.noozhawk.com/noozhawk/print/090312_jeff_moehlis_camper_van_beethoven/
CBS 2 TV (San Luis Obispo, CA CBS TV affiliate)– Onsite interview with Camper Van Beethoven's David Lowery & Victor Krumenacher with live CVB footage to air Sep 12 (also posted on youtube Fri Sep 14). Watch it online here:
http://www.youtube.com/watch?v=stoM9cksZGg
FRESNO BEE HIVE (online A&E site) – Positive show preview with CVB photo.
Tonight: Camper Van Beethoven
By Mike Oz
Today, indie rock is pretty trendy and hip and, let's face it, a tad bit mainstream. In 1985, that wasn't the case. Back then a band like Camper Van Beethoven was a college rock favorite when it released "Take the Skinheads Bowling."
These days, Camper Van Beethoven are considered indie rock pioneers. Alt-rock fans, also, have an attachment to the band because singer David Lowery went to form Cracker and guitarist David Immerglück eventually became a Counting Crow.
If you go back and listen to "Take the Skinheads Bowling," it holds up nicely despite creeping up on 30 years old. See how it sounds live tonight at Fulton 55. Tickets cost $15-$18.
http://fresnobeehive.com/2012/09/tonight_camper.html
FRESNO BEE (weekly) – Show preview with CVB photo.
Camper Van Beethoven to play Fulton 55 Wednesday
9 p.m. Wednesday, Sept. 12 / Fulton 55, 875 Divisadero St. / Cost: $15 in advance and $18 at the door; 21-plus show / (559) 412-7400, campervanbeethoven.com
Indie-rock pioneers Camper Van Beethoven will preview material from a new album, La Costa Perdida, scheduled for release on Jan. 22. This is first studio album since 2004's New Roman Times.
The band was popular in the late '80s and early '90s with songs such as "Take the Skinheads Bowling" and "All Her Favorite Fruits."
They perform music that is a mixture of pop, ska, punk, folk and more.
http://www.fresnobee.com/2012/09/05/2979419/camper-van-beethoven-to-play-fulton.html
CAMPOUT 8 PRESS:
MY DESERT  / THE DESERT SUN (daily) – Feature interview with Cracker's Johnny Hickman to preview Campout with band photo and related links.
Make camp in Pioneertown
Written by Judith Salkin / The Desert Sun
The Cracker/Camper Van Beethoven Campout at Pappy and Harriet's started out as a joint birthday celebration for singer David Lowery and guitarist Johnny Hickman. Now in its eighth year, the event has grown into an alternative music festival that's not just for fans of the namesake bands.
This year's event — The Ocho — rolls out Thursday and continues through Sept. 15 at the high desert saloon.
Pappy and Harriet's is a familiar venue for Cracker founders Lowery and Hickman. The band recorded its gold-selling 1993 album, "Kerosene Hat," on the sound stage next door.
"We wanted to get away from the L.A. recording studio sound and the possibility of studio executive dropping in, and decided to make the disc someplace we were comfortable," Hickman said in a recent interview. "And since we like to come and go at all hours and we can get a little loud, we made a deal with all the neighbors that we'd knock off by 10 p.m. every night. It was a great experience. When we decided to do the first Campout, we wanted to do it here."
Hickman spends most of his year touring, but Lowery, who has started several music-related businesses including a record label and publishing company, is now a lecturer at the University of Georgia's music business program, teaching courses in music piracy and copyright law.
"David has a degree in mathematics," Hickman explained. "He he can talk for hours on intellectual property law. He's fighting to get musicians their rights."
Along with sets by Cracker, Lowery's Camper Van Beethoven and various off-shoots, several supporting acts are set to perform, including Joshua Tree's Gram Rabbit and Foo Fighters guitarist Chris Shiflett.
But the real highlight of the Campout is Hickman's after-hours Porchstock jam sessions. "There are a couple of fans who cook and others who bring instruments," he said.
"It's nothing formal, and you never know who'll turn up, musicians from the other bands on the bill and locals. It's a nice laid-back way to experience the music."
If you go
Cracker and Camper Van Beethoven 8th Annual Campout
When: 8 p.m. Thursday; 4 to 11 p.m. Friday-Saturday
Where: Pappy and Harriet's Pioneertown Palace, 536 Pioneertown Road, Pioneertown
Tickets: Three-day pass $63; one-day pass $27; under 12 free
Information: (760) 365-5956; crackersoul.com; pappyandharriets.com
HURSDAY
Palace stage:
The Dangers, 8 p.m. Inland Empire roots rock band whose members went on to found Cracker, Hickman-Dalton Band and the BellRays.
Cracker Duo with David Lowery and Johnny Hickman, 9 p.m. Founding Cracker members open their weekend celebration with a classic Cracker set.
FRIDAY
Main stage:
Gram Rabbit, 8 p.m. Jesika von Rabbit and Todd Rutherford call their music "Desert Space Rocktronica," blending elements of country rock, jazz, electronica and psychedelia.
Camper Van Beethoven, 9 to 11 p.m. Singer-songwriter Lowery leads this Inland Empire-bred band whose music blended ska-punk-world-and-folk.
Palace stage:
Niantic, 7:30 p.m. The first of two Camper/Cracker-inspired bands to play this year's Campout.
Lightning Starts Fire, 8:30 p.m.
The second band, fronted by Indio Romero, influenced by Cracker and Camper.
Johnny Hickman, 11:30 p.m. A roots/country/alt-rock genius, this year he's brought two of his side projects along.
Victor Krummenacher, 12:30 a.m.
A founding member of Camper Van Beethoven, Krummenacher has branched out into solo work and founding the CVB spin-off, Monks of Doom.
These days he splits his time as a musician, founding the Magnetic indie label and working as an art director for the San Francisco Bay Guardian and Wired magazine.
SATURDAY
Band meet and greet, 5 to 6 p.m. Poster signings.
Main stage:
Chris Shiflett and the Dead Peasants, 8 p.m.
The Foo Fighters guitarist leads this band of Americana rockers.
Instead of big guitar sounds, we get Shiflett softer side with his Martin acoustic guitar.
Cracker, 9 to 11 p.m. The band that started it all, Cracker has been called the ultimate college band.
Palace stage:
The Piggies, 7 p.m. Hickman's opening/back-up band.
The Calamity, 11:30 p.m.
By their own admission, they're a rock/pop/alt-country band from Ventura County.
Jonathan Segel, 12:30 a.m. A multi-instrumentalist who plays guitar, violin, electric bass and also sings.
http://www.mydesert.com/article/20120909/LIFESTYLES0101/309090001/Make-camp-Pioneertown?nclick_check=1
INLAND EMPIRE WEEKLY  (Inland Empire, CA online music site) – Campout 8 feature with David Lowery interview, band photos and related link.
California Born and Raised
By Jasen T. Davis
For local artist David Lowery a show in the desert is like coming home
David Lowery is a successful performer who is very familiar with the business of making music and the fame and fortune that goes along with it. As lead vocalist and guitarist for Camper Van Beethoven back in late '80s/early '90s, Lowery had already seen phenomenal success with the bittersweet single, "Pictures of Matchstick Men."
After Camper Van Beethoven took a break Lowery and Johnny Hickman, lead guitarist, created the band Cracker. The hit single "Low" cemented the group as an independent act in its own right. Lowery grew up in Redlands and met the members of both bands while living in the Inland Empire, so performing at Pappy and Harriet's on Sept. 15 will be like coming home for him.
"Camper was kind of alternative and folksy, while Cracker was rock with some country elements," Lowery says. Camper Van Beethoven has its own influences, but Cracker has others. "The '60s hippy rock band Kaleidoscope is a big influence on Camper Van Beethoven, along with UK's The Fall and Nick Cave. With our next album we really plan to just carry on where we left off. Camper is more timeless, I'd say."
Cracker is alternative rock with an Inland Empire twist. "A lot of the IE resonates throughout our entire catalog. We really are influenced by that part of Southern California, where we grew up." Lowery is part of a proud tradition of music in the Inland Empire, which includes performers like Frank Zappa. "Zappa was here in the '70s. A lot of surf bands also came from around San Bernardino County. The Rolling Stones even played one of their first U.S. gigs out here."
Lowery always enjoys playing with Cracker, but he's looking forward to touring with Camper Van Beethoven for its new album, set for a January 2013 release. "One of our songs is based on the Mexican drug lord ballads sung by artists like Chilean Sanchez, who was nearly assassinated onstage in Coachella." This Latin flavor demonstrates the myriad roots Lowery has out in California.
"There's a nice little ballad on the new Camper Van Beethoven album that starts out a little ska, south of the border, but it turns into a murder story," Lower says. "It starts out all sweet and then you realize that the song's hero is basically a homicidal maniac. It's like the outlaw drug smuggler stories from Mexico."
"I write lyrics after I've written the music, but a lot of times I like to contrast the lyrics with the music. It's more interesting to play a happy song with weird, f@*#ed up lyrics." This approach is part of why his past hits have had the impact they've had.
Lowery's own 2011 solo album, The Palace Guards, was a critical success, but Camper Van Beethoven is where he's glad to be. "I was happy with it, but I didn't tour for that record." He enjoyed the time off from touring, but ended up focusing on Camper even more from the experience.
"I spent a week after playing with The Palace Guards making music for Camper Van Beethoven," Lowery says. "The solo album really helped me focus on another angle when it came to song writing." As much as he enjoys touring with Cracker, Lowery admits that the band needs new songs. "I'm going to write a lot more songs for Cracker after the new album." All the more reason to look forward to this year's camp out and next year's Camper Van Beethoven LP.
Cracker and Camper Van Beethoven 7th Annual Campout at Pappy & Harriet's Pioneertown Palace, 53688 Pioneertown Rd., Pioneertown, (760) 365-5956; www.pappyandharriets.com. Sat, Sept. 15-Sun, Sept. 16. 1-day pass $25, 3-day pass $60. 12 and under free.
http://ieweekly.com/2012/09/music-2/music/california-born-and-raised/
JAMBANDS (online music site) – Campout 8 news with band photos and related link.
Cracker And Camper Van Beethoven To Host Eighth Annual Campout Fest
Alt-rock groups Cracker and Camper Van Beethoven are set to host the eighth annual Campout Music Festival.
The festival will run September 13, 14 and 15 in the High Desert of Southern California's Pioneertown Palace. The festival features sets from both bands throughout the weekend as well as solo sets from the members of each band. Other acts scheduled to perform at the festival include Christ Shiflet & the Dead Peasants, Gram Rabbit, Calamity, The Dangers, Lightning Starts Fire, The Piggies and Niantic.
For more information and ticket sales, check out the bands' online storefront.
http://www.jambands.com/news/2012/08/23/cracker-and-camper-van-beethoven-to-host-eighth-annual-campout-fest
THE PRESS ENTERPRISE (Riverside, CA daily) – Campout 8 news with CVB photo and related links.
PIONEERTOWN: Cracker/Camper Van Beethoven Campout returns for eighth year
For eight years, two of college rock and alternative music's most seminal artists have thrown a big party in the desert for fans.
The Cracker/Camper Van Beethoven Campout returns to Pappy and Harriet's Pioneertown Palace in Pioneertown Thursday, Sept. 13 through Saturday, Sept. 15. Since it's the eighth edition, it's being dubbed "The Ocho," which makes me think of the movie "Dodgeball" and Jason Bateman's role as ESPN 8 "The Ocho" announcer Pepper Brooks.
Both headlining bands have plenty of Inland history. David Lowery, frontman for both, is originally from Redlands, as is Cracker guitarist Johnny Hickman. Camper Van Beethoven's Victor Krummenacher hails from Riverside.
The Campout started as a birthday celebration for Lowery and Hickman and turned into a party with Cracker/Camper side projects, Inland bands, other notable artists and fans.
This year's lineup also includes the Foo Fighters' Chris Shiflett and his band the Dead Peasants, Joshua Tree eclectics Gram Rabbit (who recently got a national boost with music played during the Olympics), Calamity, Inland power pop geniuses The Dangers, Lightning Starts Fire, The Piggies and Niantic.
As always, Cracker and Camper Van Beethoven will be doing full band performances. Camper is even expected to play some music from its upcoming studio album.
Plus, individual members will be playing in various acts over the weekend, including Jonathan Segel, Krummenacher, a Lowery/Hickman semi-acoustic Cracker duo set, plus a solo set from Hickman, who released gem "Tilting" earlier this summer.
A three-day pass is $60 and a one-day pass is $25. You can get them at http://www.pitchatent.com/store.html . The event is all-ages. Kids 12 and younger get in for free.
Here's the day-by-day lineup:
THURSDAY, SEPT. 13
INDOOR:
Cracker duo (David Lowery & Johnny Hickman)
The Dangers
FRIDAY, SEPT. 14
OUTDOOR:
Camper Van Beethoven
Gram Rabbit
INDOOR:
Johnny Hickman (full-band)
Lightning Starts Fire
Niantic
SATURDAY, SEPT. 15
OUTDOOR:
Cracker
Chris Shiflett & The Dead Peasants (Foo Fighters' lead guitarist)
INDOOR:
Calamity
Jonathan Segel
Victor Krummenacher
The Piggies
http://blog.pe.com/audio-file/2012/08/24/pioneertown-crackercamper-van-beethoven-campout-returns-for-eighth-year/
MELODIC (online music site) – Campout 8 news with Cracker photo and related links.
http://www.melodic.net/?page=news&id=20721
INNOCENT WORDS (online music site) – Campout 8 news with Cracker &CVB  photos and related links.
http://www.innocentwords.com/tabId/807/itemId/4519/Cracker-and-Camper-Van-Beethoven-To-Host-Campout-8.aspx
PLUG IN MUSIC (online music site) – Campout 8 news with Cracker & CVB  photos and related links.
http://www.pluginmusic.com/news/article/cracker-camper-van-beethoven-to-host-8th-annual-campout-music-fest
ANTIMUSIC (online music site) – Campout 8 news with related links.
http://www.antimusic.com/news/12/August/22Cracker_and_Camper_Van_Beethoven_Campout_Music_Festival_Details.shtml