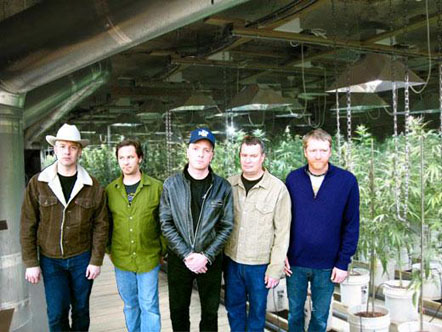 Cracker & Camper Van Beethoven will be making their annual year-end California trek for a handful of shows (Solana Beach, San Fran and Petaluma), before Cracker heads further north to Portland on December 30th for a special one-off with bluegrass jam band Leftover Salmon, where the two bands will perform their highly-lauded 2003 album O Cracker, Where Art Thou? together in its entirety.
The following night Cracker & CVB will be in Chicago for a celebratory New Year's Eve bash at Chicago's House Of Blues. Camper Van Beethoven will open, followed by Cracker ringing in the new year, and then Big Head Todd & The Monsters playing into the wee hours.
Then Camper Van Beethoven will start off the year with their own headlining shows in Milwaukee, Madison and Iowa City, before hooking up with Cracker again for shows in St. Louis and Minneapolis. The two bands will then head east for their annual winter run through the Northeast. As David Lowery (frontman for both bands) told the Boston Herald earlier this year, "We always do it in January when it's really cold and not many bands go up to the Northeast. It started from the fact that it was the only time that was slow for the Camper Van Beethoven guys who have real careers. Then we accidentally figured out nobody else is touring, so it's seen as this mid-winter cabin-fever kind of party."
Both Cracker and CVB will be running through their career-spanning canons of hits and fan favorites, while, perhaps even more exciting, Camper Van Beethoven will be performing a handful of new songs slated for their new studio album – their first in over seven years!
CAMPER VAN BEETHOVEN & CRACKER'S WINTER 2011-12 TOUR
Tue. Dec. 27 Belly Up Tavern, Solana Beach, CA – CRACKER / CVB
Wed. Dec. 28 The Independent, San Francisco, CA  (CRACKER / CVB)
Thu. Dec. 29 Mystic Theatre, Petaluma, CA (CRACKER / CVB)
Fri. Dec. 30 The Roseland Theater,  Portland, OR (CRACKER & LEFTOVER SALMON perform O Cracker Where Art Thou? album)
Sat. Dec. 31 House Of Blues, Chicago, IL (NYE SHOW! CVB 8pm / CRACKER 10pm / Big Head Todd & The Monsters 12:30am)
Tue. Jan. 3 Shank Hall. Milwaukee, WI (CVB ONLY)
Wed. Jan. 4 High Noon Saloon, Madison, WI (CVB ONLY)
Thu. Jan. 5 The Mill, Iowa City, IA (CVB ONLY)
Fri. Jan. 6 The Pageant, St Louis, MO (CRACKER / CVB)
Sat. Jan. 7 TBA, Minneapolis, MN (CRACKER / CVB)
Fri. Jan. 13 World Cafe Live, Philadelphia, PA (CRACKER / CVB)
Sat Jan. 14  Highline Ballroom, New York, NY (CRACKER / CVB)
Sun. Jan. 15 Middle East Downstairs, Cambridge, MA (CRACKER / CVB)
FOR MORE INFO ON CRACKER:
http://crackersoul.com
FOR MORE INFO ON CAMPER VAN BEETHOVEN:
http://campervanbeethoven.com
FOR MORE INFO ON DAVID LOWERY'S 300 SONGS BLOG:
http://300songs.com
FOR MEDIA & INTERVIEW REQUESTS:
Tony Bonyata
Pavement PR
e: bonyata@wi.rr.com
http://pavementpr.wpengine.com