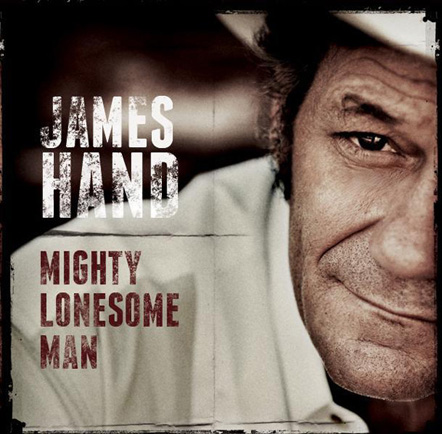 "Folks, like I said before and it's STILL true, James Hand is the real deal!" – Willie Nelson
Texas music legend, James "Slim" Hand's Mighty Lonesome Man contains timeless music that will please the yearning ear of today, while transporting you back to the days of hayrides, drive-in movies and huddling around the radio listening to the Grand Ole Opry. Said to be one of the best kept secrets in Country music, James Hand is one of the most authentic singer/songwriters heralded by his peers of today, with a gift for prose that transcends time. Returning with another fistful of enduring heart breakers, as well as a couple of fun ditties for sipping and dancing, while backed by an all-star cast of Texas musicians like Grammy award winner Cindy Cashdollar, Bobby Flores, Alvin Crow, Speedy Sparks (of Doug Sahm's Texas Tornadoes) & Earle Poole Ball (Johnny Cash, Gram Parsons, Merle Haggard & others), just to name a few…. this James Hand album is sure to please.

Born in Waco, TX, rodeos and country music surrounded James from an early age, and quickly became part of his daily life. The classic strains of Lefty Frizzell and Hank Williams made their mark on him, but a more substantial influence on his performing and songwriting has been life itself. Though he's been making powerful original Country music for over forty years, until recently James Hand had unjustly remained one of American music's secret treasures – a local legend in Texas. What he does, he does straight from his heart, taking the hard-won lessons that life and love have taught him and pouring them into his songwriting and performing. James Hand sings like nobody but himself, his phrasing drawing out the pain and humor of his lyrics with an unpredictable yet soulful series of tiny inflections. His songs are equally mysterious and unclassifiable. While they are noticeably rich with the influences of his heroes — classic country architects like Hank, Lefty, and Ernest — Hand's songs are uniquely his, imbued with equal parts gallows humor and the ability to stare unflinchingly into life's darkest corners.
James Hand's Mighty Lonesome Man will be available tomorrow (Oct. 16th) digitally, on CD and vinyl record – with the CD offering up two bonus tracks, including a cover of Johnny Cash's "Get Rhythm."
Mighty Lonesome Man Tracklist:
1. Mighty Lonesome Man
2. Years I've Been Loving You
3. Lesson in Depression
4. Please Me When You Can
5. The Drought
6. Old Man Henry
7. Now Not Later
8. My Witness
9. Wish You Would Kiss Me
10. You Almost Fell
11. Favorite Fool
12. You Were With Me Then
Bonus Tracks: (available on CD only)
13. Get Rhythm
14. You're An Angel
"I loved Hank Williams from the first time I heard him sing 'Lovesick Blues' on the Grand Ole Opry. For the same reason I love Lefty Frizzell and Merle Haggard, George Jones. You believe them. James Hand's singing makes me feel the same way. You believe him." – Kris Kristofferson
"This man is Country to the bone. Every step he takes carries heartache, hardcore livin' and a bit of the mystery similar to that which clouds around the legacy of Hank Williams. No one is more Country than James Hand.  And when he says he's a "mighty lonesome man,"  you believe him.  In his voice you can hear shades of Hank Williams, Lefty Frizell, Ray Price and Ernest Tubb all woven together to create one of the most incredibly gifted voices making Country music in this day and age. This album is a true treasure." – Outlaw Magazine
"You probably won't hear James on your country music station these days, but if you're one of the folks out there who loves true, honest, down-to-earth country music songs, based on hard life lessons and affairs of the heart, then James Hand is your man." – Ray Benson "James Hand music uses no smoke or mirrors. There is definitely no glossing over of any aspect of this CD… James writes lyrics that haven't been written before and I suspect that he's lived every word in these songs." – Lloyd Maines
"In over 30 years of playing country music, I have never, absolutely never seen anyone as unique as James Hand. There is no one like this artist – complex, yet simple. Simply, James Hand is country music, and he has no equivalent." – Bob Cole / Country Music Hall Of Fame '03
JAMES HAND TOUR DATES
10/20 Austin Moose Lodge – Austin, TX Mighty Lonesome Man CD Release Show
10/25 Waterloo Records in-store – Austin, TX
10/27 Cadillac Bar – Marble Falls, TX
11/24 Cadillac Bar – Marble Falls, TX
12/29 Cadillac Bar – Marble Falls, TX
[more dates to be announced soon]