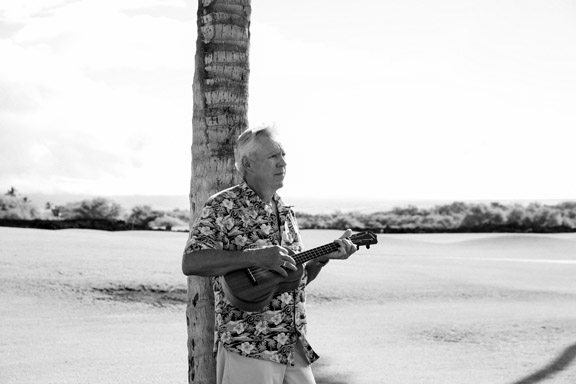 CLICK HERE TO LISTEN TO THE STREAMING PREMIERE OF JAMES WILLIAMSON (IGGY & THE STOOGES) & THE BELLRAY'S LISA KEKAULA'S NEW CHILDREN'S SINGLE "I LOVE MY TUTU" VIA CONSEQUENCE OF SOUND!
The Stooges guitarist and Bellrays vocalist embrace the island vibe on children's benefit single
BY COLLIN BRENNAN
Photo by Pacific Dream Photography
James Williamson isn't the first name that crops up when you think of children's music. The Stooges guitarist is best known for penning the riffs that fuel proto-punk classics like "Search and Destroy" and "Raw Power", which is why his latest project comes as a strange and welcome surprise. Williamson has teamed up with The Bellrays' vocalist Lisa Kekaula for a new children's benefit single entitled "I Love My Tutu". Sound a bit soft for a hard-edged Detroit rocker? Well, it sure is — the song combines traditional Hawaiian music with a breezy dose of reggae, and it features Williamson not on his signature axe, but on the ukulele.
For those who didn't grow up on the islands, "tutu" is a Hawaiian word for "grandmother," and Williamson actually wrote the song while playing ukulele for his own granddaughter. "My family and I spend a fair amount of time on the Big Island of Hawaii and have a firsthand understanding of the deep relationship that children have with their tutus in Hawaii," he says. "I wanted to have Lisa Kekaula sing it — not only because she is a fabulous talent, but also because she is part Hawaiian herself." In fact, Kekaula's own niece and nephew contributed backing vocals to the track, making this one a true family affair. Now listen up, punk rockers: There ain't nothing wrong with that.
The single's B-side, "Never Far From Where The Wild Things Are", is a track Williamson wrote with his son about the classic children's book Where The Wild Things Are. "It's another fun track that should appeal to people of all ages," says Williamson. "Just like the book which inspired it."
James Williamson and Lisa Kekaula's "I Love My Tutu" / "Never Far From Where The Wild Things Are" single will be available June 17th digitally through iTunes here and on 7-inch vinyl on August 12th through Amazon and finer record stores. Proceeds from this record will benefit Project Hawai'i, which helps homeless children in Hawaii. For more info on Project Hawai'i go to: http://www.helpthehomelesskeiki.org
http://consequenceofsound.net/2016/05/the-stooges-james-williamson-and-the-bellrays-lisa-kekaula-team-up-on-breezy-i-love-my-tutu-listen/