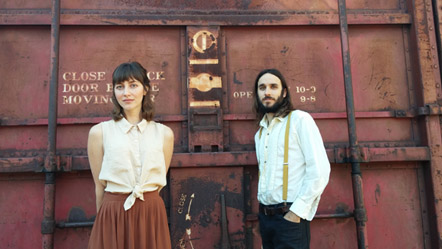 CLICK HERE TO LISTEN TO THE PREMIERE OF TRIUMPH OF THE WILD'S NEW SINGLE "CALIFORNIA TO THE CROSSROADS" VIA CMT EDGE!
TRIUMPH OF THE WILD TO RELEASE THEIR SOPHOMORE ALBUM "WE COME WITH THE DUST" APRIL 14TH!
Fueled by a five month trip with stops in Louisiana, Mississippi, Texas, and Tennessee, Triumph of the Wild found inspiration by immersing themselves in American musical history and culture, connecting with local talent, and honing their performances at every opportunity.  Their return to San Diego was marked by festivals, shows, television appearances and two San Diego Music Award nominations culminating with a win for Best Local Recording. Closing the year, Triumph of the Wild finished writing a new record entitled We Come With The Dust which the duo was able to fully fund with a successful Kickstarter campaign by the support of their fans.
Triumph of the Wild's backbone is firmly grounded as a one woman and one man band, highlighting the twin harmonies of Christy Barrett and Ryan Schilling. Both cite influences ranging from Woody Guthrie and Janis Joplin, with an occasional nod to Dylan or Lennon/McCartney. The duo manage to produce an impressively rich and full sound: Ryan mans the kick, harp, guitar and back-up vocals while Christy handles percussion, the kazoo and lead vocals that the San Diego Troubadour claims is a "powerhouse voice that goes from whiskey soaked wail to honey tones in a note."
Triumph of the Wild's forthcoming sophomore studio album We Come With The Dust will be available on CD and digital formats April 14th. National tour dates to be announced soon!
WE COME WITH THE DUST TRACK LISTING:
01 California To The Crossroads
02 Tombstone
03 Brown Dog Blues
04 Say It to Me
05 Marching Drum
06 No One At The Wheel
07 Killing Season
08 One is the Number
09 Sleep
10 A Hobo Knows
"With its bluesy melody and sunny rock 'n' roll guitar, standout track 'California to the Crossroads' really is a combination of sounds from the Golden State and the Deep South. But add in singer Christy Barrett's seismic vocals, and it becomes something all its own." – CMT EDGE
"On lead vocals, Christy Barrett commands the audience with her Janis Joplin-esque range, and a tone capable of sending chills down your spine, while Ryan Schilling's supportive harmonies and minimalistic acoustic guitar/harmonic combo brings about the perfect balance to their sound. Every once in a while, you get lucky enough to stumble across a band that emanates so much inspiration from their performance that it can flat out restore your faith in humanity." – THE CATALYST
FOR MORE INFO ON TRIUMPH OF THE WILD:
http://www.triumphofthewild.com
FOR MEDIA & INTERVIEW REQUESTS:
Tony Bonyata /Pavement PR
e: tony[AT]pavementpr.com