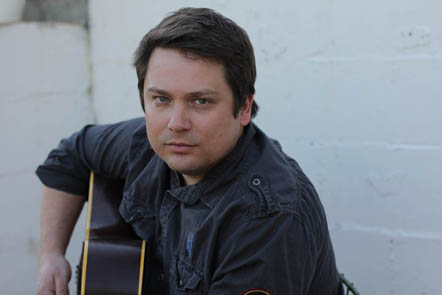 CMT EDGE: Sean Watkins Welcomes "Since the Day That I Was Born"
BY Chris Parton
Nickel Creek made a triumphant return this year with their expertly-crafted album A Dotted Line, but when the acoustic trio went on hiatus in 2007, guitarist, vocalist and songwriter Sean Watkins didn't stop making music. Not even close.
Watkins formed not one, but two new groups — the duo Fiction Family and an eight-member supergroup called Works Progress Administration. He also made a solo album, did countless sessions for other artists and even toured as a guitarist for Jackson Browne and Lyle Lovett.
But he still had songs that needed a home. They find one on All I Do Is Lie, Watkins' fourth solo album arriving July 1.
"The Nickel Creek record started coming together after I'd mostly completed my record," the busy singer-songwriter explained to CMT Edge via email. "The recording process of it actually dovetailed a little bit. '21st of May' was originally on my record (just me solo) which had been mixed but not mastered. Sara [Watkins] and Chris [Thile] really liked it and asked if I'd be into the idea of doing it on the Nickel Creek record instead.
"I thought it was a great idea and agreed, but I then needed a song to replace it, so I wrote the song 'All I Do Is Lie' and subsequently named my album after it."
With "Since the Day That I Was Born," Watkins starts his album off with the youthful energy and adolescent charm that first endeared Nickel Creek to fans back in 1989 — when he was 12.
"'Since the Day That I Was Born' was the first song I recorded for the record," said Watkins. "I wanted it to set the tone. I knew I wanted it to be the first track as soon as I recorded it. It just seemed to say hello in a nice way. … I wanted to say 'Hello friends, it's been a while, but here's what I've been up to and where I'm at. Hope you like it.'"
Watkins strums a gentle melody to the thoughts of a young boy with a neighborhood crush. At least, that's what he wants us to think.
"It is a sweet-sounding song, but it is about fear," he revealed. "I like mixing up the feeling or general message of a song with something much different sonically. Sometimes it's fun to frame a sad song in a happy sound. And vice versa."
Watkins will tour with Nickel Creek throughout the summer. Then he'll hit the road in October in support of All I Do Is Lie.
Enjoy the CMT Edge premiere of "Since the Day That I Was Born."
http://www.cmtedge.com/2014/06/12/sean-watkins-welcomes-since-the-day-that-i-was-born/