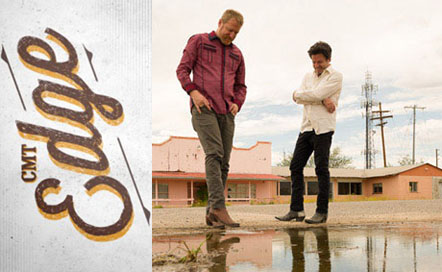 CLICK HERE TO HEAR CRACKER'S NEW TRACK "CALIFORNIA COUNTRY BOY" VIA CMT EDGE!
Cracker's "California Country Boy" Takes the Rural Route
By Chris Parton
You might only know the alternative rock band Cracker from "Low" (the "hey, hey, hey, like being stoned" song). But founders David Lowery and Johnny Hickman have had an affinity for country music since the beginning.
On Berkeley to Bakersfield, a double album to be released Dec. 9, the band split their core influences in two. The Berkeley disc shows off their Bay Area garage-rock side, while Bakersfield represents the band's "California country" roots.
According to Lowery, it all goes back to his and Hickman's childhood years. They were both raised in the state's inland valleys away from the densely-populated coast.
"When most people think of California, they think of the beaches, San Francisco or Hollywood," Lowery says. "But I grew up in an area far to the east and inland. It's now mostly your typical suburb, but when I was in high school, it was mostly ranches and orchards. We had a 'cowboy' clique at our high school along with the typical geeks, stoners and jocks."
"California Country Boy" from the Bakersfield disc lays the story out plain, and it's a twangy, chip-on-your-shoulder anthem that flips the bird to anybody doubting their rural cred.
Lowery wrote the song and Hickman takes lead vocal duties, plowing some extra swagger into the tune.
"You get an hour from the coast in California, and you might as well be in Oklahoma," Lowery says. "We listened to a lot of country music growing up. When the punk rock explosion hit Southern California, it also injected a tremendous energy into Southern California's country scene. This, of course, culminated with Dwight Yoakam's Guitars, Cadillacs, Etc., Etc.
"This era of country music deeply influenced Cracker," he continues. "I remember when we turned in our first album to our record label. One of the label guys asked us something like, 'Do you really want to release a country rock/roots rock record in 1992?' Yes. And our first L.A. appearance was in North Hollywood at the Palomino Club. This song is a tip of the ol' cowboy hat to the music of rural California."
Backed by a slippery steel guitar and a cranked-up Telecaster, fans of the Bakersfield sound will most likely approve. Check out the CMT Edge premiere of Cracker's "California Country Boy."
http://www.cmtedge.com/2014/11/11/crackers-california-country-boy-takes-the-rural-route/