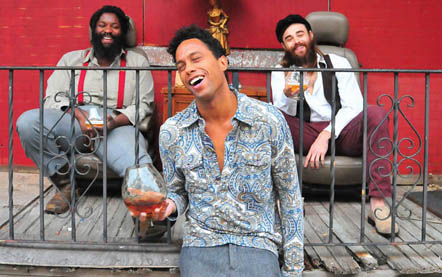 JOHN THE CONQUEROR'S SOPHOMORE ALBUM "THE GOOD LIFE" OUT FEB. 25TH ON CD, LTD. VINYL & MP3 THROUGH ALIVE NATURALSOUND RECORDS!
CLICK HERE TO LISTEN TO THE PREMIERE OF JTC'S "THE GOOD LIFE" VIA CMJ!
"I'm a blues man; all I got are stories," admits John The Conqueror's singer-songwriter Pierre Moore. And not unlike many blues greats before him, the stories that fill out the Philly-based trio's second full-length studio effort, The Good Life, are based on Moore's own personal experiences that span from his Mississippi youth to his current life – much of it spent on the road.
"When I started this album," Moore said, "I completely devoted myself to becoming a better writer." And after witnessing these 11 impassioned, often explosive tracks, Moore's decision to focus on his art paid off with well-crafted songs of truth, clarity and power. All of the compositions were penned by Moore except for their swaggering take on Randy Newman's "Let's Burn Down The Cornfield." Building on the soulful blues-rock foundation of their acclaimed 2012 self-titled debut, The Good Life moves forward with both Moore's own life experiences turned to song, and the tight-but-loose rhythms of drummer Michael Gardner & bassist Ryan Lynn as well as Moore's own snaky, sinewy guitar leads.
While John The Conqueror follows the path laid down for decades by like-minded bluesmen who 'told it like it was,' on The Good Life Moore and co. have also updated the blues idiom for a new generation – melding hard truths with hard-ass blues-rock.
John The Conqueror's The Good Life will be available on CD, digital formats and limited edition vinyl on February 25th through Alive Naturalsound Records.
"California record label Alive Naturalsound has catered to fans of garage-blues for 20 years—the Black Keys released their first album on Alive in 2002—and John the Conqueror fits right in. The Philadelphia-via-Mississippi trio digs into a taut groove on "What Am I Gonna Do," a track from their new album The Good Life." – Eric Danton / WALL STREET JOURNAL: SPEAKEASY
"John the Conqueror's raw, bluesy old-school soul track 'Time To Go' is just one of many gems on the Philadelphia trio's self-titled debut album." – USA TODAY
"Sounds like the work of a supergroup power trio made up of three vets who just wanted to get together and lay it down, making gutsy, raw, bluesy music for the sheer joy of it. The fact that this is the first time in a studio for the members of this band is mind-blowing." –  JAMBANDS/RELIX
FOR MORE INFO ON JOHN THE CONQUEROR:
http://www.johntheconqueror.com
FOR MORE INFO ON ALIVE RECORDS:
http://www.alive-totalenergy.com
FOR MEDIA AND INTERVIEW REQUESTS:
Tony Bonyata
Pavement PR
p: 262.903.7775
e: tony@pavementpr.com
https://pavementpr.com