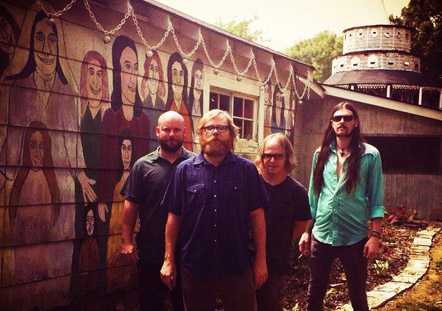 CLICK HERE TO LISTEN TO THE PREMIERE OF BOHANNONS' NEW TITLE-TRACK "BLACK CROSS. BLACK SHIELD" VIA CMJ MAGAZINE!
Track Premiere: Bohannons – "Black Cross. Black Shield"
Black Cross. Black Shield out March 31
By Eric Davidson
This Chattanooga, TN-based band is so down home rootsy American that their label is called This Is American Music. And that label will be releasing the Bohannons' new album, Black Cross. Black Shield, on March 31. But as this titular track premiere stomps out with thick Dixie riffs and moonshine barrel drums, notice there's a British Sabbath slab of beef in its guts too, mainly via singer Marty Bohannon's snide snarl. The lyrics here refer to the sudden loss of health insurance amongst the band's townsfolk, in a town dominated by the insurance industry. As Marty tells it:
The fear of getting sick is a real fear for everyone but no one more than the uninsured. This is a reminder of how it felt to watch your family take on mounting debt over illness in the pre-Obama world. Chattanooga is a big corporate insurance town. Most of our parents or friends parents worked for one of these big companies, a lot of our classmates ended at these same jobs. My greatest fear is ending up working at one of these places. Insurance ain't worth a damn til you need it. Insurance has done good for a lot of people but I can't help but think of the higher-ups as calculating and cold profiteers. You pay for insurance and pray you don't have to use it, meanwhile their kids go to private schools. I was going to start an insurance company where it was guaranteed a majority percentage of what was paid would actually go towards healthcare, if not yours then someone else's. By the way, I am not communist and love the free market system.
So we're not just talking trucks and shots of whiskey here. On the album, they can get faster and looser in turns. And the recording doesn't get bogged down in any spoilsome tricks, so it feels fresh enough. But overall, yup, this is your morning cup of fringe 'n' long locks rock. Check the tune below.
http://www.cmj.com/news/track-premiere-bohannons-black-cross-black-shield/