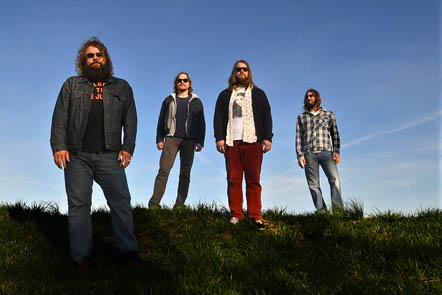 CLICK HERE TO LISTEN TO THE WORLD PREMIERE OF BUFFALO KILLERS' NEW ALBUM "HEAVY REVERIE" VIA CLASSIC ROCK MAGAZINE!
Buffalo Killers deliver hook-heavy, homegrown rock 'n' roll. Led by songwriting brothers Zachary and Andrew Gabbard, the band has drawn the attention of the likes of Chris Robinson, who invited them to open a string of dates for The Black Crowes, as well as Dan Auerbach, who produced their sophomore effort Let It Ride.
 Hot on the tail of a prolific three years of releases – the critically acclaimed 3 (2011), Dig. Sow. Love. Grow. (2012) and Ohio Grass (2013) – the band has just completed their fifth full-length studio effort, Heavy Reverie. The album was recorded in Cleveland, OH at Crushtone Studios with producer Jim Wirt, and will be available May 13th on vinyl, CD and digital formats via Sun Pedal Recordings.
 There's a different world out there that awaits you. With heavy reverie Buffalo Killers are bringing that world to you.
BUFFALO KILLERS 2014 TOUR DATES
5/16 Hi-Tone – Memphis, TN
5/17 Bricktown Music Hall – Oklahoma City, OK
5/19 The Western – Scottsdale, AZ
5/20 The Casbah – San Diego, CA (w/ Howlin Rain)
5/21 Constellation Room – Santa Ana, CA (w/ Howlin Rain)
5/23 The Echo – Los Angeles, CA (w/ Howlin Rain)
5/24 Freaks for the Festival @ Pappy & Harriet's – Pioneertown, CA 
5/25 The Chapel – San Francisco, CA (w/ Howlin Rain)
5/28 Kilby Court – Salt Lake City, UT
5/29 Larimer Lounge – Denver, CO
5/30 Black Sheep – Colorado Springs, CO
5/31 Czar Bar – Kansas City, MO
6/26 Thursdays on 1st & 3rd (Summer St) – Rochester, MN
6/27 Bayport BBQ – Bayport, MN
6/28 Double Door – Chicago, IL
7/12 Gotta Groove Records – Cleveland, OH
(additional dates to be announced soon)
HERE'S WHAT PEOPLE HAVE BEEN SAYING ABOUT BUFFALO KILLERS:
Gritty, hook-laden psychedelic rock. Buffalo Killers' Heavy Reverie takes the monster riffing of bands like Mountain and Blue Cheer and tempers the volume with melodic hooks that could have been written by Alex Chilton's Big Star. – CLASSIC ROCK
Heavy on the heavy and with plenty of hooks – HIGH TIMES
One of the best f**king rock 'n' roll bands in the world – THE BLACK CROWES' CHRIS ROBINSON
Memorable, hooky songs that recall the best of Steven Stills, only louder. – PERFORMER MAGAZINE
Buffalo Killers' Crazy Horse/Big Star/Badfinger base is built upon with hazy-hippie sing-along melodies, a live vibe dripping with highway miles, and an understanding of classic songwriting and arrangement approaches that would make John Fogerty smile. One of the best. – MODERN DRUMMER
Buffalo Killers take aim at garage, swamp blues, '60s psych, Canyon harmonies and Southern roots and land their prey every time. – UNCUT
Not many bands have mined a late hippie-era approach with more satisfying results. – ALL MUSIC
FOR MORE INFO ON BUFFALO KILLERS: 
FOR MEDIA AND INTERVIEW REQUESTS:
Tony Bonyata
Pavement PR
p: 262.903.7775
e: tony@pavementpr.com
https://pavementpr.com