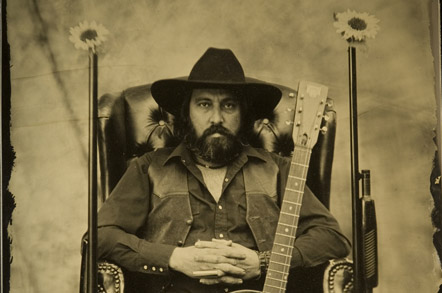 Cajun muso Dege Legg spices up new Tarantino movie
Dege Legg's song "Too Old To Die Young" has been hand-chosen by Quentin Tarantino for the soundtrack of his new film Django Unchained.
The veteran of the Lafayette music scene (and longtime Classic Rock favourite) has had his slide guitar-infused rock songs featured in TV shows such as The Deadliest Catch. Earlier in his career, Legg rocked the scene with Santeria among many other bands.
"Too Old To Die Young" comes from Legg's 2010 solo album Folk Songs Of The American Longhair – and Legg is honoured that Tarantino would pick it.
"I'm absolutely a fan of Tarantino," Legg said. "Between him and Martin Scorsese, they're the most well-known directors for having exquisite taste in great music and being masters of pairing incredible music scenes with great song choices. Being in that category, it's mind-blowing."
Django Unchained, which stars Jamie Foxx, Christoph Waltz and Leonardo DiCaprio, opened this past Christmas Day.
Watch Brother Dege's new "Too Old To Die Young" video here…
http://www.classicrockmagazine.com/music_and_videos/cajun-muso-dege-legg-spices-up-new-tarantino-movie/