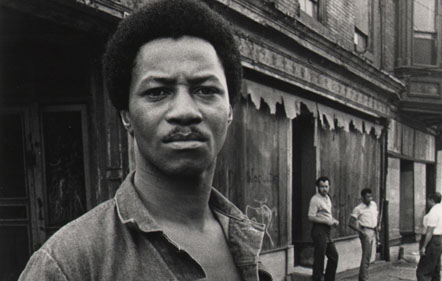 Charlie Whitehead, a.k.a. Raw Spitt, 1970 first full-length, produced by Swamp Dogg for Canyon records, and a highly sought after collectors' album of unconventional Southern Soul. The remastered CD version includes 5 bonus tracks and new liner notes penned by Swamp Dogg. Raw Spitt will also be available June 25th as a Digital Download, along with Limited Edition Colored Vinyl exclusive to Bomp-mailorder.
The following are Swamp Dogg's newly penned liner notes for Charlie Whitehead's Raw Spitt album:
Top Ten on my very best friends list. Charlie Whitehead a/k/a Raw Spitt hails from Smithfield, Virginia; about thirty miles from my hometown, Portsmouth, Virginia. Nevertheless, we didn't meet until 1966 in New York City. I was knocked out by his voice and delivery so I immediately got Musicor Records, who I was working for, to sign him. We cut one single, "How Can I Forget" b/w "Story Of Mr. Pitiful", which was not unusual in those days. If you didn't hit the first time out, your ass was grass and Broadway was the lawnmower.
Charlie was doing well financially with his singing partner, Joe Pond, making frequent trips to Europe as Sam & Dave and alone as Ben E. King. In the meantime I signed with Canyon Records and had plans of Charlie being the other Swamp Dogg; that's why the two "t's" in Spitt.  Upon release the album started getting play on underground stations, but Canyon went belly-up before sales could be realized. Charlie was on the FTA Tour with Jane Fonda, Dick Gregory, Peter Boyle, Donald Sutherland and I. I signed Charlie to United Artist but that didn't last long. Just a single and they gave me the album back. Charlie's contract called for two albums a year, so they had to pay us for the non-existing album. This gave credence to the axioms, "there's some dumb motherfuckers in this industry" and "money don't make you smart."
We hit it big together in 1974 on Island Records with "Love Being Your Fool." which was also covered by the Staple Singers, Jerry Reed, Coon Elder Band, Travis Womack (top 20 pop) and a few others. Charlie came to me with most of the lyrics and thought they were sh*t and I was not going to record it. He told me that he had adhered to every song and concept that I had suggested, without any success. He was right, so I swallowed my fu**in' ego and let him have his day in court. He was right and I was happy to take credit for this genius change of directions. We have a tremendous past together which includes the writing of Dee Dee Warwick's Grammy nominated "She Didn't Know (She Kept On Talking)".
Charlie is in Brooklyn, N.Y., where he's a recent widower, avid gambler who always wins, and a sometime performer. If I divulge more you won't buy my autobiography. – Swamp Dogg
RAW SPITT TRACK LISTING:
1. Put A LIttle Love In Your Heart
2. Raw Spitt
3. Call Me Nigger
4. The Freedom Under Certain Konditions Marching Band
5. Midnight Rider
6. Who Do They Think They Are
7. I Dig Black Girls
8. This Old Town
9. Sweet Bird Of Success
10. Excuses
11. Between The Lines (bonus track exclusive to CD)
12. Predicament 2 (bonus track exclusive to CD)
13. That Ain't My Wife (bonus track exclusive to CD)
14. Synthetic World (bonus track exclusive to CD)
15. Hey Jude (bonus track exclusive to CD)
Re-released for the first time on vinyl since its original release in 1970! Produced by legendary soul singer / songwriter / producer Jerry Williams Jr., aka Swamp Dogg, Lightnin' Slim's High & Low Down will be available June 25th on CD and in Limited Edition Colored Vinyl exclusive to Bomp-mailorder.
The following are B.B. King's original 1970 liner notes for Lighnin' Slim's High & Low Down album:
Over the years I have listened to many records and albums of many types of music. As a disc jockey I played many different kinds of sounds, but I guess as an entertainer I pull a little harder for the blues performers because I want them to be heard, played and respected as much as other music is; that is, when it merits it. Lightning Slim's new album I think merits all the qualities that a great artist and a hit album should have. It's some great sounds. This is my opinion. Musically Yours, B.B. King
And here is Swamp Dogg's hllarious recollection on tracking down B.B. King 43 years ago for the above liner notes, along with his own take on Lightnin' Slim:
After chasing B.B. around the globe for six months, the above doesn't give me any insight as to how he feels about the recording or the artist. He's a championship skater when it comes to saying nothing about a motherfucker.
After meeting with Sid Seidenberg, his deceased manager, I had to step out of the picture and let my wife (now deceased) Yvonne take over. She was a master when it came to detecting bullshit in any situation. Anyway, he finally wrote these watery liners after Yvonne went up to his penthouse suite in a ten star, New Orleans hotel; the Rosemont or some sh*t that had to do with a Mont.  I went back to the Ramada, after thinking about leaving my wife with a famous multi-millionaire blues singer. I said to myself, "fuck these liners, I'm going up there".  I knocked on the door like a gentleman with my .38 in my shoulder bag. An attendant opened the door and the place was laid out with all kinds of champagne, finger sandwich sh*t, wines, food, etc. Don't get me wrong, I didn't blame him if his goal was what I thought. I just intended to foil the plot, and if Yvonne's hair and clothes were disheveled, I was going to do some damage to both, and maybe (?), jump out the window. Nooooo, fuck that!  Upon my entrance and being introduced to him by my wife, he offered me a drink and commenced to write the above notes that could apply to any blues singer.
I've produced and written for some great artists in my life and Lightning Slim is in my top ten. He didn't have to be coddled, nursed, etc. He learned the songs and got down to business. He only gave me three days to record him because he wanted to get back to Pontiac, Michigan to get back to his job at a lock factory. This album is as good as most blues albums and better than most. It has the Muscle Shoals, Alabama A-team rhythm section and the horn section that David Johnson (owner / engineer of Broadway Sound) and I assembled, which later became the Muscle Shoals horns.  I'll speculate that if Eric Clapton, Keith Richards, George Benson, Albert King and Freddy King ever heard this  blues album, they would rate Lightning's great delivery, song writing and innovative swamp guitar style in their top ten of authentic blues men. – Swamp Dogg
HIGH & LOW DOWN TRACK LISTING:
1.  Rooster Blues
2. Things I Used To Do
3.  Bad Luck Blues
4.  My Babe
5.  GI Blues
6.  Oh Baby
7.  That's All Right
8.  Crazy Bout You Baby
9.  Goodmorning Heartaches
10.  Voodoo Blues
SWAMP DOGG 2013 TOUR DATES:
July 27 @ The Echo / Funky Sole Party – Los Angeles, CA
October 4 @ The Ponderosa Stomp / Rock 'n' Bowl – New Orleans, LA
[more dates to be announced soon]
FOR MORE INFO ON SWAMP DOGG:
http://www.swampdogg.net
FOR MORE INFO ON ALIVE RECORDS:
http://www.alive-totalenergy.com
FOR MEDIA AND INTERVIEW REQUESTS:
Tony Bonyata
Pavement PR
p: 262.903.7775
e: bonyata@wi.rr.com
https://pavementpr.com